Blueberry Mousse Cake is on the menu in Book recipe, and we are going to teach you how to make this delicious recipe from scratch!
Follow along with the ???? recipes below????????????????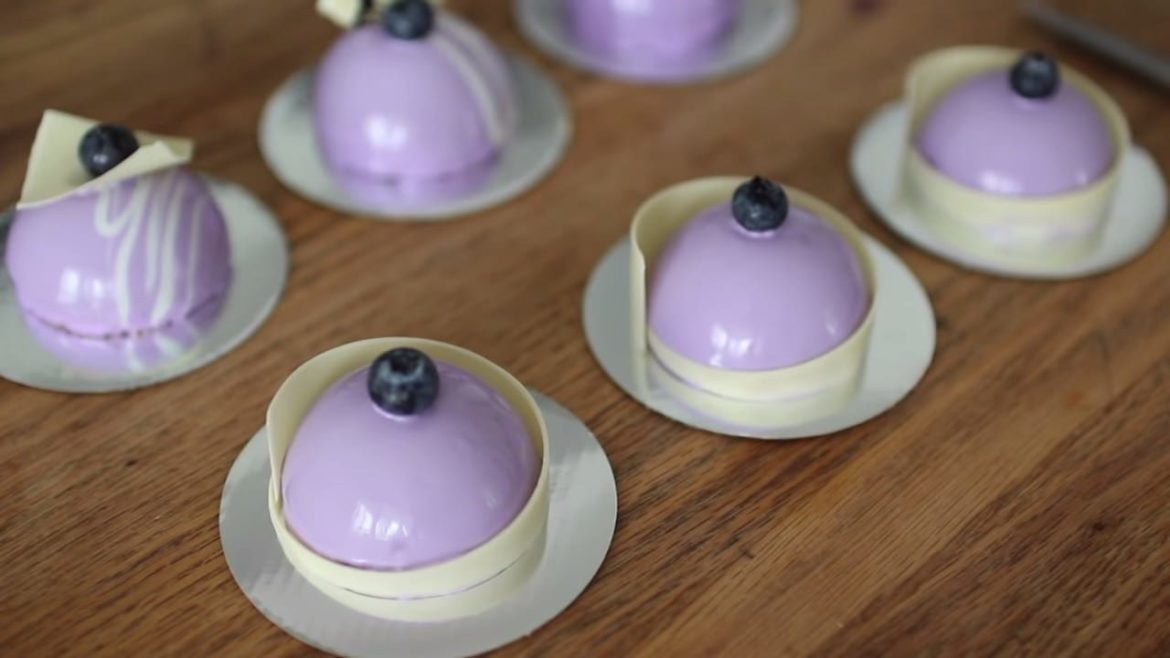 Ingredients
Blueberry jelly
Blueberry puree 80g
Lemon juice 1/2 tsp
Sugar 5g
Gelatin 1 sheet (2g)
Blueberry Cremeux
Blueberry puree 80g
Egg 35g
Egg yolk 20g
Sugar 20g
1 sheet of gelatin (2g)
Unsalted butter 30g
Almond Biscuit
Egg 80g
Almond powder 60g
Icing sugar 55g
Pastry flour 15g
Egg white 50g
Sugar 12g
Unsalted butter 12g
Blueberry mousse
Blueberry puree 70g
Whipped cream 70g
1 sheet of gelatin (2g)
Sugar 15g
Lemon juice 1/2 tsp
Glaze
Water 55g
Sugar 105g
Glucose 105g (Or clear corn syrup)
Condensed milk 70g
White chocolate 105g
3 Sheets of gelatine (6g)
Instructions
Blueberry jelly
Bloom the gelatin in cold water
Warm up the puree, lemon juice, sugar in the microwave
Add gelatin and mix it well
(you need to squeeze the water from gelatin)
Blueberry Cremeux
Bloom the gelatin
Warm up the puree in the microwave
Mix egg, egg yok with sugar
Pour the puree into the egg mixture
Whisk all together and cook it until it gets thick
Add gelatin
Add butter
Almond Biscuit
1.Put egg, almond powder, icing sugar in the bowl and whip it until it gets pale
Whip egg white and add sugar gradually.
When the egg white mixture is firm, add to the almond powder mixture
Fold it well
Add melted butter and mix it well
(The temp. of butter should be around 50C)
(30cm x 20cm pan)
Bake at 380F for about 8min
Blueberry mousse
Whip the cream (soft peak)
Bloom the gelatin in the cold water and squeeze the water
Warm up the puree and sugar, gelatin, lemon juice in the microwave
Add the cream to the blueberry mixture (the blueberry mixture shouldn't be too cold or too hot.
Fold it well
Glaze
Bloom the gelatin
Boil the water, sugar, glucose syrup, condensed milk in the pot until it's 103C
Add the gelatin
Add the mixture to the white chocolate and mix it with a hand blender
Keep it in the fridge overnight
(When you don't have time, keep it in the fridge for at least 3hours)
Melt it to around 35C and use it
Notes
You can make 12 mini mousse cakes from this recipe.
BUT!!! You need to double the Blueberry Mousse recipe to make 12 cakes.
Here's the recipe for that.
(Blueberry puree 140g, Whipped cream 140g, 2 sheets of gelatin (4g), Sugar 30g, Lemon juice 1 tsp)

Did You Make This Recipe?
I made a pastry shop-style dessert today!
It takes a lot of effort and time to make this little one. I really appreciate all the pastry cooks out there working hard to make delicious sweets :)
I hope you like the video!
---
Enjoy