Kanelbullar Swedish Cinnamon Buns are on the menu in Book recipe, and we are going to teach you how to make this delicious recipe from scratch!
Learn How To Make Kanelbullar a Swedish Cinnamon Buns Recipe! This Scandinavian cinnamon bun recipe is a speciality of Sweden where cardamom cinnamon buns are everywhere! Is this the best kanellbullar recipe in english?

Follow along with the ???? recipes below????????????????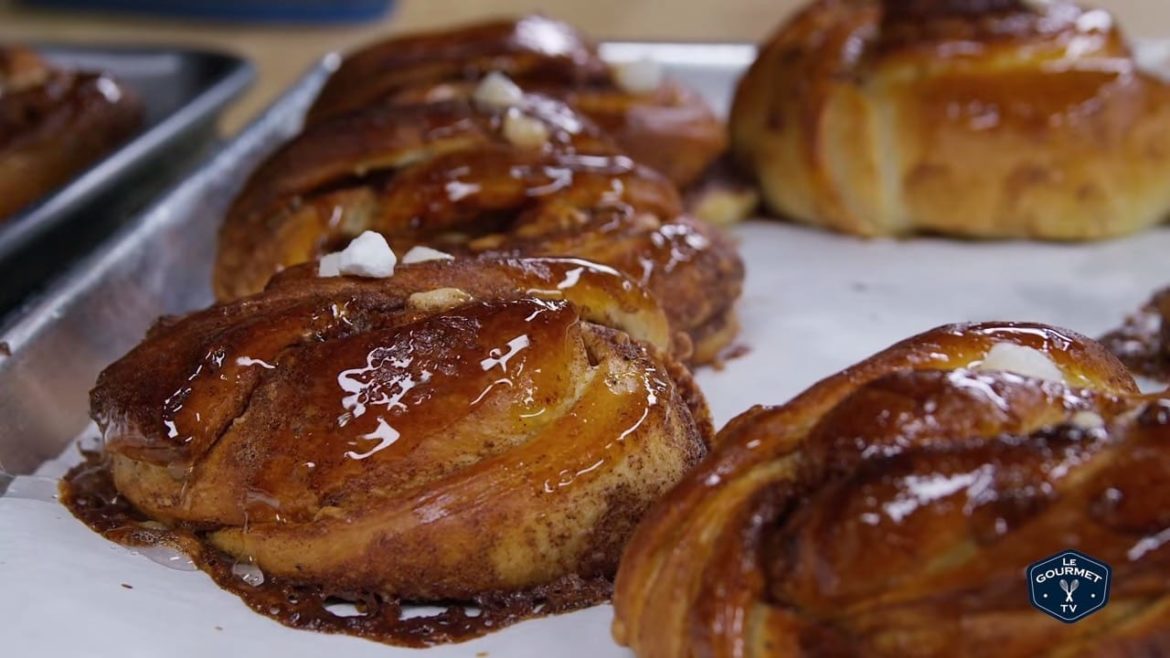 Ingredients
8g (2 tsp) active dry yeast
60 mL (¼ cup) warm water
250 mL (1 cup) milk
570g (1000 mL / 4 cups) all-purpose flour
90g (125 mL / 1/2 cup) granulated sugar
3g (½ tsp) salt
5g (2 tsp) ground cardamom
1 large egg
110g (120 mL / 8 Tbsp) butter, room temperature
Filling
200g almond mass
10g (15 mL / 1 Tbsp) vanilla sugar
30g (60 mL / 4 Tbsp) cinnamon
150g (165 mL / 11 Tbsp) butter, room temperature
Egg wash
1 egg
60 mL (4 Tbsp) water
pearl sugar, to sprinkle on
Syrup
125 mL (½ cup) of water
95g (250 mL / 1 cup) granulated sugar
Instructions
Dissolve the yeast in warm water, 40ºC (110ºF).
Heat the milk to 110ºF.
In the bowl of a stand mixer combine the dry ingredients: flour, sugar, salt, cardamom.
Mix the dissolved yeast into the milk along with the egg.
Pour the wet ingredients into the dry, and run dough hook just until a ragged dough forms.
Allow this dough to rest for 20 minutes.
Run the dough hook for 2-3 minutes on low until the dough 'comes together.
When the dough comes together, increase the speed a little and add the butter a little at a time.
Run the dough hook to knead for about 10 minutes until it feels elastic, glossy, and fine on the surface.
Once kneaded cover in the mixing bowl and leave to rest for 20 minutes.
Meanwhile mix together the almond paste, vanilla sugar, butter, and cinnamon.
Roll out the dough 3-4 mm thick, or about 16"x24".
Spread the cinnamon filling on the dough and fold in half.
cut into 16 strips, and tie in knots. (watch the video)
Place the knots on two baking sheets lined with parchment.
If you don't want to make knots then roll the dough into a log and slice into 16 buns.
Cover with a tea towel and allow to rise until double in size, about 1½ - 2 hours.
Preheat oven to 200ºC (400ºF).
Mix the egg and water to make an egg wash, and brush each bun with it.
Sprinkle each with pearl sugar.
Bake for 10 -15 minutes, or until the internal temp is 200ºF.
If baking both pans at the same time, rotate and switch them between racks halfway.
Meanwhile make the syrup, mix water and sugar in a pan and cook until dissolved.
As the buns come out of the oven, brush them with the syrup while both are still hot.
Le Gourmet TV Is Now - Glen & Friends Cooking!
Did You Make This Recipe?
---
Enjoy