Lebanese Fattoush is on the menu in Book recipe, and we are going to teach you how to make this delicious recipe from scratch!
Fattoush is a classic Lebanese salad with a uniquely tangy dressing and deliciously crunchy bread. The dressing contains Sumac, lemon and pomegranate Molasses which gives it a strong zesty flavour. The salad contains many types of fresh vegetables as well as Mint and Parsley for a herby kick.I'm Obi from Middle Eats and I'm on a mission to show you how to cook delicious food from across the Middle East. Give the video a like if you enjoyed it and if you want to request a Middle Eastern Recipe, please leave a comment below.
Follow along with the ???? recipes below????????????????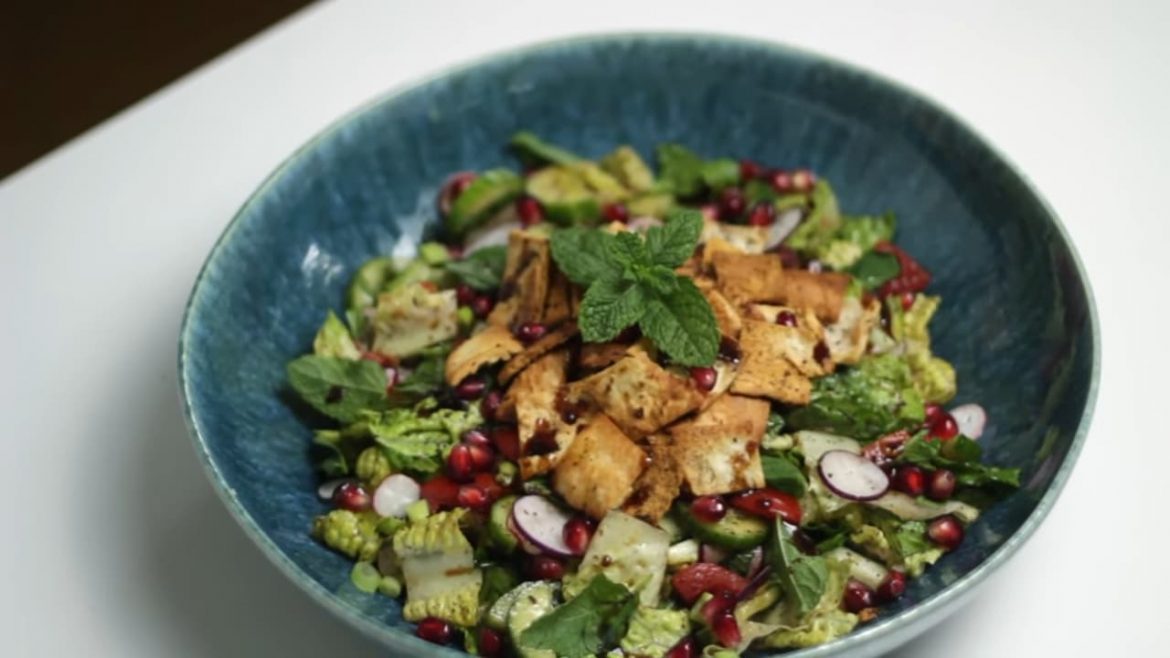 Ingredients
For a Large Salad 6-8 portions:
1 Pitta or 1 Lebanese bread
6 cups chopped lettuce - 1 Whole Romaine Lettuce
3 Cups chopped cucumber - 3 small cucumbers or 1 large English cucumber
1.5 cups chopped tomatoes - 8 small plum tomatoes or 3-4 large plum tomatoes
1/2 cup chopped radishes - 6-8 radishes
1/2 cup chopped spring onion - 3-4 Spring onions
2 tbsp chopped mint - Small handful
2 tbsp chopped parsley - Small handful
For the dressing:
50ml (3 tbsp) Olive Oil
45g (3 tbsp) Pomegranate Molasses. If yours does not have added sugar, increase by another tbsp and consider adding sugar to the final dressing.
3 tsp sumac
1 clove garlic
Juice of 1 lemon
Zest of 1/4 lemon
1/4 tsp salt
1/2 tsp dried mint
1/8 tsp pepper
1 tsp white vinegar
Instructions
To bake your Pitta:
Microwave your pitta for 10-20 seconds then separate the two layers
Cut into pieces about 1.5cm or 1/2" in width and length
Place on an oven tray and top with 1 Tbsp olive oil
Season with salt and pepper then mix to combine
Bake in an oven preheated to 180c or 350f for 8-12 minutes until golden brown
To fry Lebanese bread (I highly recommend this over pitta)
Cut into pieces about 1.5cm or 1/2" in width and length
Heat some oil in a frying pan and add the bread when hot
Fry for 20-30 seconds and immediately remove from the oil
Season with salt and pepper and let it drain on a kitchen towel-lined plate
To prepare the salad:
Take off the root of your lettuce and separate the individual leaves, wash them thoroughly
Stack a few similar-sized leaves on a chopping board, and trim the leaves to a rectangular shape
Chop the lettuce into strips about 1cm or 1/4" wide, cut any trimmed edges to size too
Chop the ends off of your cucumbers and then split them in half
Cut the cucumber halves into pieces 3mm or 1/8" thick
For the radishes, remove the tops and tails then slice as thin as you can get them
For the spring onions trim off the roots and cut into rounds the same thickness as the cucumber
For the tomatoes cut them in half and then divide each half into quarters. If you aren't using baby tomatoes then cut them till each piece is almost 5mm or 1/4 inch wide and long
Wash your parsley thoroughly then chop the parsley into thin ribbons
Remove the stalks from your mint and chop them into thin ribbons
To prepare the dressing:
Place your sumac in a small bowl and top with 3 tsp of almost boiling water
Leave it to sit and rehydrate for 15-30 minutes
Add your olive oil to a blender or a small jug
Zest a 1/4 of a lemon which will and add to your vessel
Mince or grate 1 clove of garlic into a fine paste and add to your olive oil.
Juice the lemon and add 2 tbsp of its juice to the dressing
Add the sumac from earlier along with any of its liquid
Add 1 tsp of white vinegar
Season the dressing with the mint, salt, and pepper
Blend the dressing together to emulsify
Taste for seasoning to ensure it is tangy but still a little sweet
To assemble the salad:
Mix all the vegetable ingredients and herbs together (lettuce, cucumber, tomatoes, radishes, spring onion, mint, parsley)
Pour on half of your dressing and mix
Taste and add more dressing if it isn't well coated
Just before serving top with your toasted or fried bread (if the toasted bread is really dry you can mix it with some dressing to soften it further)
Add on a few tablespoons of pomegranate seeds, some mint leaves, and drizzle over some pomegranate Molasses
Did You Make This Recipe?
---
Enjoy
Let us know what you think of today's Lebanese Fattoush tips, tricks, and hacks!