In this post, we show you how to make pigs in a blanket.. march madness style! on this episode of the plate it perfect, callie shows you the best way to make this popular game day snack that you can slam dunk into mustard!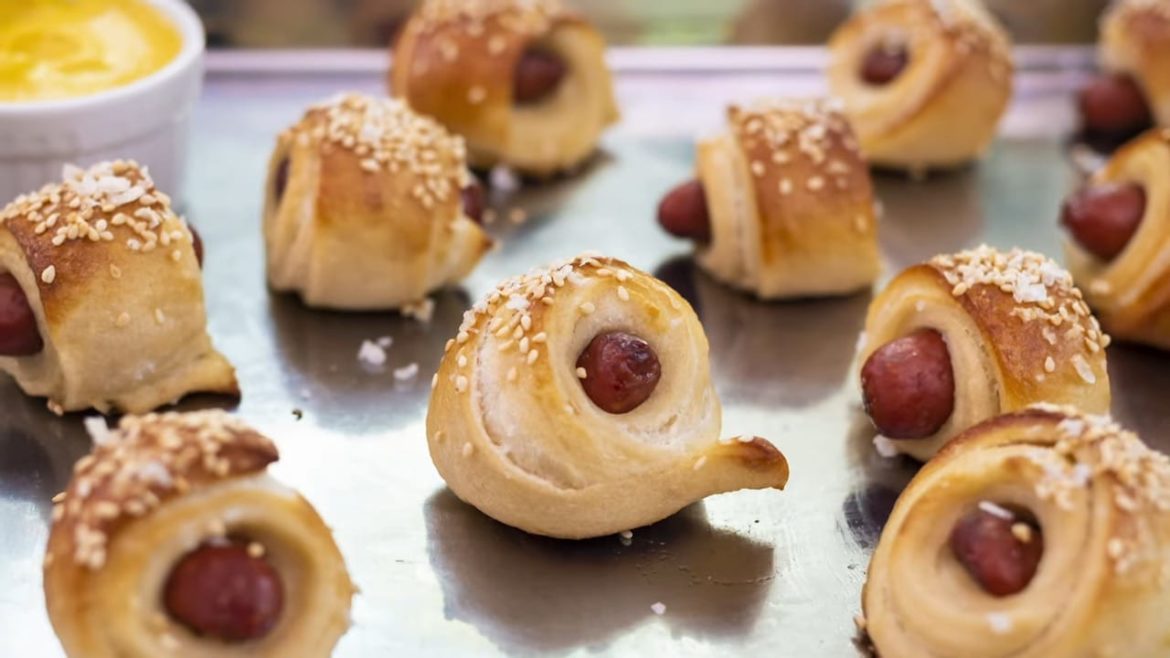 Ingredients
2 Tbsp sea salt
1 (11-oz) roll refrigerated prepared pizza dough
1 (12-oz) package beef cocktail franks
2 Tbsp melted butter
1 egg beaten
¼ cup baking soda
Flaky sea salt
White Sesame seeds
Hot or yellow mustard, for dipping
Instructions
Preheat the oven to 425°F. Line a large baking sheet with parchment paper. Bring a large pot of water to a boil. Add 2 tbsp sea salt.
Stretch dough on a cutting board and let it sit for about 20 min. Cut each piece of the pizza dough into strips. Wrap each cocktail frank in the dough, rolling from the bottom up and wrapping about 2 times creating a ball shape.
Add baking soda to boiling water and cook franks over medium heat for 30 seconds to a minute. Remove from the pot with a slotted spoon and put on a baking sheet. Lightly brush with egg mixture and lightly sprinkle with sesame seeds and flaky salt.
Bake for 10 minutes, or until golden brown. Let cool for 10 minutes. Serve with yellow mustard for dipping.
Notes
Styling Tips:
Using pizza dough instead of croissant dough will give it a pretzel effect
Boiling the dough in water & baking soda will help create the pretzel look
Keep the rolls seam side down for a more even bake
Did You Make This Recipe?
---
Enjoy