Sausage salad is on the menu in Book recipe, and we are going to teach you how to make this delicious recipe from scratch!
Famous Swiss «wurstsalat» (lit, sausage salad) is not just about low carbs and high protein, combination of cheese, sausage, red onion, pickles and piquant sauce makes this salad a special, tasty and hearty. And there is one more secret of this sausage salad – a particular cutting of ingredients. Swiss Wurstsalat is perfect for a festive table and family dinner.
Follow along with the ???? recipes below????????????????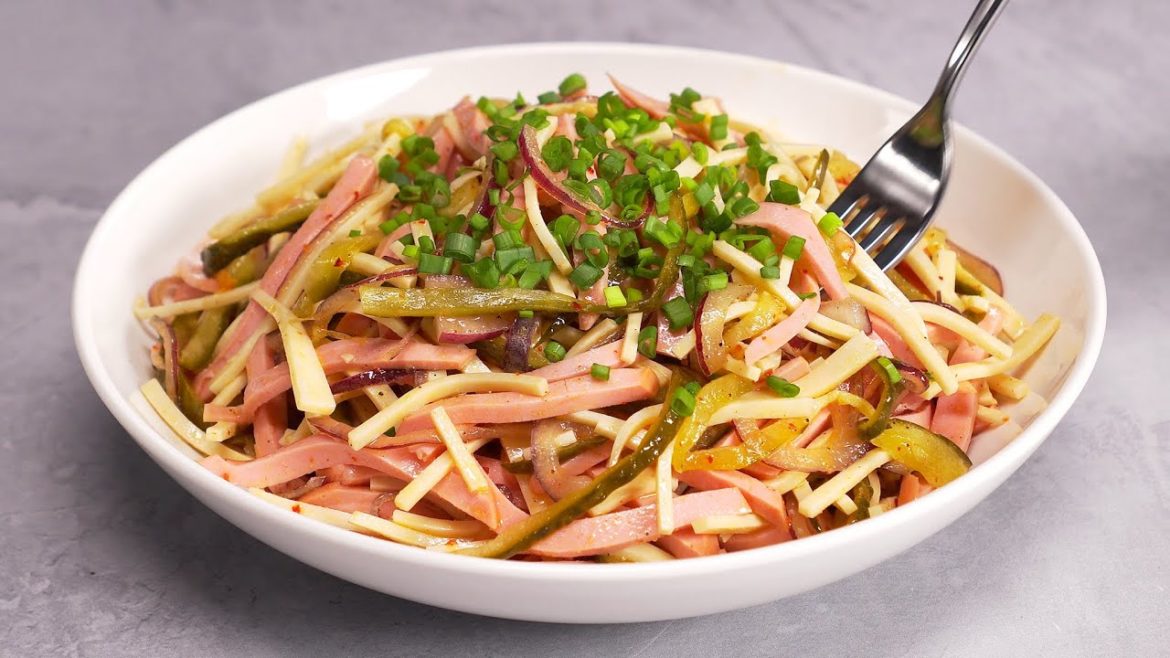 Ingredients
cooked sausage – 14 oz /400 g
cheese Emmental – 10 oz /300 g
pickled cucumber – 5 oz /150 g
red onion – 4 oz /120 g
scallion – 2 tbsp /10 g
white wine vinegar – 4 tbsp
pickle brine – 4 tbsp
water – 4 tbsp
dijon mustard – 1 tsp
vegetable oil – 2 tbsp
ground black pepper – ½ tsp
red chili flakes – ½ tsp
salt – to taste
You will need:
carving board
salad bowl
bowl
whisk or fork
Instructions
Cut the sausage, cheese, pickled cucumber and red onion into thin strips.
In a bowl combine the wine vinegar, pickle brine, water, dijon mustard, vegetable oil, salt and peppers, whisk well.
Combine the cut sausage, cheese, pickled cucumber and onion with the prepared dressing, cover with a food film and place into a refrigerator for an hour.
Sprinkle the Swiss salad with the chopped up scallion and serve to the table.
Did You Make This Recipe?
Recipe video
---
Bon Appétit