Tarts are on the menu in Book recipe, and we are going to teach you how to make this delicious recipe from scratch!
Follow along with the ???? recipes below????????????????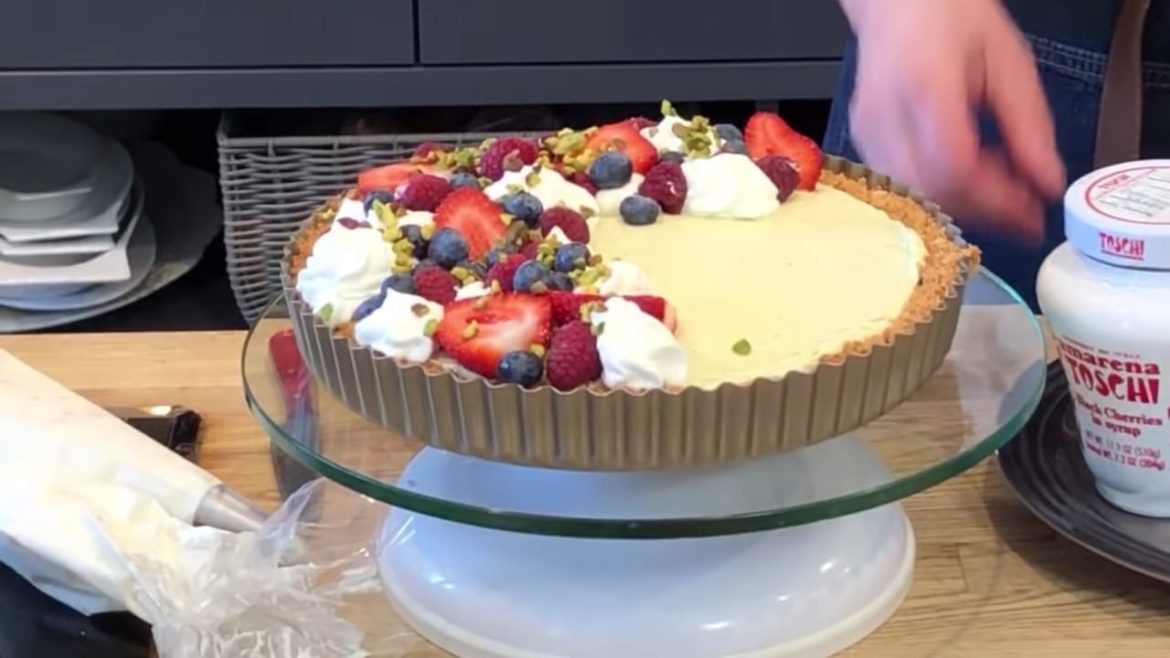 Ingredients
Crust
1 ½ cups (185 g) ground amaretti biscuits (see below for amaretti recipe)
¼ cup (25 g) flaked sweetened coconut
Pinch ground cinnamon
¼ cup (60 g) unsalted butter, melted
Base Filling
½ cup (125 mL) salted caramel sauce
2-3 poached pear halves, sliced
Pistachio Cheesecake Filling
1 x 250 g pkg cream cheese, softened
1/3 cup (45 g) icing sugar
¼ cup (60 mL) crème Fraiche
1 Tbsp (15 mL) lemon juice
1 tsp (5 mL) vanilla extract
½ cup (125 mL) pistachio cream (recipe follows)
½ cup (125 mL) whipping cream, whipped to soft peaks
Topping
½ cup (125 mL) whipping cream, whipped to soft peaks, lightly sweetened
1 cup (250 mL) mixed berries
2-3 Tbsp (30-45 mL) pistachios, toasted for 10 minutes in a pan over low heat
with 1 tsp of butter and a sprinkle of sea salt)
Amaretti Biscuits Recipe
2 egg whites at room temperature
1/3 cup (70 g) sugar
1 1/3 cups (120 g) ground almonds
1 cup (130 g) icing sugar
1 Tbsp cornstarch
¾ tsp almond extract
Pistachio Cream Recipe
1 cup (100 g) shelled pistachio pieces
2 Tbsp (30 mL) vegetable oil (or pistachio oil)
1 cup (130 g) icing sugar
Pinch sea salt
Amaretti Biscuits Recipe
Amaretti are crisp, little almond cookies that are great dipped in coffee.
Makes about 60 small cookies
Pistachio Cream Recipe
This sweet pistachio paste is great stirred into mousses and fillings for desserts, or as a
filling for sandwich cookies, or in place of chocolate hazelnut spread.
Makes about 1 ¼ cups (300 mL)
Instructions
Pistachio Cream Recipe
Preheat the oven to 350 F (180 C).
Combine the amaretti biscuit crumbs with the coconut and cinnamon (if adding) and
stir in the melted butter. Press this into the bottom and up the sides of a 9-inch (23 cm)
round fluted tart pan with a removable bottom. Bake the crust for 10 minutes and then
cool.
If the caramel is fluid or spreadable when chilled, spread this carefully over the
bottom of the cooled tart shell. Slice the pears and arrange them over the caramel.
For the pistachio cheesecake filling, beat the cream cheese until smooth and beat in
the icing sugar, scraping down the bowl often. Beat in the crème fraiche, lemon juice
and vanilla, followed by the pistachio cream, beating by hand until smooth. Fold in the
whipped cream and spread this over the pears to cover and level. Chill this for at least
2 hours.
Pipe the whipped cream over the chilled tart, around the outside edge or in an arc.
Arrange the fresh berries overtop and finish with a sprinkling of pistachios. Chill until
ready to serve.
Amaretti Biscuits Recipe
Preheat the oven to 300 F (150 C) and line 2-3 baking trays with parchment paper.
Whip the egg whites on high speed until foamy, then slowly pour in the sugar while
whipping, continuing to whip until the whites hold a medium peak.
In a separate bowl, stir the ground almonds, icing sugar and cornstarch. Add half of
the almonds to the whipped whites and fold in, then repeat with the remaining half. Stir
in the almond extract.
Spoon the batter into a piping bag fitted with a large, plain tip and pipe 1-inch cookies
onto the prepared trays, leaving an inch in between each cookie.
Let the cookies sit for 10 minutes to air-dry then bake them for about 20 minutes, until
they just start to brown a little. Let them cool completely on the tray before storing in an
airtight container.
The amaretti biscuits will keep for up to 2 weeks.
Pistachio Cream Recipe
Pulse the pistachios and oil in a food processor until it turns into a smooth paste.
Add the icing sugar and salt and continue to pulse until even smoother.
Transfer to a jar and keep refrigerated.
Did You Make This Recipe?
---
Enjoy