Lemon Cream Tart is on the menu in Book recipe, and we are going to teach you how to make this delicious recipe from scratch!
Follow along with the ???? recipes below????????????????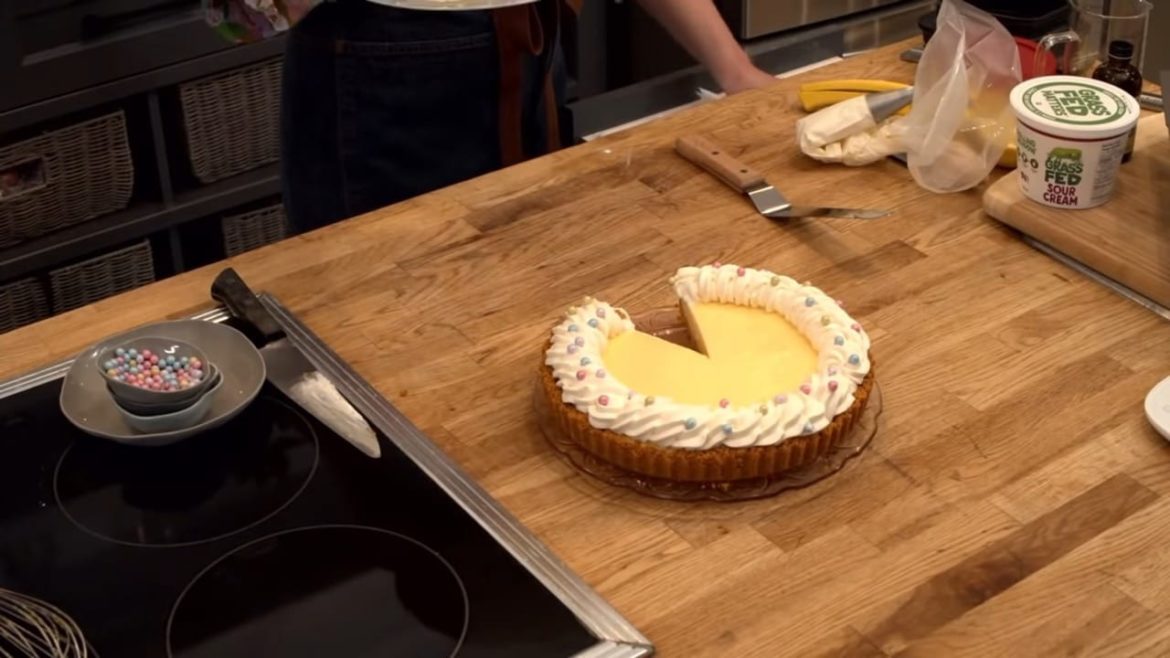 Ingredients
Creamy Lemon Curd:
1 cup (200 g) granulated sugar
¾ cup (175 mL) fresh lemon juice
2 Tbsp (12 g) finely grated lemon zest
2 Tbsp (30 mL) full-fat sour cream
4 large eggs
2 large egg yolks
1¼ cups (285 g) unsalted butter, room temperature, cut into pieces
Assembly and Topping:
1 Crumb Crust, cooled (recipe follows)
1 cup (250 mL) whipping cream
2 Tbsp (16 g) icing sugar
1 Tbsp (5 g) skim milk powder
1 tsp vanilla extract
Crumb Crust
1½ cups (375 g) graham cracker crumbs,
chocolate cookie crumbs,
gluten-free cookie crumbs, or other finely crushed crisp,
sweet cookie
¼ cup (60 g) unsalted butter, melted
Instructions
For the curd, whisk the sugar, lemon juice, lemon zest, sour cream, eggs, and egg yolks together in a large metal bowl.
Place the bowl over a pot filled with 1 inch (2.5 cm) of water gently simmering over medium heat.
Whisk constantly (but not vigorously) until the mixture thickens (when the froth on top of the liquid dissipates, you know you are getting close), about 5 minutes. Strain the curd into a bowl and let it sit, uncovered, to cool to room temperature (stirring occasionally accelerates this).
Transfer the cooled curd to a blender or food processor. Add the butter all at once and then blend until smooth (it will be fluid).
Pour the filling into the cooled crust and chill, uncovered, for at least 3 hours.
For the topping, whip the cream to a soft peak using electric beaters or a stand mixer fitted with the whip attachment, then whip in the icing sugar, skim milk powder, and vanilla. Spread or pipe this topping over the lemon cream and chill, uncovered, until ready to serve. The pie will keep after slicing, loosely wrapped, in the fridge for up to 2 days.
Crumb Crust
Makes one 9-inch (23 cm) pie or tart crust
Prep Time: Under 10 minutes
Cook Time: 10 minutes
For the crust, preheat the oven to 350°F (180°C). Lightly grease a 9-inch (23 cm) pie plate or round tart pan with a removable bottom.
Stir the graham (or other) crumbs and melted butter together until evenly combined, then press into the pie plate. Bake for 10 minutes and cool completely on a rack before filling.
Notes
(Makes one 9-inch/23 cm pie or tart)
Adapted from Baking Day with Anna Olson, Appetite by Random House, 2020

Did You Make This Recipe?
---