Swedish Cinnamon Rolls are on the menu in Book recipe, and we are going to teach you how to make this delicious recipe from scratch!
Emma Bengtsson, head chef of two Michelin-star restaurants Aquavit in Manhattan, shares her easy recipe (scroll down) for kanelbullar, or Swedish cinnamon rolls. During quarantine, Emma is making food inspired by her childhood in Sweden, and these rolls are a perfect example of a fluffy, delicious treat everyone can make at home. Swedish cinnamon rolls are traditionally made with cardamom spice in the dough and sprinkled with pearl sugar instead of frosting.
Follow along with the ???? recipes below????????????????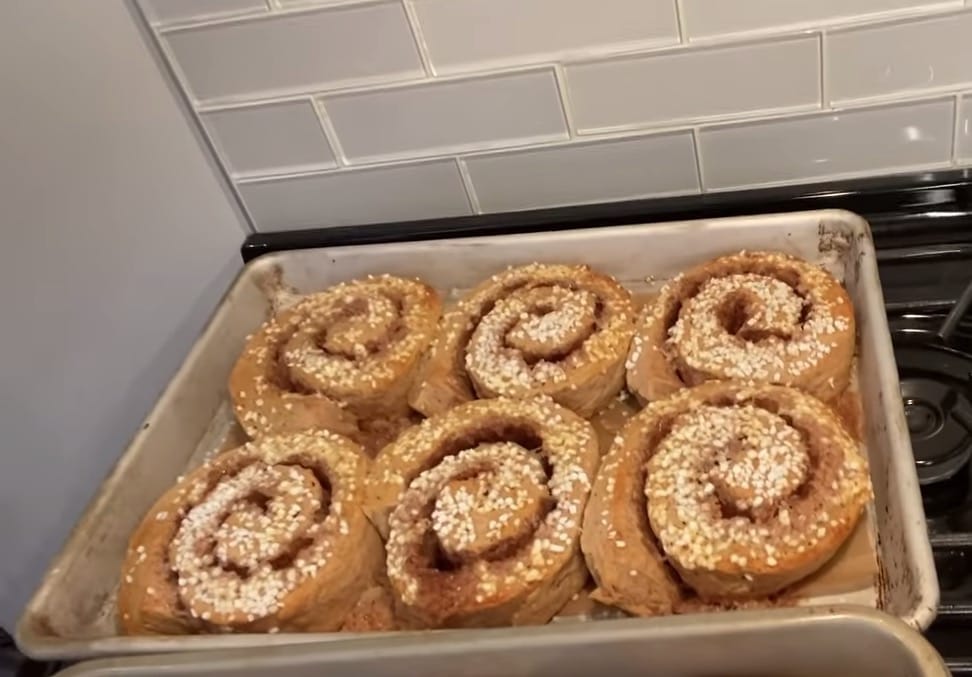 Ingredients
3 Cups Flour
¼ Cup Unsalted Butter
¼ Cup Sugar
½ tsp Salt
2 tsp Cardamom
2 Eggs (1 for the dough, and 1 for the egg wash)
2 7oz packets of fresh yeast (about 15 g / 4 ½ teaspoons)
¾ Cup Milk
Filling:
⅞ Cup butter (200g)
¾ Cup sugar
3 ¾ tbsp Cinnamon
Pearl sugar for garnish (optional)
Instructions
Melt the butter on the stove, take off the fire and add the milk to it. Make sure it is body temperature (feels lukewarm to the touch, not hot) before adding the fresh yeast to it.
Add yeast, dissolve and incorporate.
Add sugar, dissolve and incorporate.
In a bowl combine the flour, cardamom, and salt.
Make a well in the dry mixture and incorporate the liquid by mixing and kneading.
Add 1 egg to the dough and keep kneading for about 5-10 minutes until it has a good solid feel to it.
Cover with a towel and let the dough rest for up to 1 hour.
For the filling: combine butter (at room temperature), sugar and cinnamon. Mix well until all elements are combined and you have the consistency of a spread. Set aside until ready to use.
When the dough is ready, roll out to ¼ inch thickness.
Spread your cinnamon butter evenly over the whole surface.
Roll up the dough into a cylinder, and cut into 2-inch-thick rolls.
Place on parchment paper and let proof for 30 mins to an hour.
In a small bowl lightly whisk the remaining egg and brush onto your rolls.
Finish by sprinkling pearl sugar (if you don't have pearl sugar, or don't want to use it, you can cover them with frosting once they are out of the oven and have cooled down).
Bake the buns at 325º for about 40 mins.
Did You Make This Recipe?
---
Bon Appétit