Nanaimo Bars are on the menu in Chef Anna Olson's amazing kitchen, and she is going to teach you how to make this delicious recipe from scratch!
Follow along with the recipes below!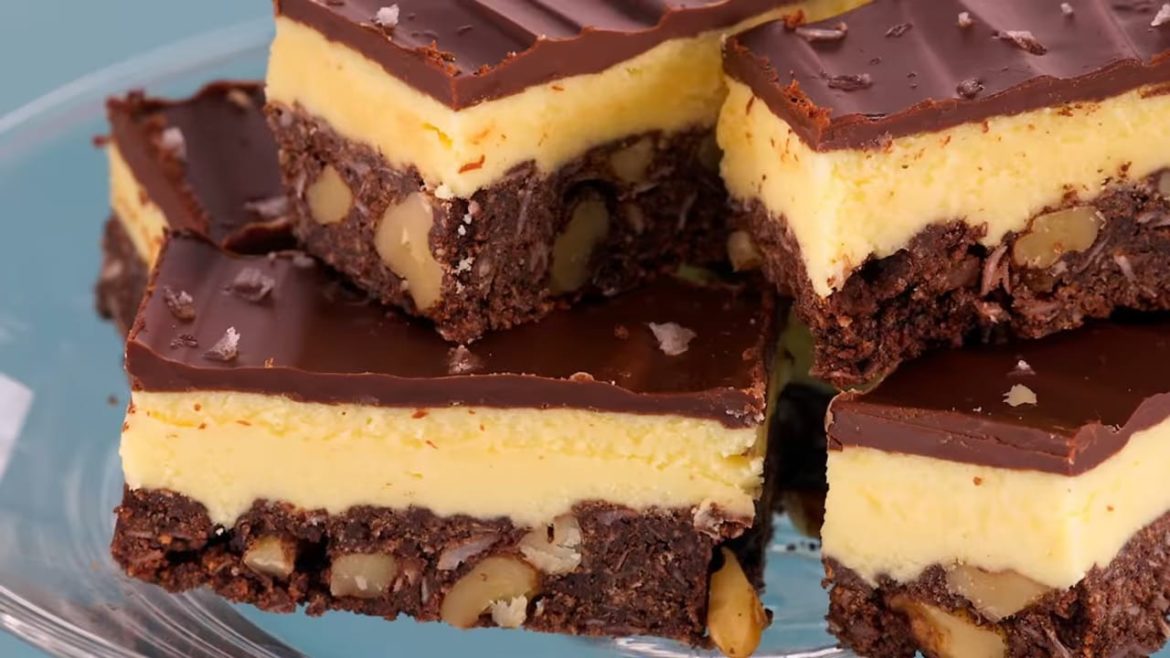 Ingredients
Crust
1 cup (160 g) graham cracker crumbs
3 Tbsp (15 g) cocoa powder
½ tsp (2 mL) salt
1 cup (100 g) sweetened flaked coconut
½ cup (50 g) walnut pieces
6 Tbsp (90 g) unsalted butter, melted
1 large egg, lightly beaten
Filling
½ cup (125 g) unsalted butter, at room temperature
2 cups (260 g) icing sugar, sifted
2 Tbsp (30 g) vanilla custard powder
pinch salt
3 Tbsp (45 mL) milk
1 tsp (5 mL) vanilla extract
Topping
4 oz (120 g) semisweet chocolate, chopped
2 Tbsp (30 g) unsalted butter
sea salt, for sprinkling (optional)
Instructions
Preheat the oven to 350 F (180 C). Lightly grease an 8-inch (20 cm) square pan and line it with parchment paper so that it comes up the sides.
For the crust, combine the graham crumbs with the cocoa powder and salt, then, add the coconut & walnut pieces. Stir in the melted butter and the egg and stir until blended. Press this into the bottom of the prepared pan and bake for 12 minutes. Cool the crust completely before preparing the filling.
By hand, beat the butter with 1 cup (130 g) of the icing sugar, the custard powder, and a pinch of salt until smooth. Add the milk and vanilla and beat in (don't worry if it doesn't look smooth at this point – it will smooth out), and then beat in the remaining 1 cup (130 g) of icing sugar. Do not overbeat – the filling should be smooth but not fluffy. Spread this evenly over the cooled crust.
For the topping, melt the chocolate and butter in a metal bowl placed over a pot of barely simmering water, stirring gently with a spatula until melted. Cool the chocolate slightly and then pour this over the filling, spreading to cover it. If you wish, sprinkle the top with a little sea salt. Chill the pan for about 2 hours before slicing into bars.
Notes
Nanaimo Bars will keep for up to a week refrigerated.

Did You Make This Recipe?
Recipe video
---
Enjoy