Homemade Easy Apple is on the menu in Book recipe, and we are going to teach you how to make this delicious recipe from scratch!
Follow along with the ???? recipes below????????????????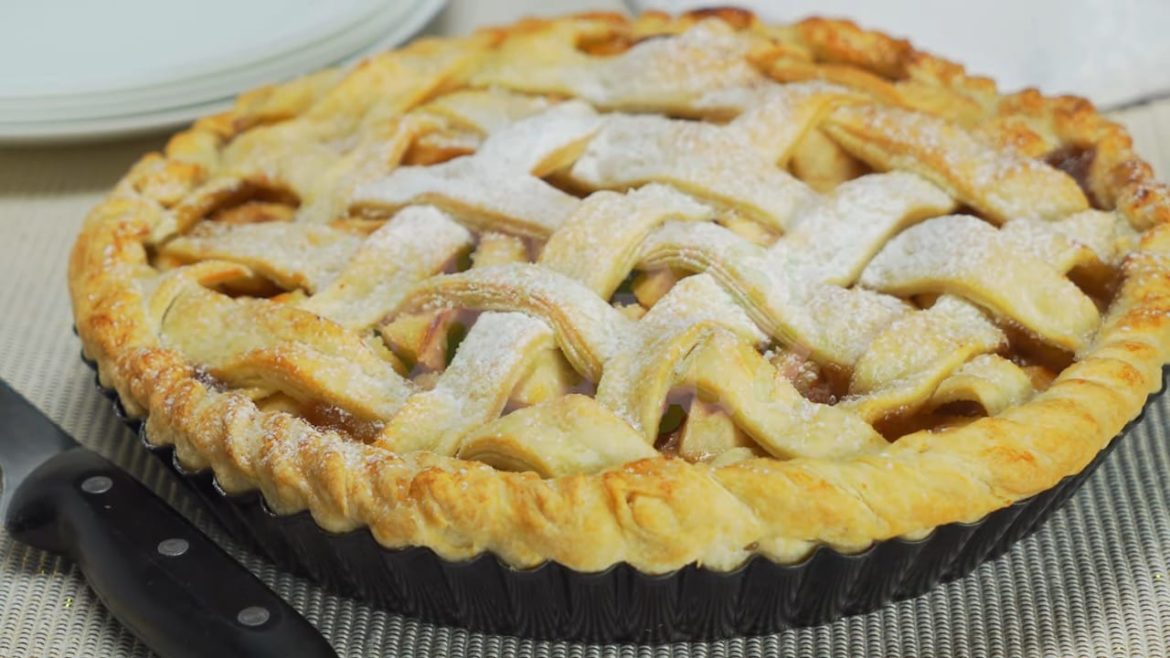 Ingredients
apples – 35 oz /1 kg
no-yeast puff pastry – 17½ oz /500 g
starch – 1 oz/30 g
wheat flour – 1oz /30 g
sugar – 5 oz /150 g
½ lemon juice
butter – 2 oz /50 g
cinnamon – ½ tsp
ground nutmeg – ⅓ tsp
You will need:
pastry board
carving board
bowl
baking pan
oven
Instructions
Quarter the apples, remove the cores and peel.
Cut each quarter into three pieces.
Lay the prepared apples into a bowl, drizzle with the lemon juice and 1 oz /30 g of the melted butter and toss.
Add the starch, flour, sugar, cinnamon and nutmeg and toss well.
Dust a pastry board with flour and roll out a half of the pastry to a size of baking pan including sides plus ⅓ in /1 cm.
Butter the baking pan and lay the rolled out pastry evenly.
Roll out the second half of the pastry into rectangular and cut into 12 strips about 2/3 in /2 cm width and of the baking pan length plus ⅓ in /1 cm.
Lay out the prepared apple filling into the pastry lined baking pan and spread evenly.
Lay 3 pastry strips vertical and 3 horizontal and cross them. Add more strips and cross them covering the pie as a basket.
Cut off the edges leaving ⅓ in /1 cm.
Twist the edges around as a rope.
Brush the pie pastry with butter.
Preheat oven to 350°F /180°C and bake the pie for 25 minutes.
Pull out the baking pan with the pie, sprinkle with 1 tbsp of sugar and bake for 10 minutes more.
Take the apple pie out of the oven and leave it to cool down. The apple pie is ready. Bon appetite!
Did You Make This Recipe?
Bake an apple pie with no-yeast puff pastry, fresh apples pieces flavored with cinnamon, sugar, ground nutmeg and lemon juice. Apple pie is quick to cook and always comes out tasty with tender, crispy crust and aromatic filling. Such a pie will never be a waste.
---
Enjoy