Pumpkin Spice Cake Cookies are on the menu in Chef Anna Olson's amazing kitchen, and she is going to teach you how to make this delicious recipe from scratch!
Follow along with the recipes below!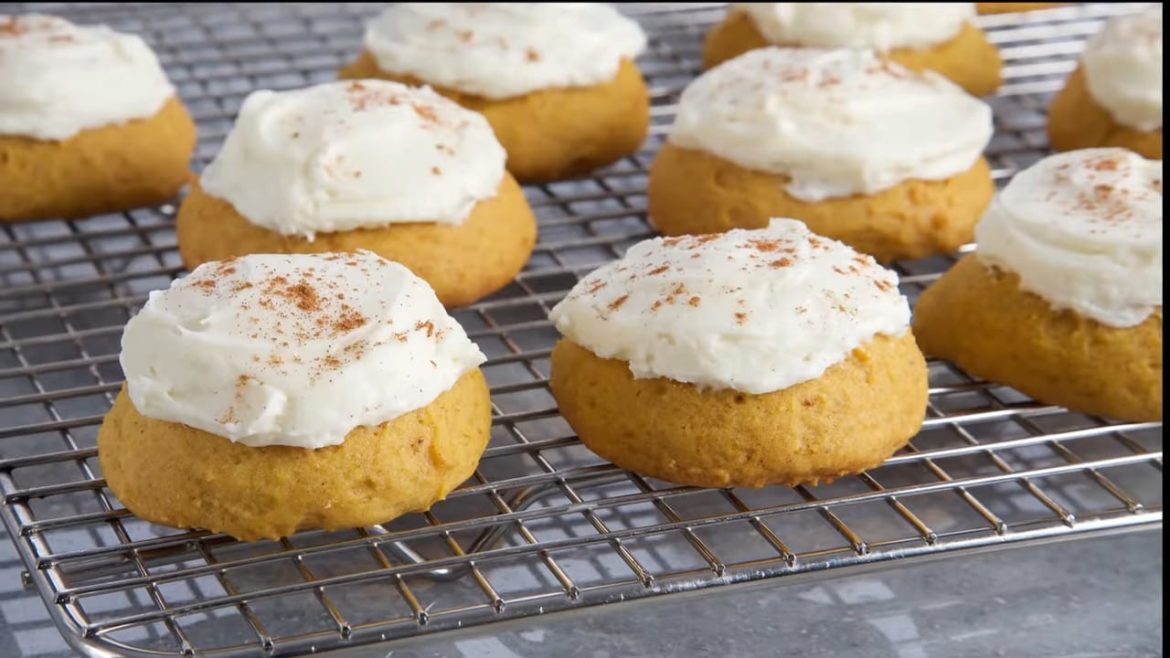 Ingredients
Cookies:
½ cup (115 g) unsalted butter, at room temperature
1 cup (200 g) granulated sugar (caster sugar)
½ cup (100 g) packed light brown sugar
1 large egg
1 cup (250 g) pure pumpkin puree
2 ½ cups (375 g) all-purpose flour (plain flour)
1 tsp (5 mL) baking powder
½ tsp (2 mL) baking soda
½ tsp (2 mL) salt
1 tsp (5 mL) ground ginger
½ tsp (2 mL) ground cinnamon
¼ tsp (1 mL) ground nutmeg
Frosting:
½ cup 115 g unsalted butter, at room temperature
½ pkg 125 g cream cheese, at room temperature
2-3 cups 260-390 g icing sugar, sifted
1 tsp 5 mL vanilla extract
ground cinnamon, for sprinkling
Instructions
Preheat to the oven to 350 F (180 C) and line 2 baking trays with parchment paper.
Beat the butter and both sugars together (by hand or with electric beaters) until smooth and then beat in the egg. Add the pumpkin puree and stir in well.
In a separate bowl, sift the flour, baking powder, baking soda, salt, and spices and add this to the pumpkin batter, stir until evenly mixed. Use an ice cream scoop (#40) and scoop cookies onto the baking trays, leaving 2-inches (50 mm) between them. Bake the cookies for 17-20 minutes, until they lift easily from the tray. Allow the cookies to cool on the trays before frosting them.
For the frosting, beat the butter and cream cheese together until smooth and then add 1 cup (130 g) of the icing sugar, beating well. Add the vanilla and an additional cup of icing sugar, beating until fluffy and adding additional icing sugar until the frosting is a spreadable consistency.
Pipe or spread the frosting onto each cookie and enjoy it. Sprinkle a bit of cinnamon on top of each frosted cookie.
Notes
Yield: 30 cookies
The cookies will keep in an airtight container for a day, or refrigerated for 3 days (but best enjoyed at room temperature.)

Did You Make This Recipe?
Recipe video
---
Enjoy