Hi Everyone! Time to bake. If you've made My Go-To Vanilla Sablé Tart Shell (the recipe is a few video posts back and in my new book, Everyone Can Bake), you'll have some dough leftover, but don't let that go to waste. Here, I'll show you how to turn those dough scraps into Raspberry Linzer Cookies, with homemade raspberry jam, another recipe from the book (you can also use whatever jam you have at home too).
Follow along with the ???? recipes below????????????????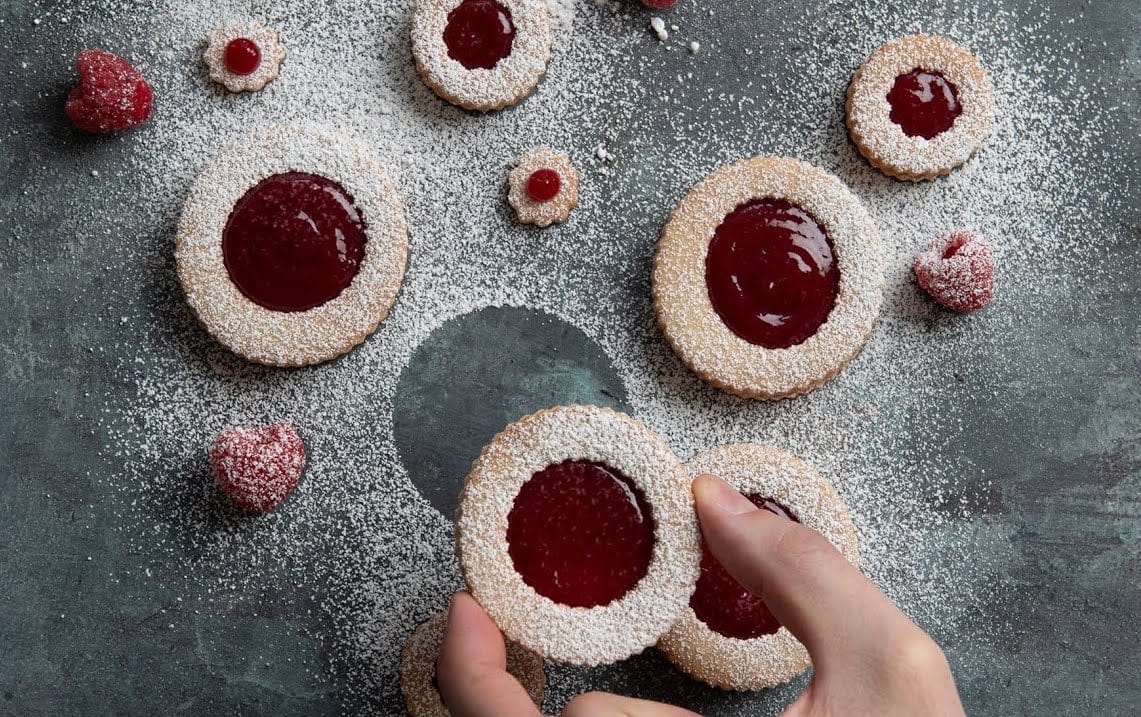 Ingredients
RASPBERRY JAM INGREDIENTS
200 g (1 cup) sugar
24 g (2 tbsp + 1 3/4 tsp) powdered apple pectin
700 g (4 1/2 cups) fresh raspberries
Instructions
Combine the sugar and pectin in a medium bowl. Stir until well mixed.
Place the berries in a large bowl. Sprinkle the pectin mixture evenly over the berries* and stir until incorporated. (You can also cook the berries for a few min first, then sprinkle the pectin mixture over top, as I did in the video.)
Make sure to sprinkle the pectin mixture evenly, or it will clump.
Transfer the raspberry mixture to a medium saucepan, cover, and bring to a simmer over medium heat. Cook, stirring occasionally, adjusting the heat as needed if the mixture threatens to boil over, until the berries break down and are thick and jammy, 30-45 min. Remove from heat.
Let jam cool completely in the fridge. Once cooled, transfer to a piping bag.
TO ASSEMBLE LINZER COOKIES:
Roll out the Vanilla Sablé Tart Shell dough (recipe is a few posts back) slightly thicker than a tart shell, about 1/4 in (6 mm) thick. Use a round fluted cookie cutter or your favorite cookie cutter to cut shapes from the dough. With a smaller cutter, cut a smaller shape from the center of half the cookies.
Arrange cookies on a parchment paper-lined sheet pan. Bake in a preheated 350°F (175°C) oven for 10 min until lightly golden blonde. Let cool completely in the pan.
Turn the cookies without the center hole bottom-side up. Spread a teaspoon of jam onto each. Dust the cookies with the center hole with confectioners' sugar. Place on top of the jam, push down slightly to make a sandwich. I recommend letting them sit for 30-45 min so they soften from the moisture of the jam and get a bit tender.
Notes
Check out the pastry cream and jam recipe, and dozens more, in my new cookbook, Everyone Can Bake

Did You Make This Recipe?
Recipe video
---
Bon Appétit