Baking is a gift, and even now, there are still lots of everyday occasions to celebrate! I wanted to show you one of my favorite summer recipes and something that's perfect to share with your friends and family: Strawberry Tiramisu. There are just 3 components: ladyfingers, mascarpone whipped ganache & strawberry syrup (recipes below and also in my new book, Everyone Can Bake).
Follow along with the ???? recipes below????????????????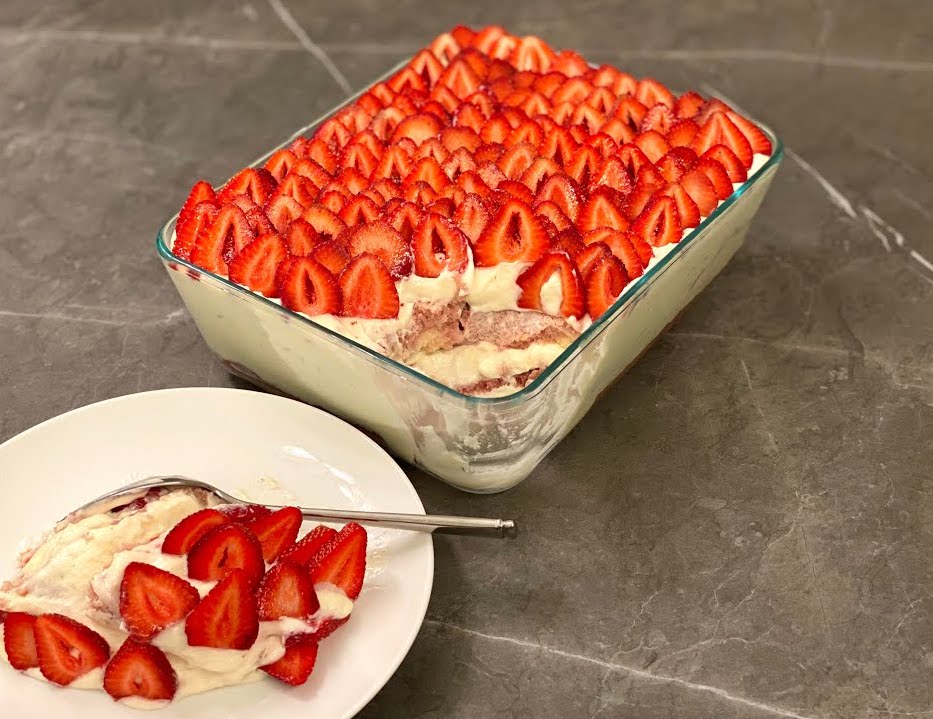 Ingredients
EQUIPMENT
KitchenAid Stand Mixer w/ whisk attachment
8x8 glass cake pan
Sheet pan
LADYFINGERS
8 large egg yolks
1⅓ cup sugar
8 large egg whites
2 cups flour
⅓ cup cornstarch
6tsp powdered sugar
STRAWBERRY SYRUP
1-1.5lb fresh strawberries
½ cup sugar
Splash of Kirsch
MASCARPONE WHIPPED GANACHE
2½ tsp powdered gelatin
2 tbsp + 1¾ tsp cold water
1¾ cups heavy cream
1½ cups mascarpone
2¼ tbsp honey
5½ oz chopped white chocolate
Instructions
LADYFINGERS
Preheat oven to 400F. Line sheet pan w/ silicone mat/parchment.
In Stand Mixer w/ whisk attachment, combine yolks & ½ the sugar. Whip on high til fluffy, 3-5 min. Pour into large bowl.
Wash & dry mixer bowl & whisk. Whip whites on high til stiff peaks. Slowly add rest of sugar, mixing on high til combined.
Gently fold yolk mixture into white mixture w/ spatula til just combined. Fold in flour & cornstarch (don't deflate the batter).
Spread ½ the batter onto silicone mat into an even layer. Sprinkle w/ ½ the powdered sugar.
Bake til golden blond, 10-15 min. Let cool. Place parchment on top, invert pan, peel away silicone mat. Repeat w/ rest of batter. Slice into 3-4 squares to fit cake pan.
STRAWBERRY SYRUP
Combine all ingredients in heatproof bowl. Cover w/ plastic. Place over double boiler for 35-45 min til syrup forms. Let cool 30 min. Strain, set aside.
MASCARPONE WHIPPED GANACHE
Dissolve gelatin in bowl of cold water.
Boil cream, mascarpone & honey in pot over medium heat. Remove from heat, stir in gelatin mixture.
Place chocolate in heatproof bowl. Pour in ⅓ of the hot cream mixture. Wait 30 sec. Whisk til chocolate melts. Whisk in rest of cream til smooth. Cover w/ plastic, chill 2-3 hrs or overnight.
When ready to assemble tiramisu: transfer chilled ganache to Stand Mixer w/ whisk attachment. Whisk on high til fluffy 2-3 min
Did You Make This Recipe?
---