This exceptional pie has every chance to take its distinguished place in a list of your favorite recipes. Scottish potato pie is perfect for a family dinner or can be successfully served for a festive table. Such a pie is baked without flour and just three ingredients needed.
Follow along with the ???? recipes below????????????????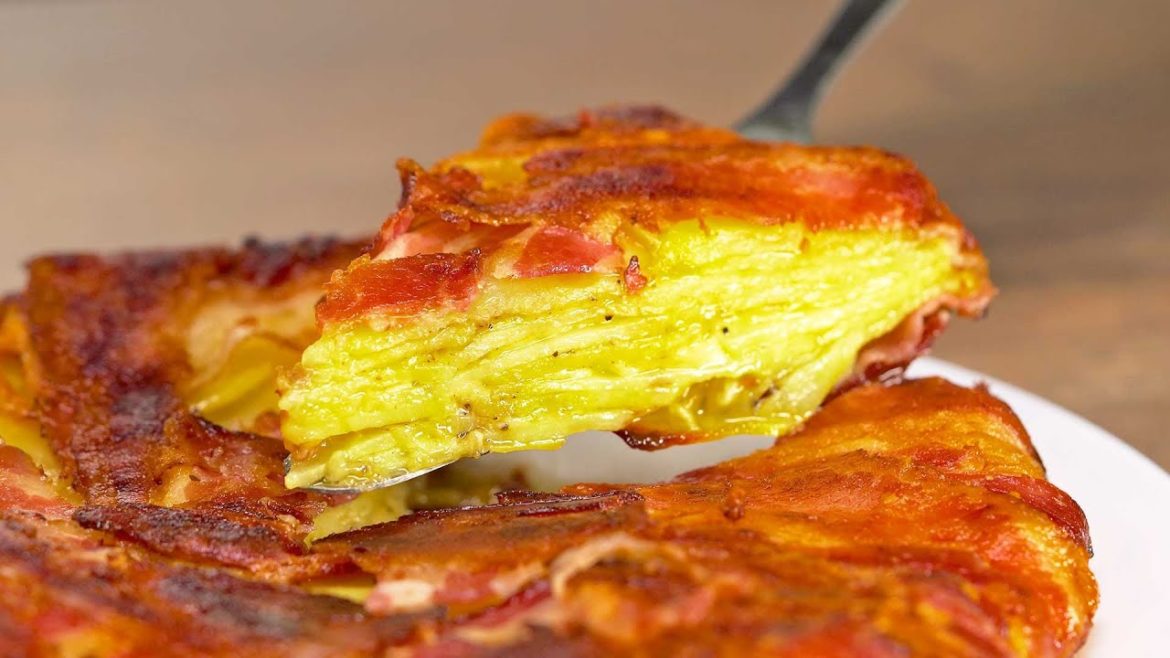 Ingredients
potato – 18 oz /500 g
smoked bacon – 10½ oz /300 g
hard cheese – 7 oz /200 g
salt – to taste
pepper – to taste
You will need:
baking dish, in the video recipe we use a dish of Ø 8½ in /22 cm
grater
cheese grater
food foil
oven
Instructions
Cut the potato into thin slices and grate the cheese.
Lay out the thinly sliced bacon on a baking dish so that to cover the whole bottom leaving the bacon edges outside the baking dish to cover then potato.
Follow with ⅓ of the potato, salt and pepper a bit, then sprinkle with ¼ of the grated cheese, follow wit ¼ of the potato, salt and pepper and ⅓ of the cheese. Repeat such layers twice more, end with a potato layer without cheese one.
Wrap the casserole with the hanging bacon slices and cover the baking dish tightly with a food foil.
Preheat oven to 350°F /180°C and bake the pie for 25 minutes, then take off the foil and bake for another 25 minutes at the same t°.
Check the readiness of the potato with a wooden stick.
Take the pie out of the oven, cover with a serving plate and flip so that the pie is on the plate.
Cut your Scottish potato pie into portion pieces and serve to the table.
Did You Make This Recipe?
Scottish POTATO PIE is on the menu in Book recipe, and we are going to teach you how to make this delicious recipe from scratch!
---
Enjoy