Seared scallops are a dish that many of us only eat in restaurants, but it doesn't have to be that way. In my opinion, the best way to cook scallops only requires good scallops and a really hot pan. Scallops and the accompanying scampi sauce that I'm going to show you in this post is super easy and should demystify the process and turn you into an at-home scallop searing machine.
Follow along with the ???? recipes below????????????????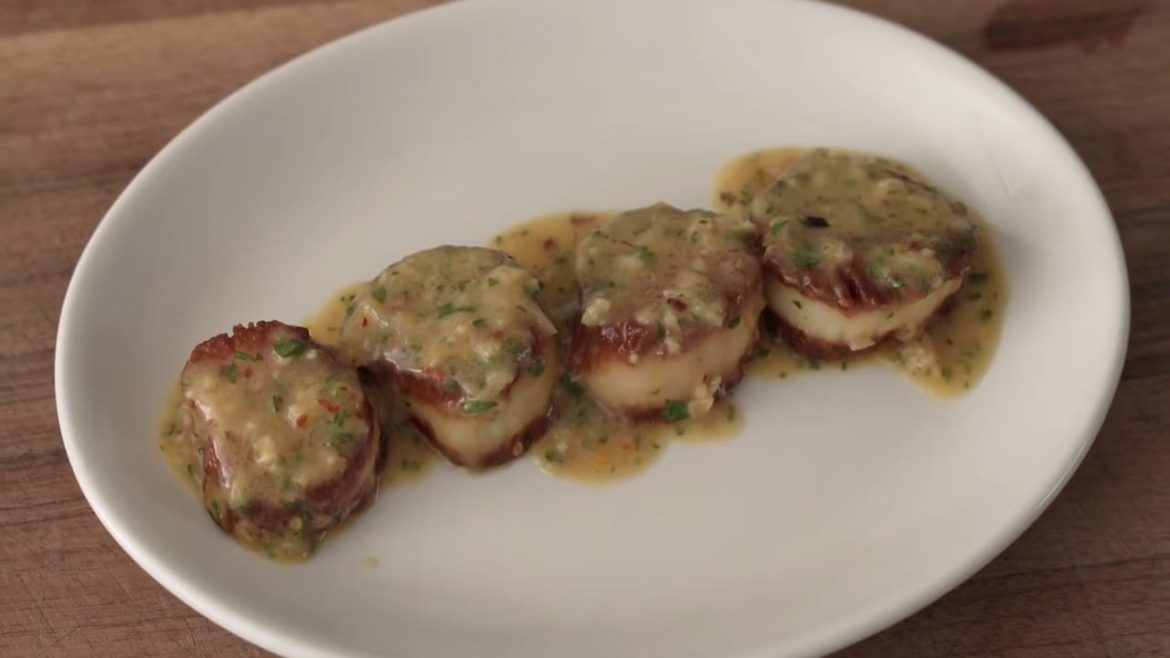 Ingredients
Large U 10-12 fresh scallops (frozen will work if you can't find fresh)
High smoke point oil (enough to coat the bottom of whatever pan you're using)
SCAMPI SAUCE
30g or 2 1/4 tbsp olive oil
40g or 4tbsp shallot
5g or 1 3/4tsp minced garlic (about 2 cloves)
pinch chili flake
3g or 1 1/8tsp ap flour
75g or 1/3c dry white wine
100g or 1/3-1/2c clam juice
60g or 4 1/4tbsp cold butter
Zest of 1 small lemon
5g or 1 1/3tbsp chopped parsley
pinch salt
Instructions
Remove adductor muscle, dry all sides of scallops well, season generously with salt. Preheat oil in a large cast-iron pan over med-high.
Lay in scallops in the pan one at a time and firmly press. Sear for about 90 seconds. Flip to the second side and continue to sear for about 60 more seconds. Finish by basting for about 30 seconds with the hot oil in the pan. Scallops should reach about 130F/54C.
SCAMPI SAUCE
Wipe out the pan well then whisk oil, shallot, garlic, and chili flake for about 90 seconds or until the mixture is becoming translucent. Add in flour, whisk, and cook for about 20 seconds before adding wine to deglaze.
Bring to a simmer to reduce the liquid and thicken (about 30 seconds).
Add clam juice, turn heat to low, and allow to thicken and reduce for another 20 seconds or so. Whisk in cold butter to emulsify. Off heat, whisk in lemon zest. Add parsley and a pinch of salt. Stir to combine. Serve over scallops.
Did You Make This Recipe?
Recipe video
---
Bon Appétit