Lebanese garlic sauce is on the menu in Book recipe, and we are going to teach you how to make this delicious recipe from scratch!
Fluffy Lebanese garlic sauce and Middle Eastern spicy chili sauce – Two legendary condiments for shawarma, grills, and sandwiches These two sauces are the cornerstone of sandwiches and grilled foods in the Middle East.
The first is a fluffy Lebanese garlic sauce called Toum that is perfect for dipping, and the second is a spicy chili sauce filled with loads of fresh chilies. I guarantee that if you make these, they'll be on permanent rotation in your kitchen.
Follow along with the ???? recipes below????????????????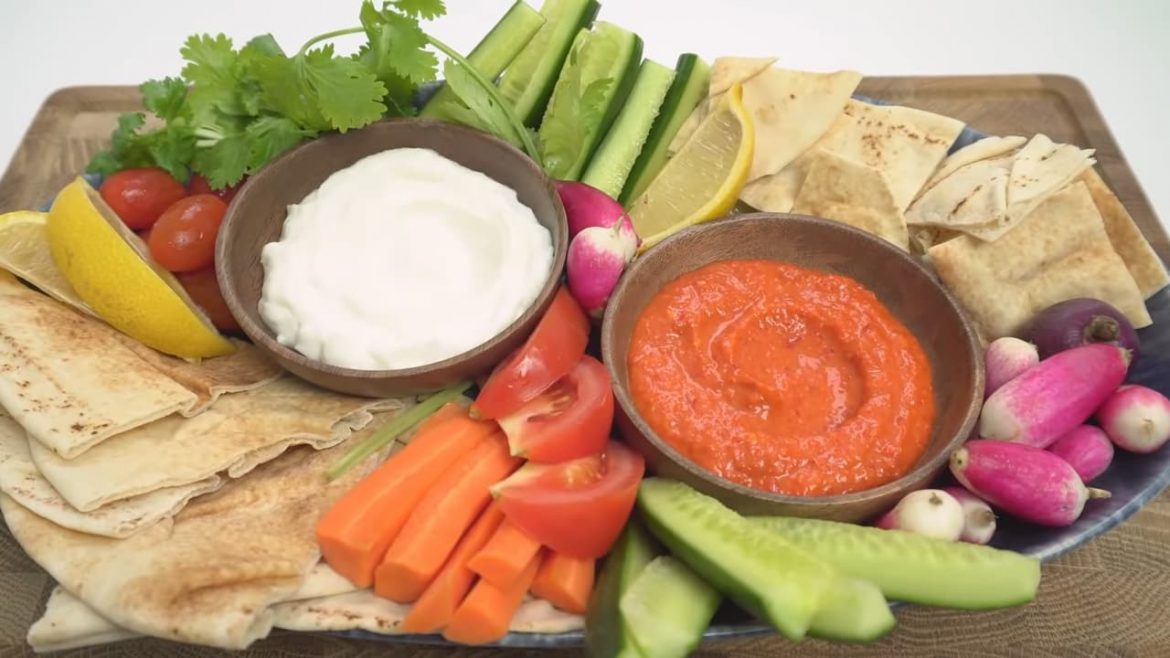 Ingredients
Garlic sauce Ingredients:
150g (5.3 Oz) Garlic
135g (about 1/2 cup) Lemon juice
600g (21 oz) Neutral Vegetable Oil - Sunflower preferred
1 Tsp Salt
Chilli sauce ingredients:
100g (3.5 oz) Habaneros
200g (7 oz) Cayenne Peppers
300g (10.5 oz) Fresh Paprikas
3-4 Cloves of garlic
1 Brown Onion
3 Tbsp Olive oil
3 Tbsp Lemon juice
1 Tbsp White vinegar
1 Tbsp Sugar
1-2 Tbsp Cayenne Pepper (optional and should only be used if your sauce isn't spicy enough)
2 Tsp Garlic powder
1 Tsp Fresh ginger
1 Tsp Ground cumin
1 Tsp Ground coriander
1 Tsp Salt
1/4 Tsp Smoked Paprika
Instructions
Garlic sauce directions:
Peel your garlic and slice your cloves in half, remove the garlic germ from the center of each clove, you should have 150g after degerming your garlic
Juice about 2 lemons and strain the juice to remove all pulp and seeds
Place your garlic and salt in your food processor and process until finely minced. This should take about 2 minutes, remember to scrape the sides of the food processor bowl every 15 seconds.
When finely minced add a teaspoon of lemon juice and process again for a minute, scraping the bowl every 15 seconds
Add one more teaspoon of lemon and process until a fluffy and fine paste forms
When the garlic has fluffed up, start your food processor, and slowly drizzle in 1/2 a cup of the oil. You should drizzle it in a flow as thin as a thread, and do not stop the machine until the recipe is completed. As you drizzle the oil the garlic will emulsify into a sauce, you should take about 2 minutes with the first half cup. If your machine has an emulsification reservoir, use it to slowly trickle the oil in. Do not proceed with the recipe until the first half cup has emulsified and thickened
Once the first half cup has emulsified you should slowly drizzle in a tablespoon of lemon juice
Alternate drizzling in 1/2 a cup of oil and 1 tablespoon of lemon juice until both have finished
Once completed, place the sauce in a container and cover it with a paper towel. Let it rest overnight before serving
Chilli sauce directions:
Slice the top off of each chili and remove the pith and seeds
Peel your ginger and slice it into thin pieces
Peel your onion and slice it into quarters
Place the peppers, onion, ginger, and garlic on a baking sheet and drizzle on 1 Tbsp of olive oil as well as 1 Tsp of salt
Bake in a 180c or 350f oven for 20-30 minutes until the chilies are cooked and slightly browned. Remove and let cool before moving forward
Place all the baking ingredients into a food processor and process into a fine paste
Add the remaining ingredients apart from the lemon juice and cayenne pepper, then blend until well mixed and a thick chili sauce has formed
Taste the sauce and see if it's spicy enough, if not, add the cayenne pepper and blend once more
Add the lemon juice and mix in
Place the chili sauce in a container and refrigerate overnight, the flavors will develop over the next 24 hours
Notes
Tips and tricks:
You can make your own DIY emulsification reservoir by making a hole in the bottom of a plastic cup
Chilling your oil in the fridge for a couple of hours will help the emulsification setup easier
If your garlic sauce splits or does not emulsify, you can fix it with an egg white. Check out this video for instructions: 
Fresh garlic will taste nicer than regular store-bought garlic, but it's harder to emulsify as it has fewer emulsifiers in it.

Did You Make This Recipe?
---
Enjoy
Let us know what you think of today's Lebanese garlic sauce tips, tricks, and hacks!