Turkish vegan recipes are on the menu in Book recipe, and we are going to teach you how to make this delicious recipe from scratch!
We are talking about vegan recipes today! Meatless recipes are staples of Turkish cuisine just as much as the very well-known kebabs and they are the recipes perfected by our ancestors over time.
These recipes are not created to omit any meat or dairy product, but they are created to be enjoyed and appreciated on their own. Let me give you the best 10 vegan recipes on our channel and celebrate, share with your loved ones every single of them!
Follow along with the ???? recipes below????????????????
1-Hummus Recipe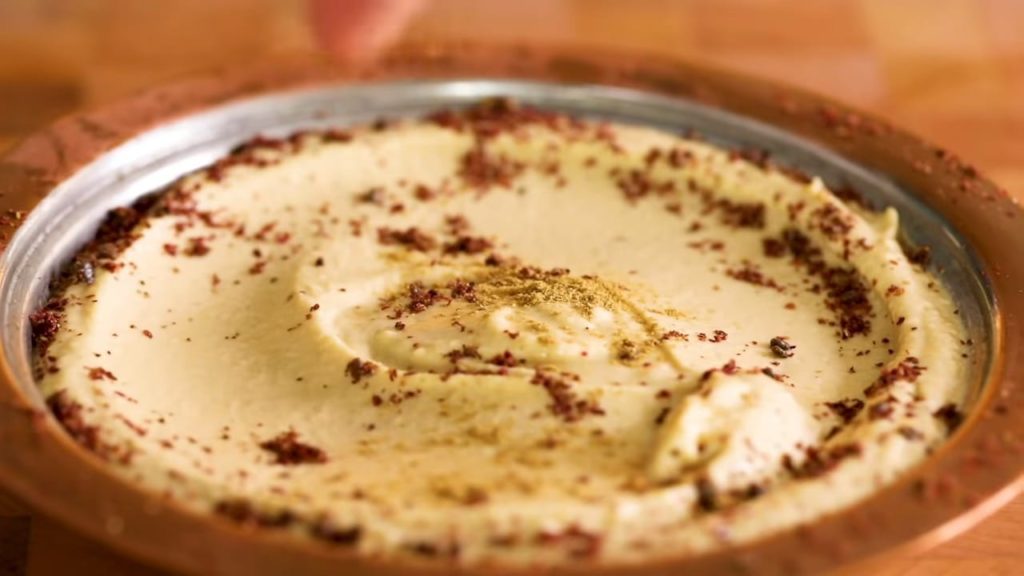 Link to the detailed recipe
Ingredients:
400 gr canned chickpeas (~14 oz, ~0.9 lb)
6 tablespoons tahini
1 lemon
6 cubes of ice
2 garlic cloves
2 tablespoons extra virgin olive oil
Half teaspoon salt
to garnish:
ground sumac
ground cumin
2-3 tablespoons extra virgin olive oil
Parsley
Instructions:
For a perfectly smooth hummus first, you need to peel the chickpeas. Add 400 gr
canned chickpeas in a large bowl and rub to take the skin off.
Fill the bowl with water and the skins will start to float. When you drain, skins will group
on water and it will be much easier to collect.
Add peeled chickpeas, 2 cloves of garlic, half of a teaspoon salt, 6 tablespoons of
tahini, and 2 tablespoons of extra virgin olive oil to a food processor.
Squeeze a lemon juice and run for 7-8 minutes at low-medium speed.
While the food processor is working the hummus will get warm. To avoid that add 6
cubes of ice gradually. ıce will help to make smooth hummus as well.
After a couple of minutes, hummus will be okay but not smooth enough. Don't give
up and continue until the hummus is creamy. You can run at high speed at this stage.
Taste and adjust the lemon, tahini, and salt to your taste. Garlic and olive oil always
need time to settle. If you have 2-3 hours before eating the taste will be better.
When the hummus is ready put it on the serving table and make a little crater with the
back of a spoon.
Sprinkle ground sumac, cumin, and parsley leaves. Last but not least pour 2-3
tablespoons of extra virgin olive oil.
2-Aka Shakshuka (Turkish Style Şakşuka)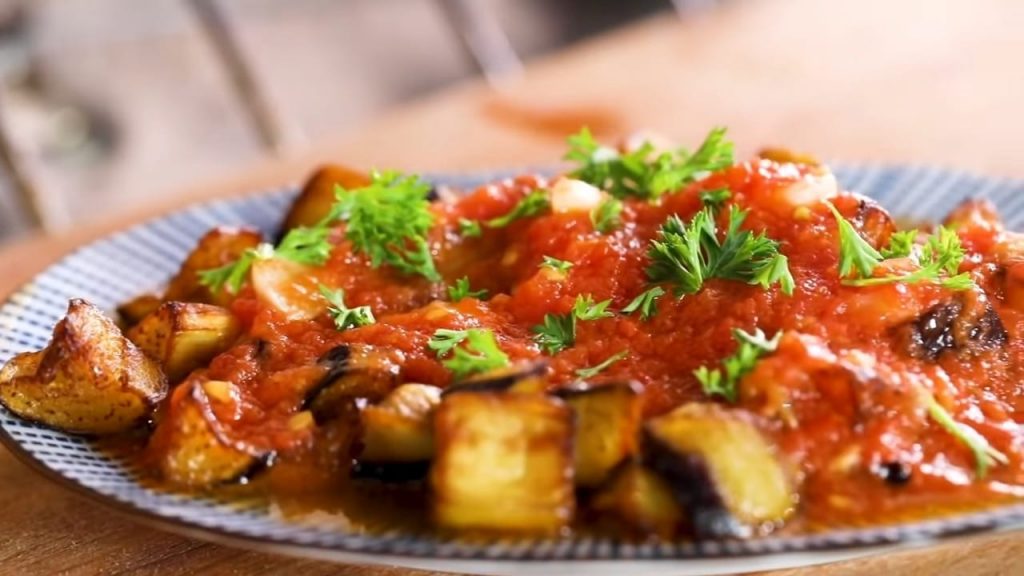 Today is all about eggplants because I think eggplants can be as famous and addictive as potatoes with good cooking. Unlike potatoes, eggplants can be unbearable if you don't know how to treat them, so I will give you the tips and tricks about cooking eggplants and making a great Turkish shakshuka.
The word meaning of shakshuka is "all mixed up" and unlike the other cultures, in Turkey, Shakshuka is not an egg dish. It's a vegan meze with fried eggplants and pepper (and sometimes potatoes too) with garlic-tomato sauce, shared around a big table with friends and family in summers!
Link to the detailed recipe
Ingredients:
3 eggplants, peeled strips off, and diced
5 green peppers, sliced into circles (2 diced green bell peppers work fine as well)
Salt
3-4 cups frying oil of your choice
Tomato sauce
6 small tomatoes, finely grated (400 ml (1+ ¾ cups) of tomato puree would do great)
3 tablespoons olive oil
2 large garlic cloves, peeled and chopped
2 pinches of salt
A pinch of black pepper
A good pinch of sugar
1 teaspoon white wine vinegar
To garnish:
2 sprigs of parsley, chopped
Instructions:
Pour the frying oil into a large frying pan and turn the heat on to medium-high.
Peel the strips off the eggplants and dice while the oil is heating. This way you will be able to fry them before the flesh turns brown.
Dip the handle of a wooden spoon in the oil. If there are bubbles coming out of the spoon immediately, the oil is hot enough for frying. If there are no bubbles yet, heat a little more.
Add the eggplants to the pan and fry until brown. Don't take them out if they still have green-yellow colors and stir occasionally.
While eggplants are frying, you can make the tomato sauce. Cut the tops of the tomatoes and finely grate. This way you will use all the flesh and don't have to peel them before grating.
Heat the olive oil in a small saucepan on medium heat and add the garlic.
Then, add the tomato puree before the garlic changes color. Garlic can taste bitter if over-fried.
Season with salt and black pepper.
Add in the sugar and vinegar. You can add some hot pepper if you like.
Mix it well and simmer for 10-12 minutes.
Place a sieve in a large bowl and transfer the fried eggplants into it. Season with salt and shake it well. Sieve works way better than paper towels in terms of draining excess oil and keeping them crispy.
Turn the heat down to low and fry the peppers as well. Unlike the eggplants, fry them just for 30 seconds, we want them to keep their bright green color instead of turning brown.
Transfer the peppers to the sieve and season with salt. Set aside with eggplants for a couple of minutes to slightly cool down.
Mix the tomato sauce with the eggplants and peppers in a large bowl. Transfer to a dish and garnish with chopped parsley. Your amazing, vegan şakşuka is ready. It is great when it is hot but if you be patient and wait until it cooldowns, the taste will settle and be much greater. Even the next day you won't believe how amazing it becomes as it waits. Place a slice of white cheese (feta) on a piece of bread and top with şakşuka, you are in heaven with each bite!
3-Falafel Recipe That Will Make You So Happy Every Time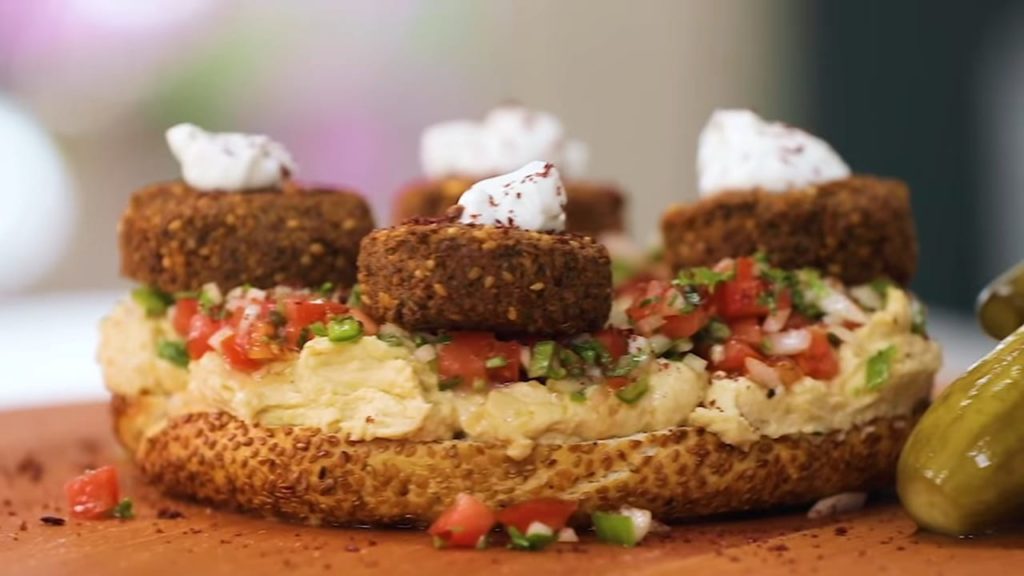 I have the best falafel recipe for you! You just need some small tricks to make this crispy, delicious gluten-free, and vegan miracle. We made a delicious plate with the hummus and spoon salad as supporting actors, also not forgetting the deliciously crunchy simit!
Link to the detailed recipe
Ingredients:
250 g dried chickpeas, (or 125 g dry chickpeas + 125 g dry broad beans)
1 pack (10 g, 1 tablespoon) of baking powder or baking soda
1 small onion (120 g), roughly chopped
4 cloves of garlic
12 sprigs of coriander
10 sprigs of parsley
6 sprigs of dill
3 pinches of ground cinnamon
1 teaspoon black pepper
1 teaspoon salt
1 teaspoon hot paprika
3 whole cloves
1 leveled tablespoon baking powder
2 tablespoons sesame seeds
Hazelnut oil (or sunflower oil, grapeseed oil), for frying
Sides:
Hummus
Spoon salad (you can find the recipe down below)
2 simits, halved (simit is a type of bread coated with molasses and covered in sesame seeds, but you can use pita as well)
Thick, savory yogurt or labneh
Pickled cucumbers
Sumac, to garnish
Spoon salad:
2 medium tomatoes, finely chopped
4 green pepper, finely chopped (or 1 large bell pepper)
1 medium onion, finely chopped
10 sprigs of parsley, finely chopped
½ lemon
4 tablespoons extra virgin olive oil
Salt
Red pepper flakes
Instructions:
Soak the chickpeas with a tablespoon of baking powder for 20 hours. If you don't want to wait, place the chickpeas in a pressure cooker and fill them with water up to the level of the chickpeas. Cook for 5-8 minutes on high heat and high pressure. This works like soaking overnight but the falafel texture will be smoother (puree-like) compared to soaking overnight.
Drain the chickpeas and place them in your food processor.
Grind the whole cloves by using a pestle and mortar.
Add in the onion, garlic, coriander, parsley, dill, cinnamon, black pepper, salt, paprika, 1 leveled teaspoon of baking powder, and cloves.
Pulse until the mixture is finely chopped and blended, scraping down the sides of the processor if needed. Be careful not to over-pulse and turn it into a smooth, doughy texture.
Mix in the sesame seeds and refrigerate for an hour.
Shape the mixture into 16 patties by using a falafel scoop or a mocha pot funnel-my invention! -. You can also use your hands to shape them into 1,5-2 cm (~½ in.) thick patties. Oil the funnel and your hands, if the mixture is sticky.
Pour the oil into a large frying pan to a depth of 4-5 cm (~2 in.) The oil should fully cover the falafels while frying-.
Heat the oil to 180 C (355 F). You can check the temperature by using a thermometer or dipping the handle of a wooden spoon and count to ten. If you can see bubbles, it is at the right temperature. If bubbles come out earlier, it means the oil is too hot. If bubbles come out later, it is not hot enough yet.
Place half of the patties into the hot oil carefully and fry for 5-6 minutes until crispy and brown. Turn them occasionally and transfer them to a sieve or paper towel. Fry the second batch.
To serve falafel, halve the simit and spread some hummus on it. Top with spoon salad and place the falafels. Finally, add some yogurt to the falafels and sprinkle some sumac. For a classic dish, serve with hummus, spoon salad, pickles, pita, greens, and lemon.
Spoon salad:
Mix the tomatoes, green pepper, onion, and parsley in a bowl. Season with salt and red pepper flakes. Squeeze the lemon and pour in the olive oil. Give it a good mix and ready! You can also add a cucumber if making this salad in summer.
4-Vegan Ci Borek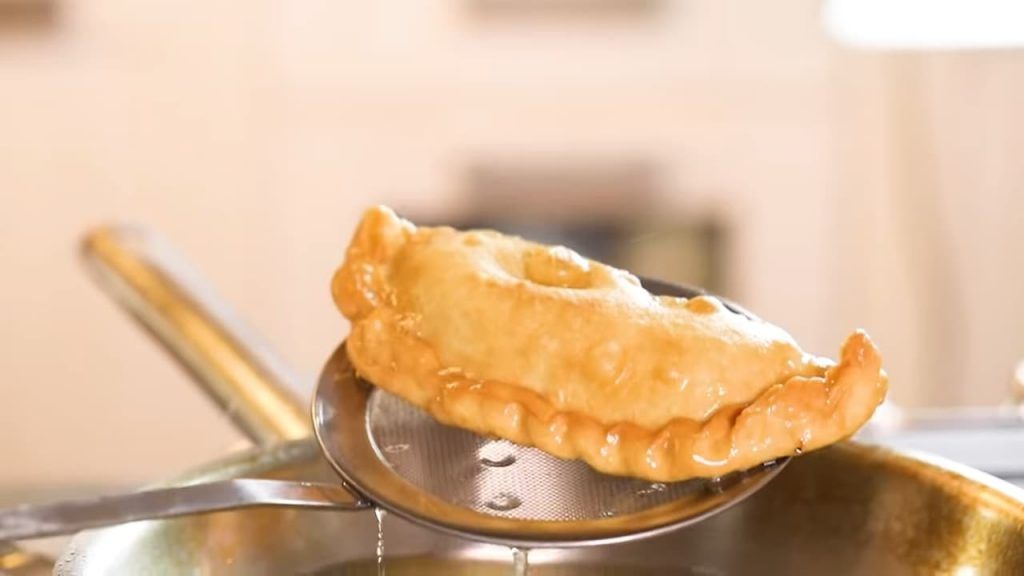 Traditionally, its filling is ground beef, but we adapted the recipe for those of you who prefer vegan and vegetarian food. Do not miss this amazing recipe ????
Ingredients:
1 cup of flour (150 g)
½ tablespoon baking powder
1 teaspoon salt
1 tablespoon vinegar
1.5 tablespoons coconut oil
5 tablespoons water (75 ml)
400 g mushroom
3 onions
3 cloves garlic
3-4 tablespoons olive oil.
Salt
Black pepper
Instructions:
For detailed instructions on how to make the dough and fry the borek, refer to ci börek with beef and important tips
To make the dough, take out yogurt and butter from the dough and add 1.5 tablespoons of coconut oil and 1 teaspoon of vinegar instead of them. Knead it and divide it into 4 equal balls (or 8).
To make the vegan filling, heat 3 tablespoons of olive oil and add diced 3 onions in a pan and sauté them well and add 400 g diced mushroom.
Then, dice 3 cloves of garlic and add them to the mixture.
Add salt and black pepper to your taste. Once the mixture is caramelized set it aside for it to cool down. Otherwise, the borek will not get crunchy enough.
5-Turkish Artichoke Recipe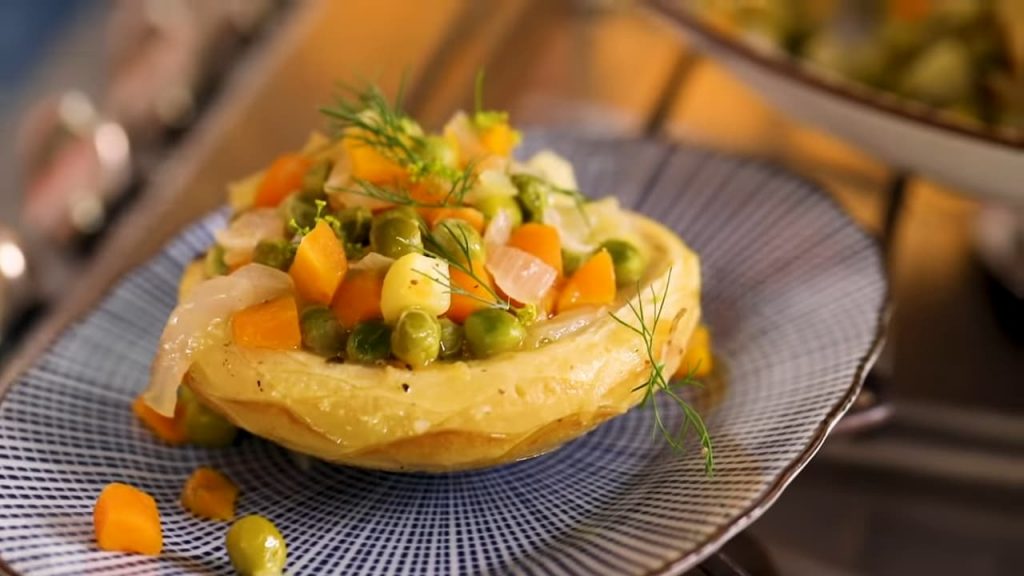 Join us in today's episode where I teach Seda tips and tricks to cook artichoke hearts to perfection and tell us how you like your artichoke hearts! Enjoy the video ????
Link to the detailed recipe
Ingredients:
3 artichoke hearts (Canned or in a jar is fine, they are sometimes called artichoke bottoms)
1 onion, roughly chopped
2 cups of diced and frozen potato, carrot, and pea mixture (alternatively, you can dice ½ carrot, ½ potato, and 2 handfuls of peas for 3 artichoke hearts)
7 tablespoons extra virgin olive oil
1 teaspoon sugar (or balsamic vinegar, molasses)
1/2 teaspoon salt
1/4 teaspoon freshly ground black pepper
1/2 cup of water
To garnish,
Extra virgin olive oil
Lemon juice, freshly squeezed
2 sprigs of dill, leaves picked (and even the seeds on the plant if you are lucky)
Instructions:
Put your pressure cooker on high heat and pour in the olive oil.
Wait until the olive oil becomes more fluid. This way you will know the oil and pan are ready for cooking.
As a starting ingredient for many Turkish dishes, add the onions and sauté for 2 minutes.
Pour in the potato, carrot, and pea mixture and stir.
Place the artichokes in the pan and don't let them sit on the vegetables. Be brave and push them under the vegetables so they can get the heat of the pan.
Add the salt, freshly ground black pepper, and sugar. Sugar is very common in salty dishes to balance the taste.
Mix together the ingredients and spoon some vegetables onto the artichoke hearts.
Pour half a cup of hot water into the pressure cooker and set the pressure for vegetables.
When the lid is tight and the pressure is enough to cook, place the pressure cooker on a small burner on low heat.
Cook for 5 minutes and release the pressure by removing the lid or putting the pan under running cold water.
Place in a dish and don't forget to pour the juice over them.
To garnish, sprinkle with dill and drizzle some more olive oil. Last but not least squeeze a lemon and enjoy with a glass of cold, lemon water.
6-Easy and Yummy Mezze Recipes! Tapas in Spain, Thali in India, and MEZZE in Turkey
A lot of you liked our previous hummus recipe and it encouraged me to share more appetizer recipes with you. So I challenged myself to prepare 7 easy-to-make yet very delicious mezzes in 20 minutes.
In doing so, I did not only share the recipes, but also the beautiful mezze culture in Turkey which I think will show you a bit of our leisure eating and drinking habits.
You won't believe how easy it is to prepare these mezzes and an amazing 'çilingir sofrası' which is what we call a mezze-based dinner setting in Turkish. I strongly suggest you watch the video and see if you'll believe the feast I prepared in 20 mins ????????
Link to the detailed recipe
Ingredients:
Mashed Eggplants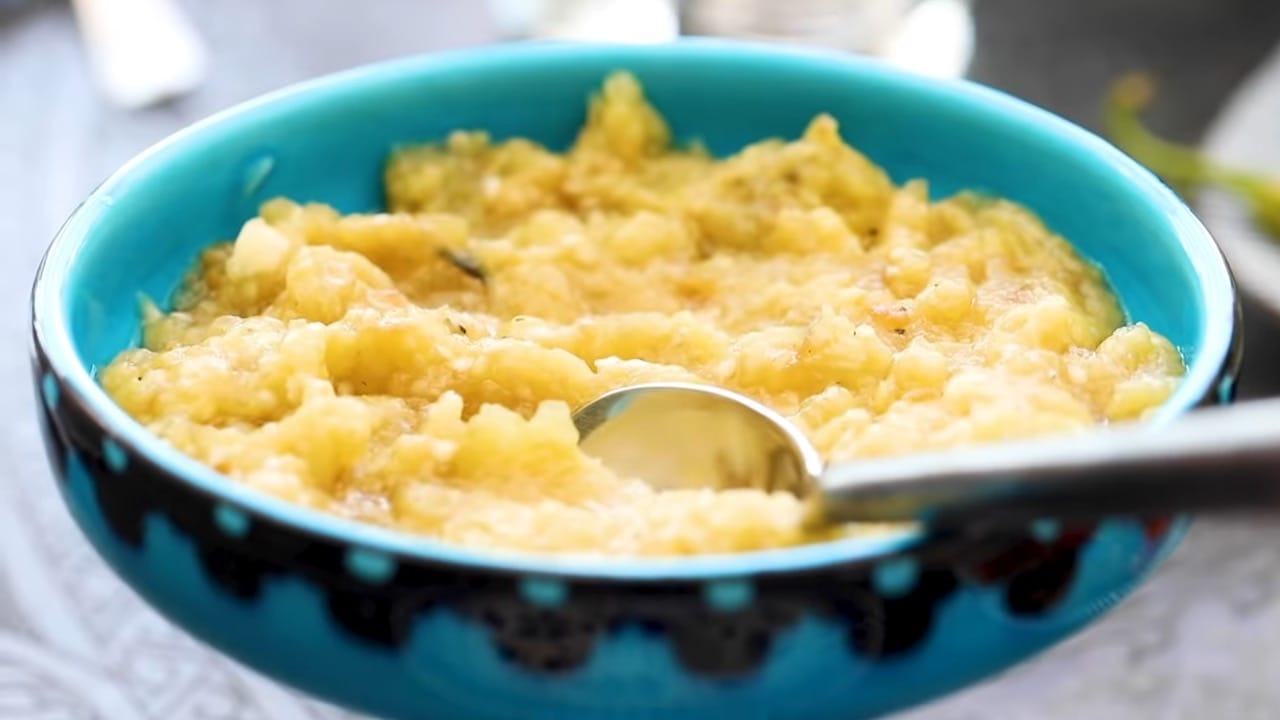 2 eggplants
1 clove garlic
1 tablespoon olive oil
2 pinches of salt
lemon juice
Black Eyed Peas with olive oil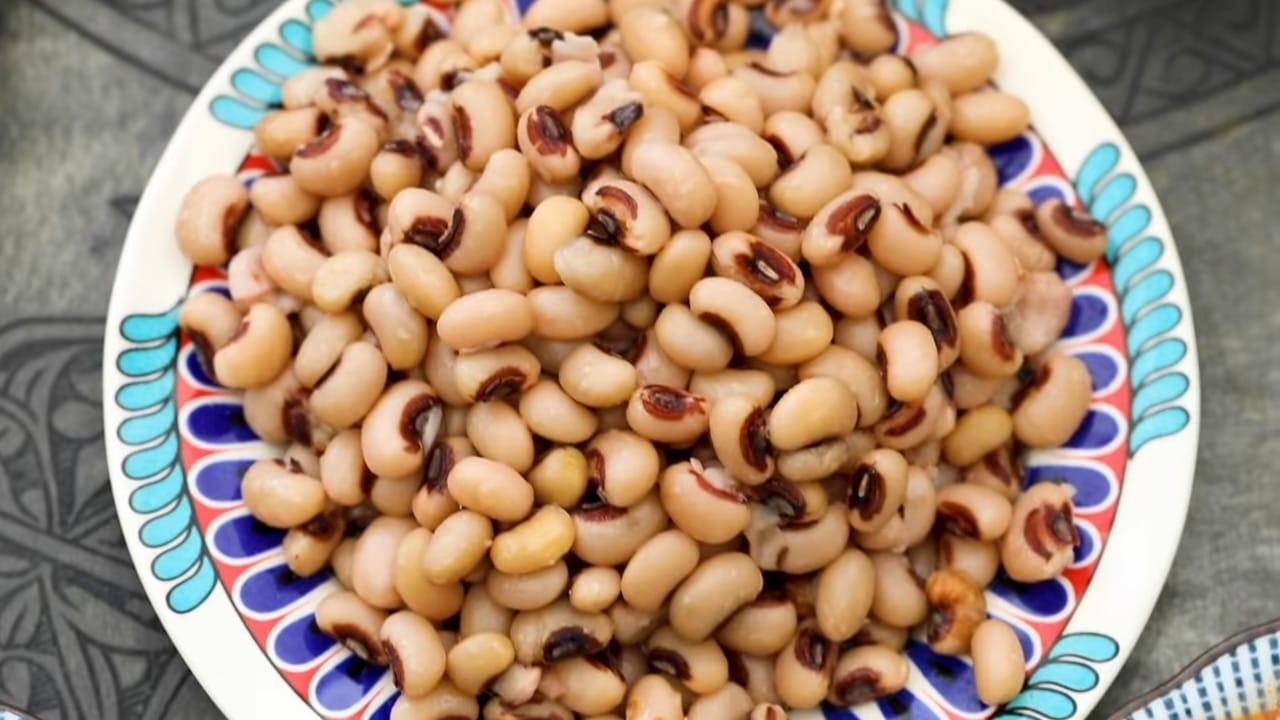 1,5 cups dry black eyes beans
Extra virgin olive oil
Salt
1 lemon
Atom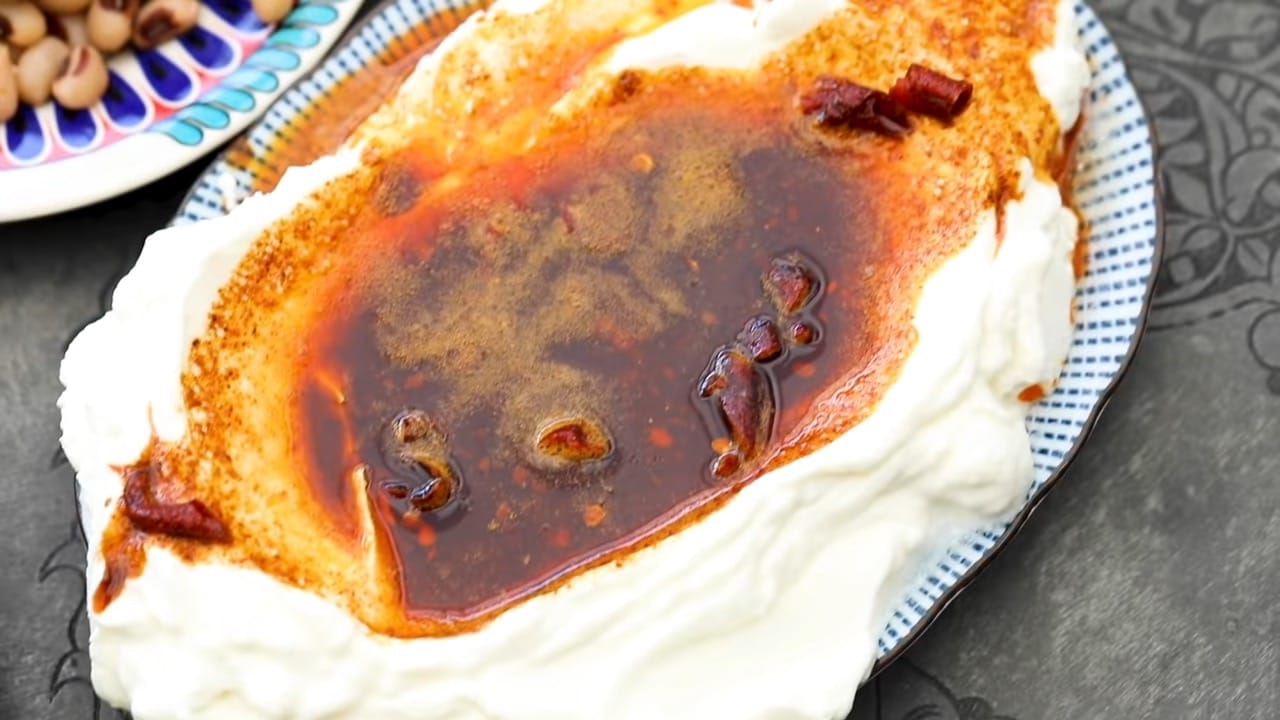 6 heaping tablespoons labneh
1 heaping tablespoon of butter
2 dried chili peppers
1 heaping teaspoon hot chili powder(or sweet as your choice)
Fried peppers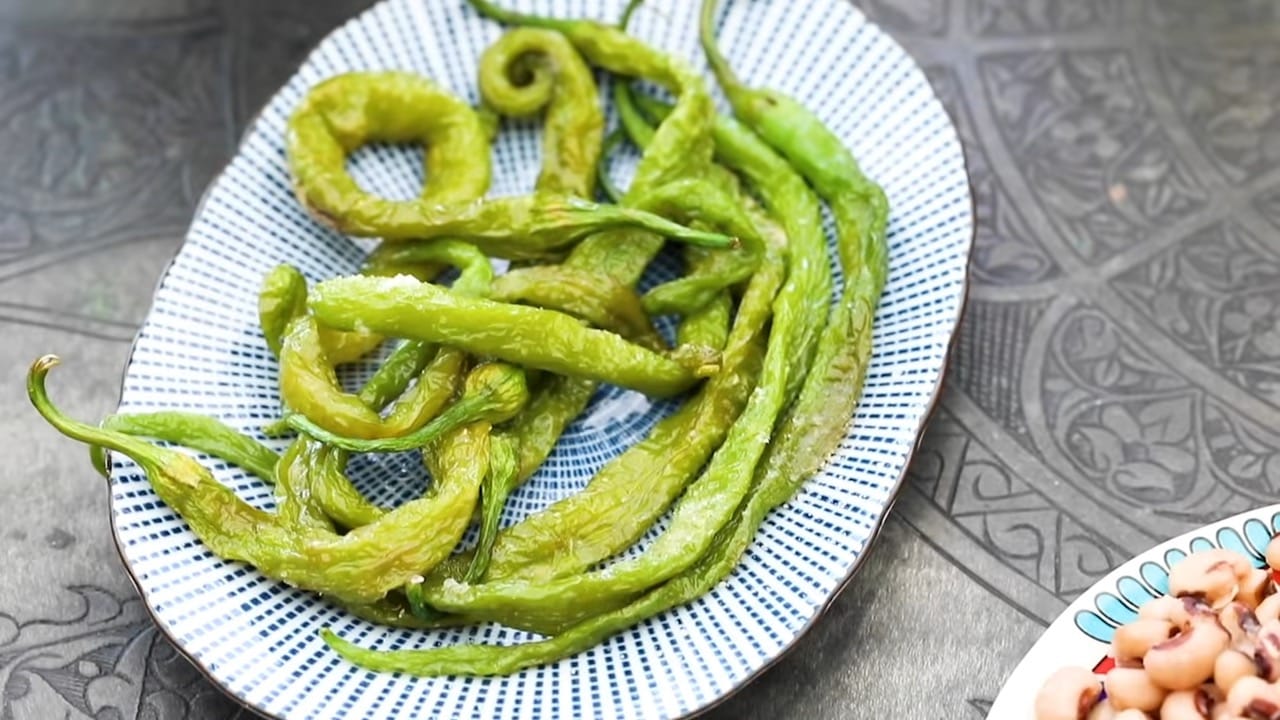 12 green Peppers
Salt
For frying,
Sunflower oil
Fried Eggplant with tomatoes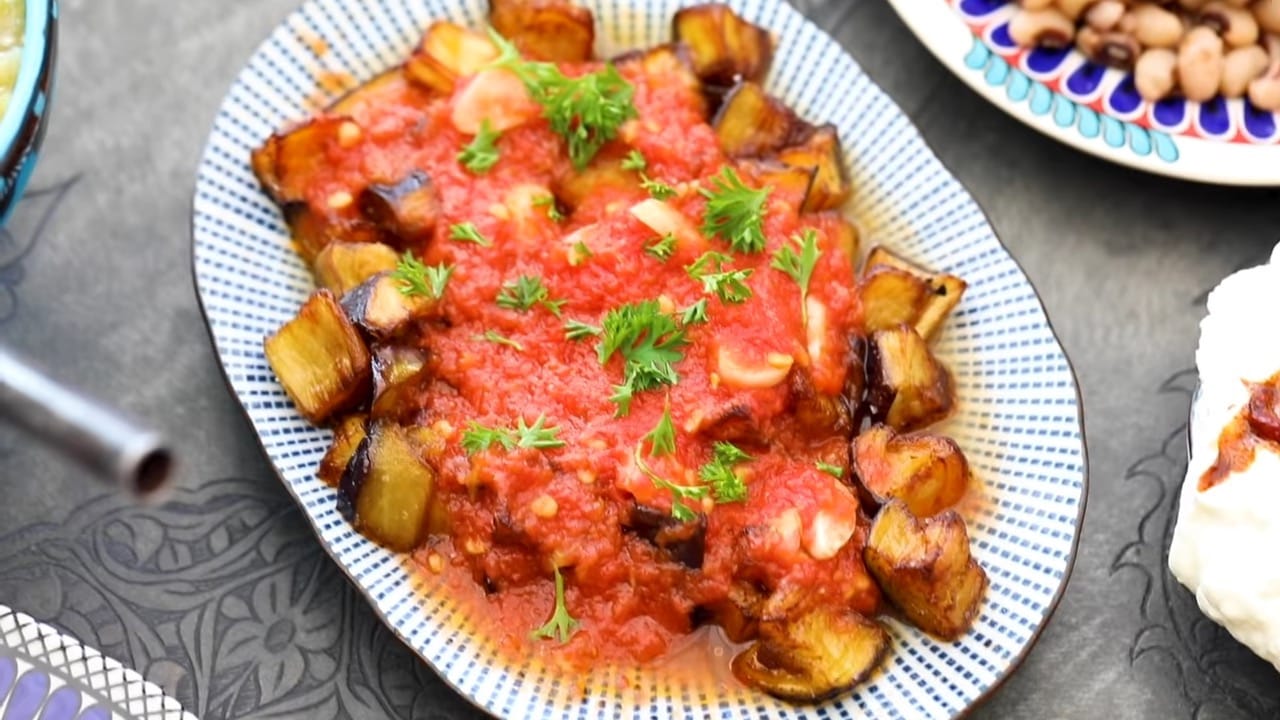 1 eggplant
1 big tomato
2 cloves of garlic
3 tablespoons olive oil
Salt
For frying,
Sunflower oil
Melon and White Cheese
2 slices of melon
2 slices of white cheese
Instructions:
Mashed Eggplants
Make a couple of holes in 2 eggplants to ensure that they are not going to explode while cooking. Because eggplants have air in them and the skin is tight. It might explode and hurt you while cooking as a whole.
Put the eggplants on the stove directly to the fire. This way you will get the incredible smoked flavor easily. Flip the eggplants from time to time to cook every side evenly.
The head and the bottom will take more time to cook and they are ready put them in a bowl and cover them with a table to make them sweat. This way you can get rid of the skin easily. You can bake them in the oven as well but it will take more time to cook.
After resting for a couple of minutes take the eggplants to the cut board. Make a slice from top to bottom and scrape the inside with a spoon.
Add 1 clove of garlic and mash them with a knife until garlic mixes and eggplant becomes mashy.
Add 1 tablespoon of olive oil, 2 pinches of salt, and lemon juice to taste.
Smoked and mashed eggplant is ready to eat. Enjoy!
Black Eyed Peas with olive oil
Wash 1,5 cups of dried black-eyed peas and drain.
Put it into a pressure cooker and add room temperature water to it. Water should be at least 3-4 cm higher than the peas.
Add a pinch of salt and put the lid on.
Start to cook on low pressure about 15 minutes after the lid is locked. You can cook without a pressure cooker but it roughly takes half an hour for them to peas get cooked.
After cooking takes the peas out and drain. Add a generous amount of extra virgin olive oil. Hot peas get dark easily so the sooner you add the olive oil brighter the peas you will have.
Add salt to your taste and squeeze a lemon juice.
After mixing black-eyed peas are done.
Atom
Put 6 heaping tablespoons of labneh on a plate. You can use yogurt as well but before using put your yogurt into a cheesecloth and hang it for a couple of hours to have a thickened yogurt.
Make a crater in the center with the back of a spoon.
For the topping, melt a heaping tablespoon of butter in a pan.
Slice 2 dried chili peppers and add to the pan. Toast them for about half a minute and turn off the heat.
Add a heaping teaspoon of chili powder and mix it. To make foamy butter put the pan at an angle of 45 degrees and mix the chili butter by taking air in it. İf you don't want a hot atom you can always use sweet chili powder.
Atom is ready after pouring the butter on top of the labneh.
Fried peppers
Heat the sunflower oil or any kind of oil for frying. You can understand the oil is hot enough by putting a wooden spoon in it. If the bubbles come out of the wood the oil is ready to fry
Dry the peppers and score them to avoid explosion.
Place the peppers in the oil and fry for 2-3 minutes.
Drain extra oil and add salt to your taste.
Fried Eggplant with tomatoes
Heat the sunflower oil or any kind of oil for frying. You can understand the oil is hot enough by putting a wooden spoon in it. If the bubbles come out of the wood the oil is ready to fry.
Peel an eggplant in strings. You don't have to peel all skin.
Chop them into chunks and fry them until they are light brown.
Add 3 tablespoons of garlic to a pan and toast them until you have the smell of garlic but the color is still the same.
Grate 1 tomato. For easier grating cut the top of the tomato and grate like that, so at the end, you will have just the skin. Add over the garlic. Simmer for about 2-3 minutes.
When the eggplant is cooked drain them onto a kitchen towel and take extra oil. Don't crowd them or you will get soggy eggplants. Add salt to your taste and toss.
Place eggplants on a plate and pour the tomato sauce on top. Sprinkle fresh parsley. Heavenly eggplant and tomato are ready for you.
Pickles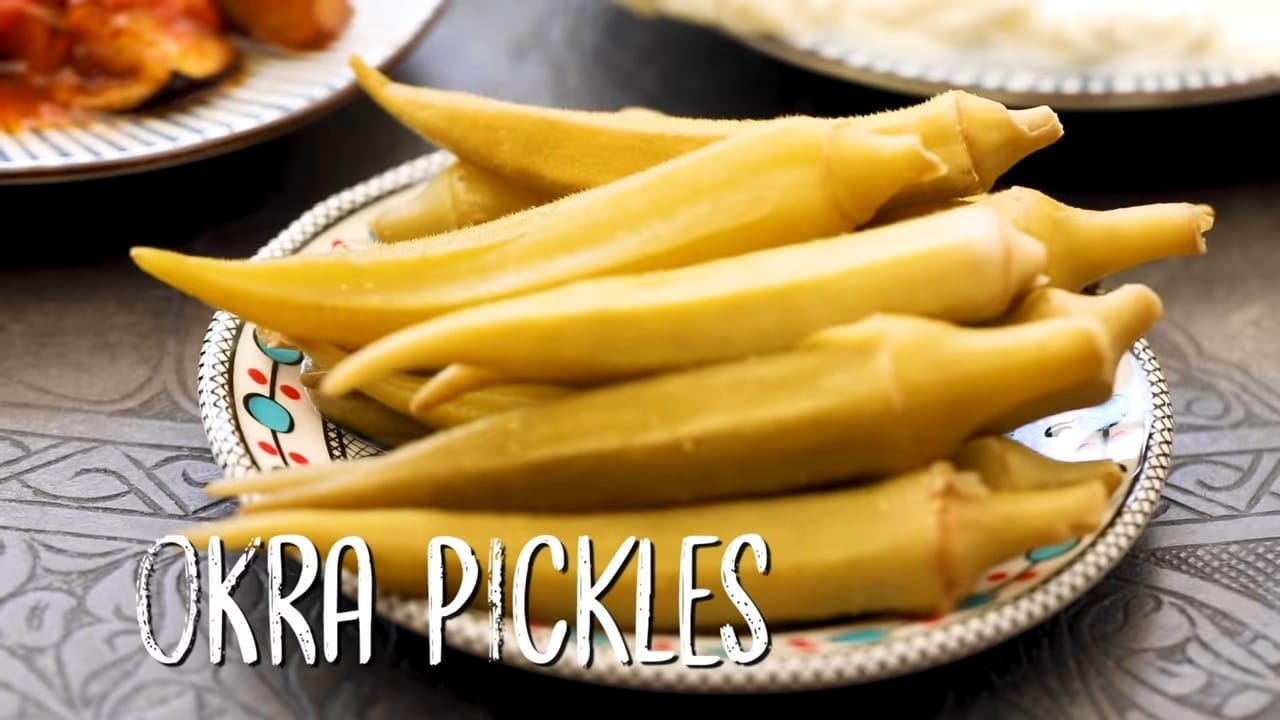 Pickles are easiest, delicious, and fundamental for a mezze table. You can use whichever you like to. I had okra pickles so I served them today and I will show you have to make delicious Turkish pickles soon.
Melon and White Cheese
Melon and white cheese(or feta as commonly known name) are essentials for a mezze table. For each person cut a slice of white cheese and melon. You can serve melon on top of the skin always.
7-Fava Bean Hummus, Turkish Fava, Cypriot Bakla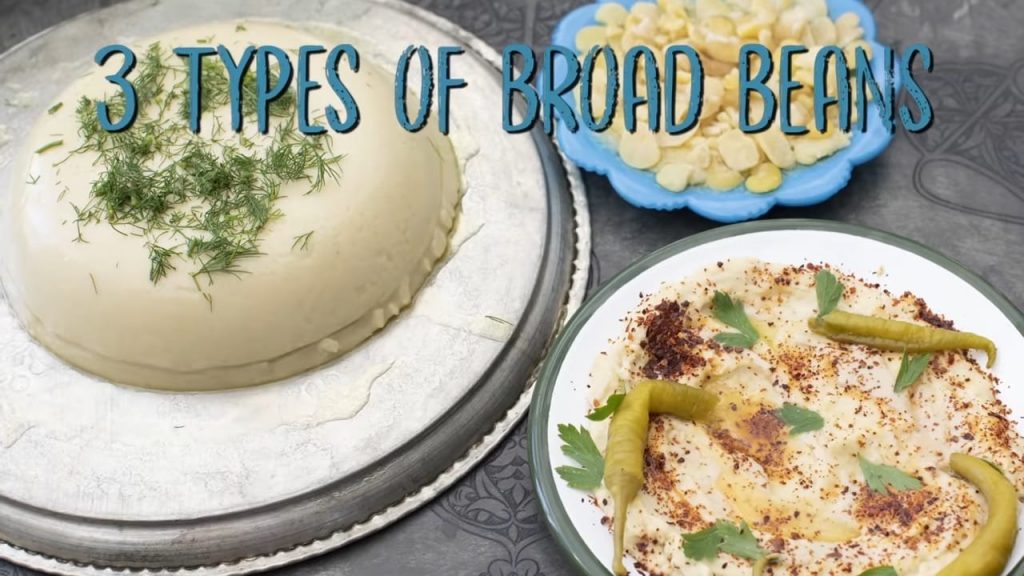 Link to the detailed recipe
Oh, the magic of broad beans! Today we're so excited to share tips on how we cook broad beans and what we can make with them. Broad beans are so versatile, fresh or dry, so we hope to inspire you beyond the obvious… We have three recipes for you — all of them are so easy to make, really delicious, healthy, and also, they're totally vegan ???? You're going to love fava which is my favorite, a delicious Cypriot broad bean mezze, and broad bean hummus, a super tasty variation on the original. Hop over to watch the video and tell us what you think!
Ingredients:
Broad bean hummus
Dried broad beans; 1 cup
Onion; half
Tahini; 2 tablespoons
Lemon Juice; 1 teaspoon
Vinegar; 1 tablespoon
Olive oil; 2 tablespoon
Garlic; 2 cloves, peeled
Salt; to your taste
Fava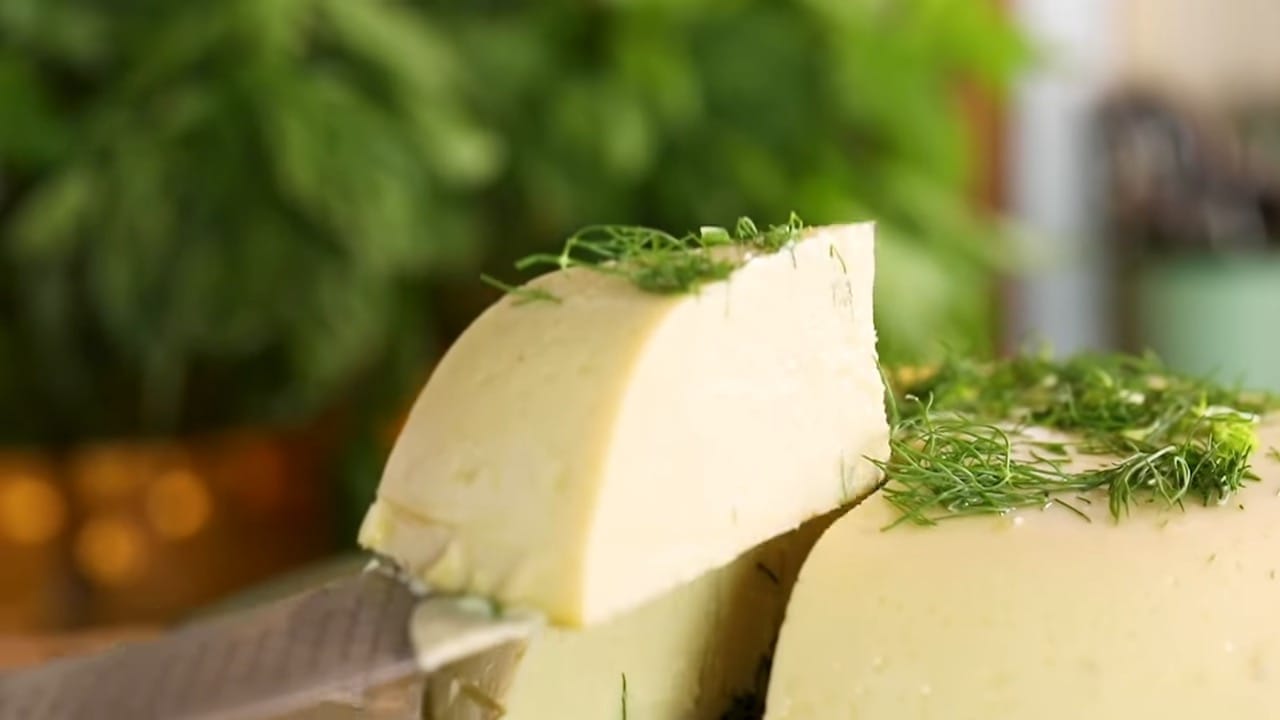 Dried broad beans; 500 gr
Onions; 2 small, cut in half lengthways
Olive oil 1/3 cups-80 ml
Salt; 1-heaped teaspoon
Sugar; 1 teaspoon
Drinking water; 1.4 liters
To garnish
Dill; 4 sprigs, finely chopped
Crispy onion- if you have it at home
Fresh olive oil
Easiest Cypriot Broad Beans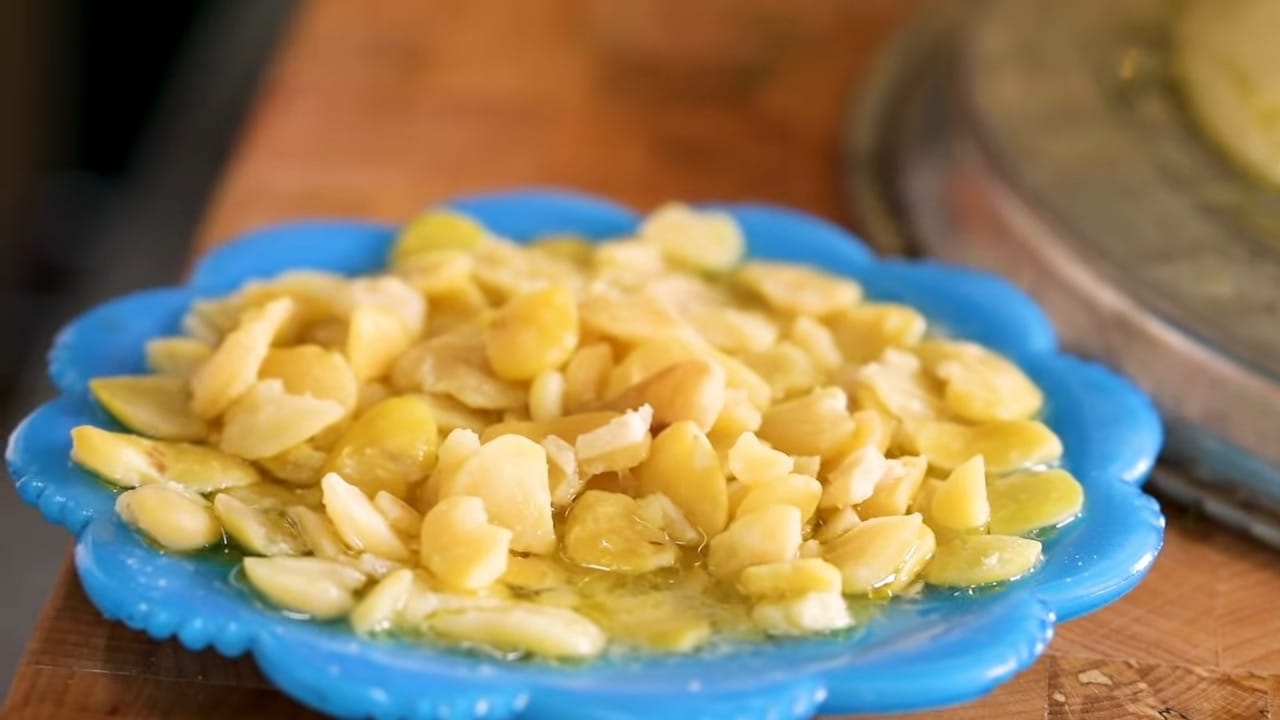 Dried broad beans; 1 cup
Drinking water; for boiling
Garlic; 2 cloves, peeled
Olive oil; 3 tablespoons
Vinegar; 3 tablespoons
Lemon juice; a few drops
Salt; to your taste
Instructions:
Broad bean hummus
Boil the broad beans with half an onion until they are very soft.
Drain its water and add garlic, olive oil, tahini, lemon juice, and vinegar. Blend it until you have a smooth texture.
Your hummus is ready. When serving it, you can use the back of a spoon to make a crater and add a generous amount of olive oil, red pepper, parsley, and pickles if you like.
To garnish
Place the broad beans and the onions in the pressure cooker.
Fill with soft drinking water. The water should be 2-3 cm higher than the beans.
Close the lid and cook until the pressure gets high, cook 5 minutes, and open the lid. If you don't have a pressure cooker, the water you add should be 4 cm above the beans and you'll need to cook them for about 10-15 minutes until they soften.
Then add olive oil, sugar, and salt. Use a hand blender to make it silky smooth.
Take the dish or bowl that you want your fava to take the shape of, pour some olive oil, and rub so that the fava would be able to slide once it is cold.
Place the mixture in the dish. First, allow it to cool at room temperature. Once cool, refrigerate for at least 2 hours.
Your fava is now ready to be turned! It will look and taste great.
This is my go-to substitute when I'm craving cheese or when I need a simple dish that will keep me full, guilty free…. Hope you give it a try and it becomes one of your favorites too.
Easiest Cypriot Broad Beans
This is one of the simplest dishes. But actually, this is how Cypriots eat many goodies.
Boil and add olive oil, garlic, lemon juice, or/and vinegar to your taste.
Boil the broad beans with drinking water. Cook for 5-6 minutes after it starts to bubble until the beans start to soften and taste okay to eat. Boiling time for dried beans can vary, so check their softness.
Drain the beans and transfer them to the serving dish.
Smash and puree the garlic cloves and add to the beans with vinegar, olive oil, salt, and lemon juice. Give it a mix.
Eat it as soon as possible. I must say this becomes something else if it sits in the refrigerator overnight. My cousins also love eating this with black or green olives. As I said, these guys are Cypriots and they know about great food!
8-KISIR, Turkish Version Of Tabbouleh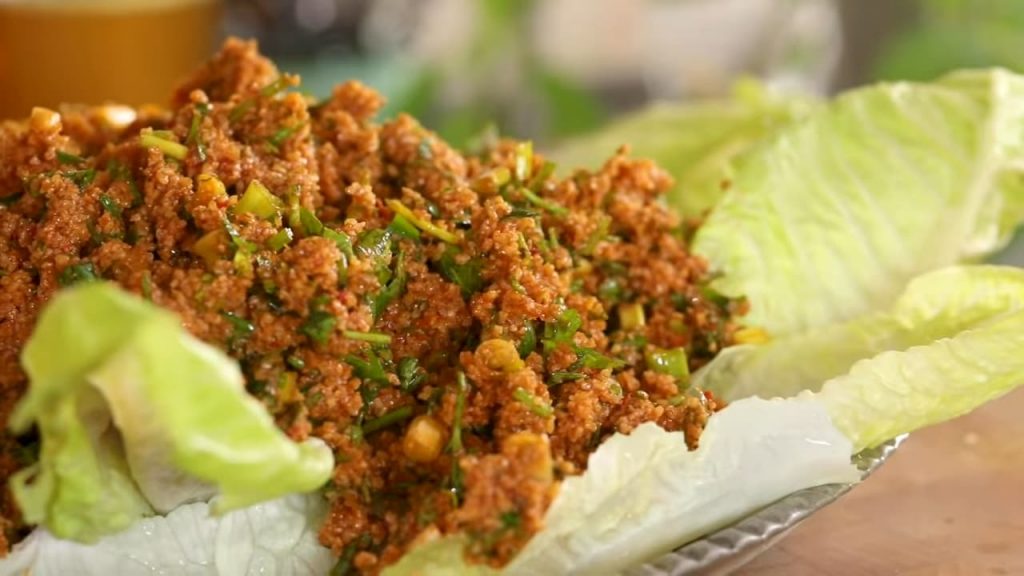 If you are the one who does not feel full enough when eating light stuff like a salad, here is the recipe for you. This recipe is proof that you can be full and satisfied by eating a salad; it is called Kısır which is the best bulgur salad and one of the most famous dishes in Turkish cuisine.
I do not know if anything else can be as delicious and healthy as Kısır. It is easy, cheap, very delicious, guilt-free, and also vegan. Do not miss this recipe ????
Link to the detailed recipe
Ingredients:
1+¼ cups (350 gr) fine bulghur wheat (widely known as couscous)
2 cups(530 ml) of water
220 gr spring onion(1 big bunch)
200 gr parsley(1 big bunch)
5-7 sprigs of fresh mint
1.5 heaping tablespoons tomato paste
1.5 tablespoons pepper paste( you can use tomato paste if you can't find pepper paste)
½ teaspoon black pepper
1 teaspoon salt
1,5 heaping teaspoons of cumin
6-7 tablespoons olive oil
5 tablespoons pomegranate sour (pomegranate molasses, juice, or you can use lemon juice as well)
Lemon
Lettuce
Instructions:
First, put 1+ 1/4 cups of fine bulgur (widely known as couscous) in a large bowl and add 2 cups of half-boiled, half room temperature water and cover with a plate. Set aside about 10 minutes. Bulgur will soak all water slowly.
Meanwhile, mince 220 gr of parsley to give all flavors to bulgur and slice 220 gr of spring onion and 5-7 sprigs of fresh mint. Make thinner slices for the white part of the onions.
After bulgur swollen, add 6-7 tablespoons of olive oil, 1.5 heaping tablespoons of tomato paste, 1.5 tablespoons of pepper paste( If you can't find pepper paste, you can use tomato paste instead of it), ½ teaspoon of black pepper, 1.5 heaping teaspoons of cumin and 1 teaspoon of salt. If you use salty pepper paste do not forget to taste to balance the saltiness. Mix it until all ingredients come together.
Then add all greens to the bulgur and mix again. It is important to mix the greens without squeezing too much.
Add 5 tablespoons of pomegranate sour to increase acidity. If you do not have pomegranate sour or molasses you can use lemon juice instead of it. You can always add some more olive oil if you want to.
Cover the bottom of a large plate with lettuce. Put Kısır on lettuce without squeezing.
Lastly, squeeze lemon juice on top and add lemon slices on the side for the people who want their Kısır with more lemon.
9-Vegan Lentil and Couscous Recipe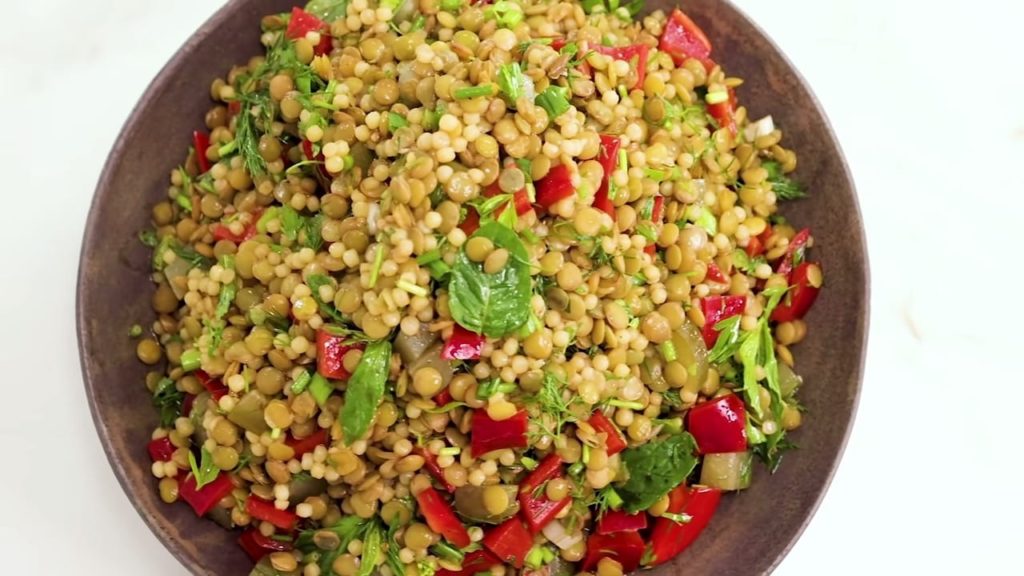 I have the ultimate lentil and couscous salad for you. I usually feel fulfilled when I eat carbs and protein in a meal, but this salad gives the same satisfaction and fulfillment, plus it is vegan! It is sweet, savory, and sour at the same time. You can have it as a main course or as a side dish with fish, steak, or BBQ.
Link to the detailed recipe
Ingredients:
1,5 cups green lentils
1/2 cup couscous, you can use any small shaped pasta that you like
2 sweet red peppers, diced (any meaty and sweet pepper would do great like bell peppers)
4 pickled cucumbers, diced (use more if using small gherkins)
4-5 sprigs of parsley, chopped
7-8 sprigs of dill, chopped
3 small sprigs of spring onion, chopped
4 sprigs of mint, leaves picked (tear large leaves using your hands)
6 tablespoons olive oil
3-4 tablespoons soy sauce (alternatively, balsamic vinegar or a mix of molasses and vinegar with a 1:1 ratio)
3 tablespoons white wine vinegar
2 pinches of black pepper
2 pinches of coriander seeds
Lemon
Instructions:
Rinse the lentils in a sieve and add them into a medium-sized saucepan. Pour in room temperature water up to a little higher than the lentils and add a pinch of salt. Bring to boil. Then reduce the heat to low. Simmer for 10-15 minutes until al dente, not mushy. This may take longer according to your lentil.
Boil 2 cups of water in a saucepan. Add a pinch of salt and the couscous. Boil for 8 minutes on medium heat until al dente.
Drain the cooked lentil and couscous and cool down under running cold water to stop cooking.
Mix the lentil and couscous in a large bowl. Add in the pickles, peppers, and herbs.
For the delicious sauce, pour in the olive oil, soy sauce, and vinegar. Season with black pepper and coriander seeds. Add salt if not using soy sauce.
Finally, squeeze some fresh lemon and give it a last mix but be careful not to mash the lentils. Your fulfilling salad is ready to eat as a main course or as a side dish with fish, köfte, or steak.
10-Vegan Balls – Fellah Kofte Recipe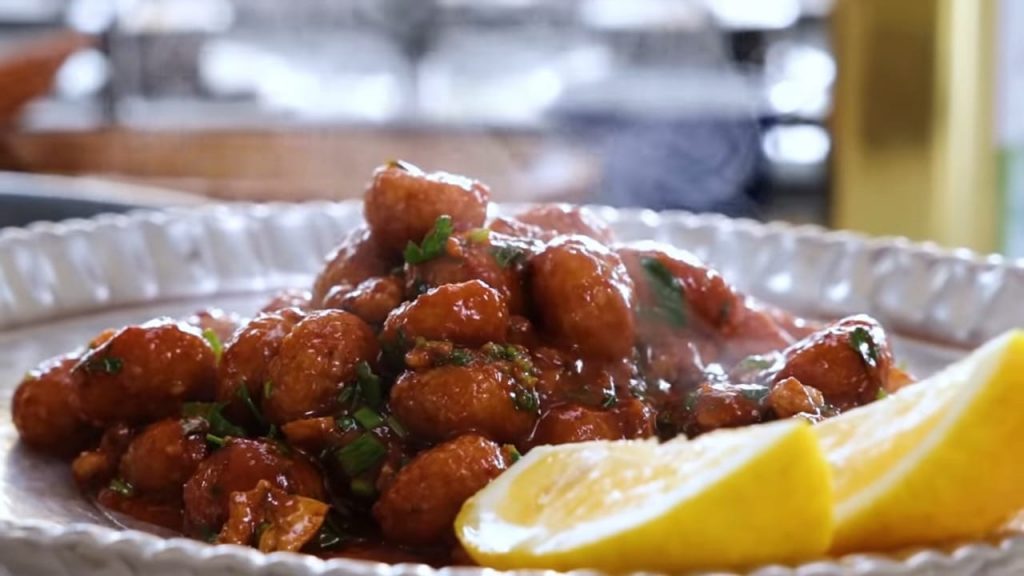 This vegan köfte recipe is for you. Fellah köfte can compete with 80% of the kebabs in Turkey, even 100% for a vegetarian. The Star of the show for this recipe is the ever-versatile bulgur which is an essential ingredient in Turkish cuisine.
Bulgur is a type of cracked wheat and provides an excellent base for the flavors used in a recipe, absorbing them all like a sponge and leaving a party in your mouth with every single bite. I guarantee that you won't miss the meat with this budget-friendly köfte.
Link to the detailed recipe
Ingredients:
1 cup fine bulgur
½ cup boiling water
½ cup all-purpose flour
1 heaped tablespoon pepper paste
1 teaspoon cumin
1 teaspoon salt
For the sauce:
6 cloves garlic, crushed
3 tablespoons olive oil
1 heaped tablespoon tomato paste
1 heaped tablespoon pepper paste
2 good handfuls of walnuts, chopped
10 sprigs parsley, chopped
5 sprigs of spring onions, chopped
Instructions:
Mix the bulgur and boiling water in a large bowl and cover with a plate. Let the bulgur soak in the water and soften for five minutes.
Add in the flour, pepper paste, salt, and cumin.
Knead until the mixture comes together and becomes smooth. Always wet your hands with cold water while kneading and press on the mixture with the palm of your hands.
Pull apart small pieces from the dough, which are slightly bigger than a hazelnut, and make small rounds of the mixture in your hands don't forget to get your hands every time. Then make small craters in the center with your index (or little finger) finger. Shaping can take some time but if you have someone to help you it is easy and fun with some small talk or singing!
While shaping them boil 1,5-2 L (6-8 cups) of water in a large pot and add a teaspoon of salt to the water.
Place the köftes in boiling water and cook for 10 minutes or until they float.
It is time to make the delicious sauce while koftes are boiling.
Heat the olive oil in a large pan on medium heat and add half of the garlic and sauté for 30 seconds. Be careful not to burn the garlic or it becomes bitter.
Add in the tomato and pepper paste and press with your spatula to distribute well. Sauté for a minute and add 2 ladles of cooking water from the pot while stirring
Heat the walnuts in a pan for a couple of minutes. Just heating would do great you don't have to toast or brown them.
Take out the köftes with a strainer and add the sauce.
Add the walnuts, set aside some for topping, and the rest of the garlic. Adding raw garlic at the last minute adds another dimension of flavor and makes a huge difference in taste.
Turn the heat off and add in the spring onions and parsley. Stir well and fellah köfte is ready to take you up to the clouds. Don't forget to squeeze some fresh lemon juice just before eating.
You can serve the dish as it is or there are different serving options for this beauty. It can be served on top of garlic yogurt or add some purslane in the yogurt and put some minced meat on top and it is a feast on its own.
---
Enjoy
Let us know what you think of today's VEGAN RECIPES tips, tricks, and hacks!