Rainbow salad is on the menu in Book recipe, and we are going to teach you how to make this delicious recipe from scratch!
Today I have the ultimate lentil and couscous salad for you. I usually feel fulfilled when I eat carbs and protein in a meal, but this salad gives the same satisfaction and fulfillment, plus it is vegan! It is sweet, savoury and sour at the same time. You can have it as a main course or as a side dish with fish, steak or BBQ.
Follow along with the ???? recipes below????????????????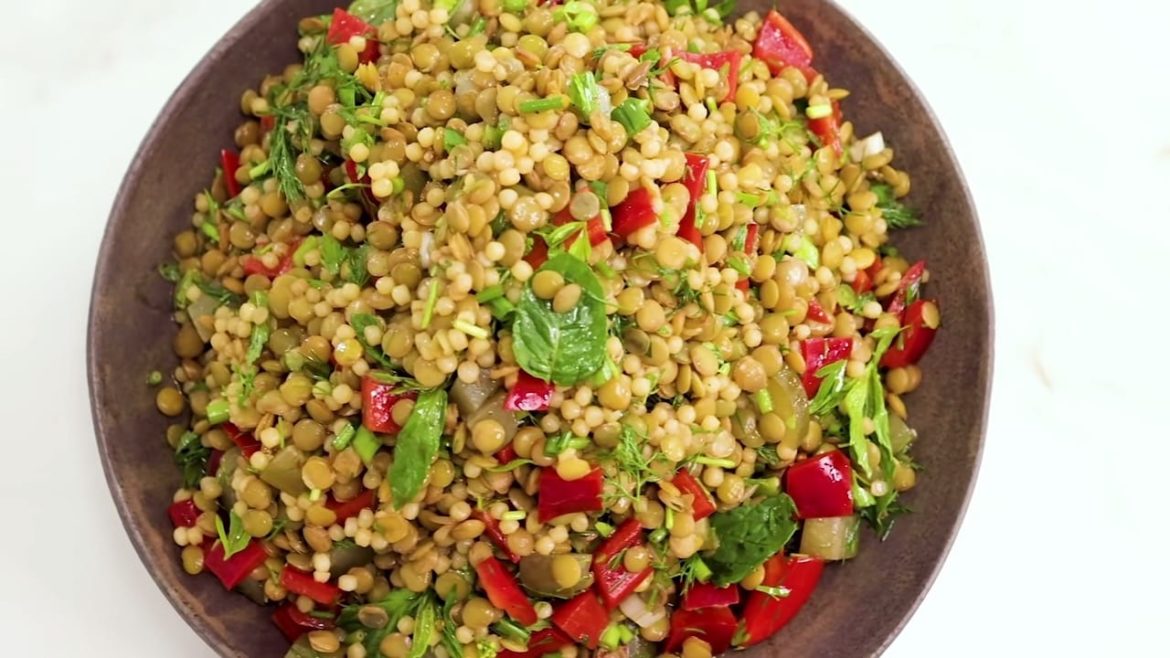 Ingredients
1,5 cups green lentils
1/2 cup couscous, you can use any small shaped pasta that you like
2 sweet red peppers, diced (any meaty and sweet pepper would do great like bell peppers)
4 pickled cucumbers, diced (use more if using small gherkins)
4-5 sprigs of parsley, chopped
7-8 sprigs of dill, chopped
3 small sprigs of spring onion, chopped
4 sprigs of mint, leaves picked (tear large leaves using your hands)
6 tablespoons olive oil
3-4 tablespoons soy sauce (alternatively, balsamic vinegar or a mix of molasses and vinegar with a 1:1 ratio)
3 tablespoons white wine vinegar
2 pinches of black pepper
2 pinches of coriander seeds
Lemon
Instructions
Rinse the lentils in a sieve and add them into a medium sized saucepan. Pour in room temperature water up to a little higher than the lentils and add a pinch of salt. Bring to boil. Then reduce the heat to low. Simmer for 10-15 minutes until al dente, not mushy. This may take longer according to your lentil.
Boil 2 cups of water in a saucepan. Add a pinch of salt and the couscous. Boil for 8 minutes on medium heat until al dente.
Drain the cooked lentil and couscous and cooldown under running cold water to stop cooking.
Mix the lentil and couscous in a large bowl. Add in the pickles, peppers and herbs.
For the delicious sauce, pour in the olive oil, soy sauce, vinegar. Season with black pepper and coriander seeds. Add salt if not using soy sauce.
Finally, squeeze some fresh lemon and give it a last mix but be careful not to mash the lentils. Your fulfilling salad is ready to eat as a main course or as a side dish with fish, köfte or steak.
Did You Make This Recipe?
---
Enjoy