Minced Beef & Cabbage Stew is on the menu in Book recipe, and we are going to teach you how to make this delicious recipe from scratch!
Stewed cabbage with rice and meat mince is a tasty and hearty dish made of the most affordable ingredients in a pan. Cook this recipe for dinner.
Follow along with the ???? recipes below????????????????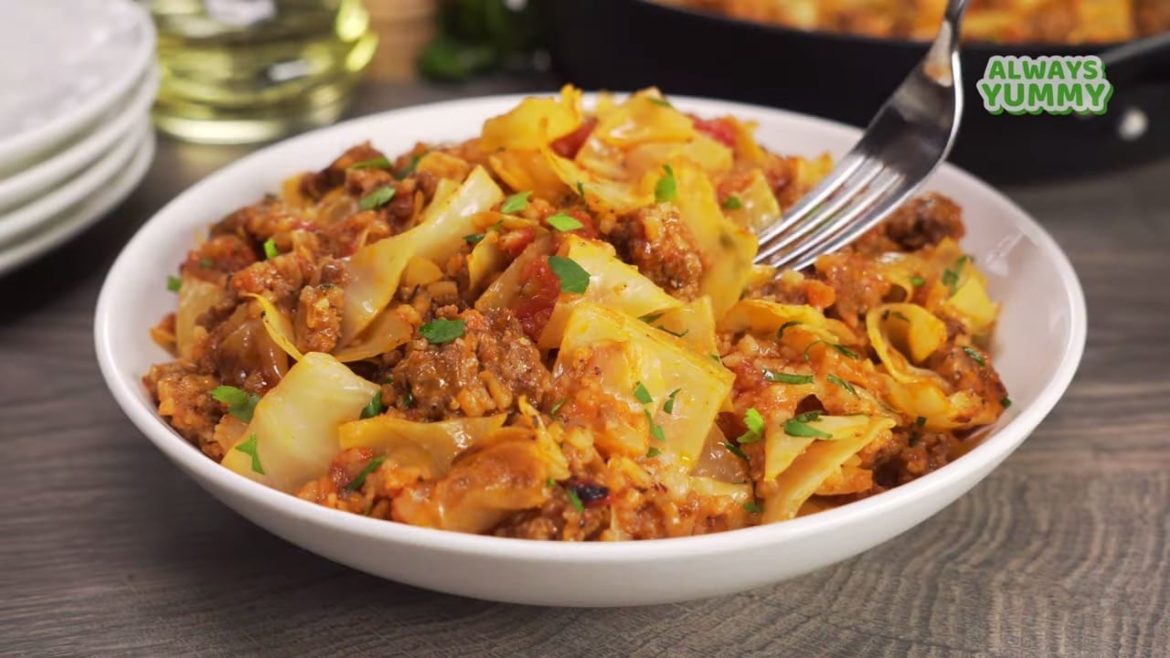 Ingredients
beef mince – 21 oz /600 g
white cabbage – 2 lb /800 g
rice – 3 oz /100 g
chopped tomatoes – 1 lb /500 g
tomato paste – 2 tbsp
water – 3 cup /700 ml
bulb onion – 3 oz /100 g
garlic – 3 cloves
vegetable oil – 1½ tbsp
dried thyme – 1 tsp
dried oregano – 1 tsp
ground black pepper – to taste
salt – to taste
You will need:
pan
carving board
meat grinder
Instructions
Wash the rice thoroughly, chop the bulb onion and garlic, cut the white cabbage into slices.
Heat a pan with the vegetable oil, add the bulb onion and fry for 2-3 minutes over medium heat.
Add the meat mince and fry for 7-8 minutes over medium heat stirring and crushing into smaller pieces.
As soon as the juice evaporates and the mince becomes golden brown reduce the heat to low, add the garlic, 1 tsp of thyme, and oregano each, salt and pepper to taste, stir well and fry for a minute.
Add the tomato paste and stir well.
Add the cabbage, stir, cover with a lid and cook for 10 minutes.
Add the chopped tomatoes, rice, and water, stir well, bring to a boil, reduce the heat to a minimum, cover with the lid and simmer for 20 minutes.
Take the lid off, stir well, salt to taste, and cook for 20 minutes more with the lid covered stirring occasionally.
Serve the cabbage with rice and mince hot, to your taste drizzle with sour cream and sprinkle with chopped-up greens.
Did You Make This Recipe?
---
Enjoy