Chilli con carne is on the menu in book recipe, and we are going to teach you how to make this delicious recipe from scratch!
This amazing recipe of chili con carne has every chance to become one of the best meals that can be cooked for a friendly party or dinner. All the ingredients for this tasty Mexican chili with meat are available at any grocery. It is easy to cook it yet mouth-watering and yummy.
Follow along with the ???? recipes below????????????????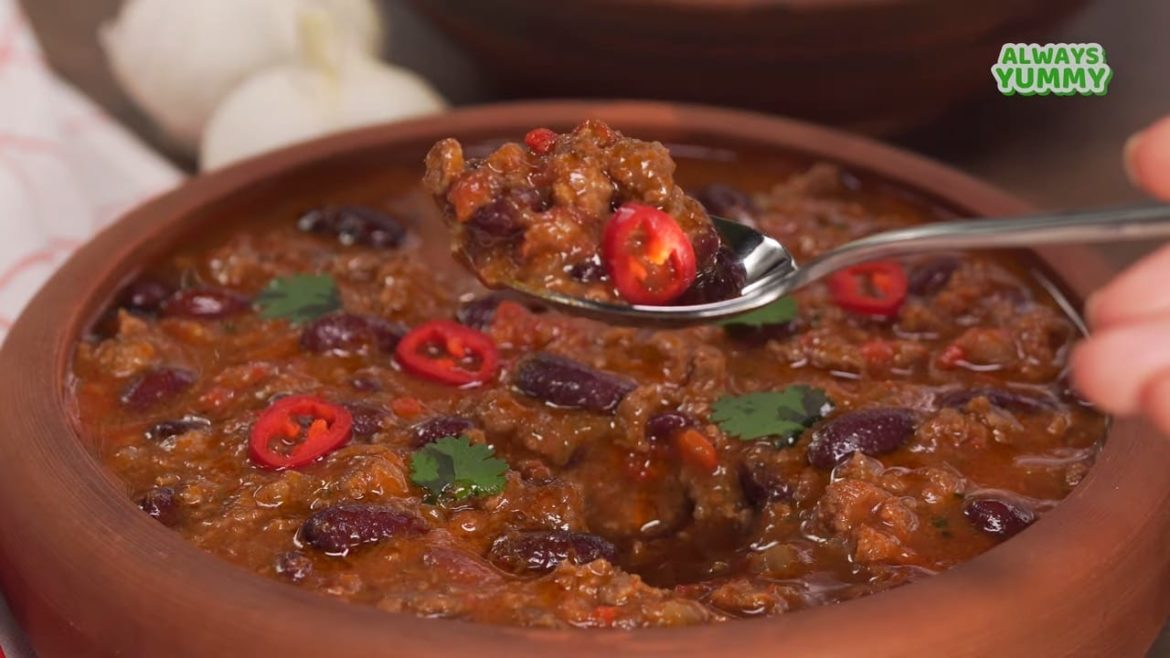 Ingredients
beef mince – 2 lb /900 g
red bell pepper – 9 oz /270 g
chili peppers – 2
chopped tomatoes – 14 oz /400 g
red bean in own sauce (2 cans) – 14 oz /400 g without juice
bulb onion – 10 oz /300 g
beef broth – 21 fl oz /600 ml
garlic powder – 2 tsp
sweet smoked paprika – 1 tbsp
ground caraway – 1 tsp
brown or white sugar – 1 tbsp
ground chili pepper – 1 tsp
ground black pepper – 1 tsp
dried oregano - 2 tsp
vegetable oil – 2 tbsp
salt – 1 tbsp
You will need:
carving board
saucepan
bowl
Instructions
Heat the vegetable oil in a saucepan, add the chopped-up bulb onion and fry it over medium heat for 3 minutes.
Add the chopped bell pepper into the saucepan and keep frying over medium heat for 3 minutes.
Then add the ringed chili pepper and fry for a minute more over medium heat.
Add the ground chili pepper, sweet paprika, caraway, garlic powder, sugar, oregano, black pepper, and salt, stir and fry over medium heat for about 2 minutes stirring constantly.
Add the beef mince into the saucepan and fry over medium heat for 5 minutes stirring constantly and crushing the mince.
Add the chopped tomatoes and stir, add then the broth and stir, bring to a boil and simmer with the lid covered for 25 minutes over low heat.
Add the red bean, stir, bring to a boil and cook the chili con carne uncovered over low heat for 10 minutes.
Serve your chili con carne in a deep dish or serving pan with sour cream, corn chips, and marinated chili pepper.
Did You Make This Recipe?
---
Bon Appétit