Hi, there! It's Bunnify! Today we're going to make S'mores cookies!
Soft and chewy texture with toasted marshmallows and melted chocolate!
And amazingly crunchy Lotus biscuits!
If you enjoy this video, please leave a like and subscribe to see more videos.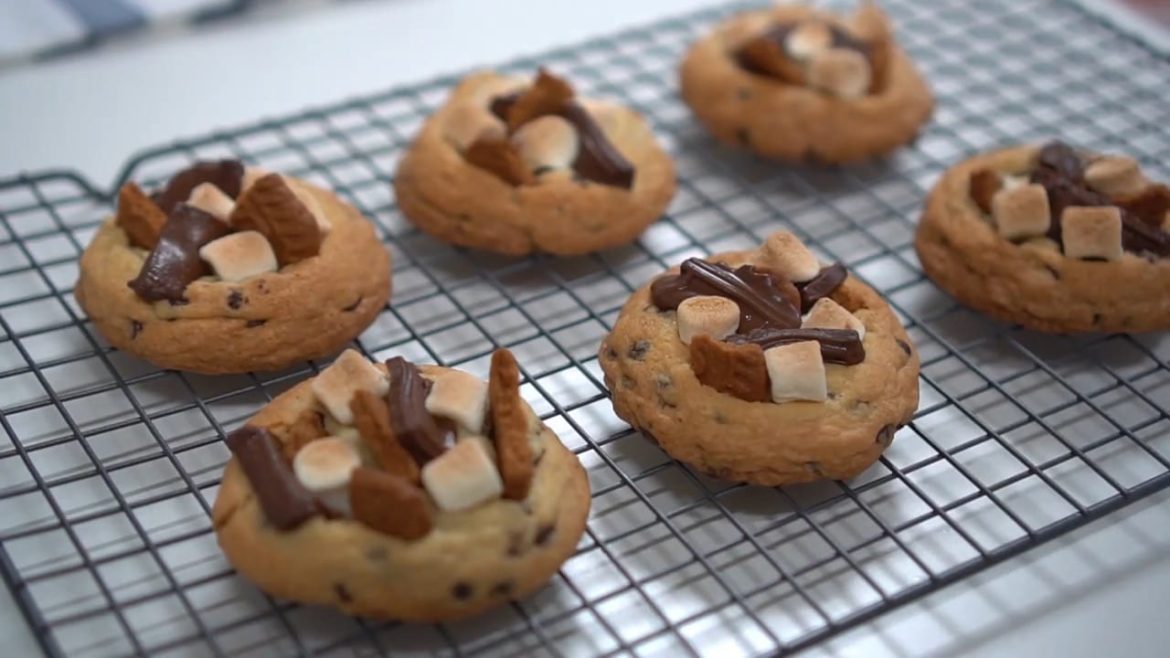 Ingredients
85g Unsalted butter softened
70g Light brown sugar
50g Granulated sugar
1 Egg
1/2tsp(2g) Vanilla extract
140g All-purpose flour
1/2tsp(3g) Baking soda
1/2tsp(1g) Cornstarch
1/4tsp(1g) Salt
70g Chocolate chips
Mini marshmallows(for topping)
Lotus biscuits, broken into pieces(for topping)
Hershey bars, chopped (for topping)
Instructions
Cream together butter and sugars until light and fluffy
Whisk in an egg and vanilla extract
Sift together flour, baking soda, cornstarch, and salt into the butter mixture
With a spatula, mix until the dry ingredients are just incorporated
Stir in chocolate chips until combined
Cover the dough with plastic wrap and chill in the fridge for an hour
Meanwhile, break up a chocolate bar and lotus biscuits for topping
Preheat oven to 360°F and remove the bowl from the fridge
Scoop the dough using a 2-inch diameter ice cream scoop
Place the dough 3 inches apart on prepared baking sheet
Bake for 10 min at 350°F
Remove from the oven and quickly press some of the toppings into each cookie(mini marshmallows, Lotus pieces, and chocolate chunks)
Return to the oven and bake for 2~3 more minutes
Remove from the oven and let the cookies cool on the pan for 5 minutes before moving to a wire rack to cool completely.
Did You Make This Recipe?
Recipe video
---
Enjoy