Fried potatoes & eggs are on the menu in Book recipe, and we are going to teach you how to make this delicious recipe from scratch!
There is a meal in Spain that liked by all, huevos rotos – broken eggs. Some call it fried eggs, some – fried potato, those and others are right. There are own nuances and variations of cooking this dish in each Spanish region, but the main remains – a fried potato with spices and runny yolk. It is easy to cook this meal and comes out so yummy!
Follow along with the ???? recipes below????????????????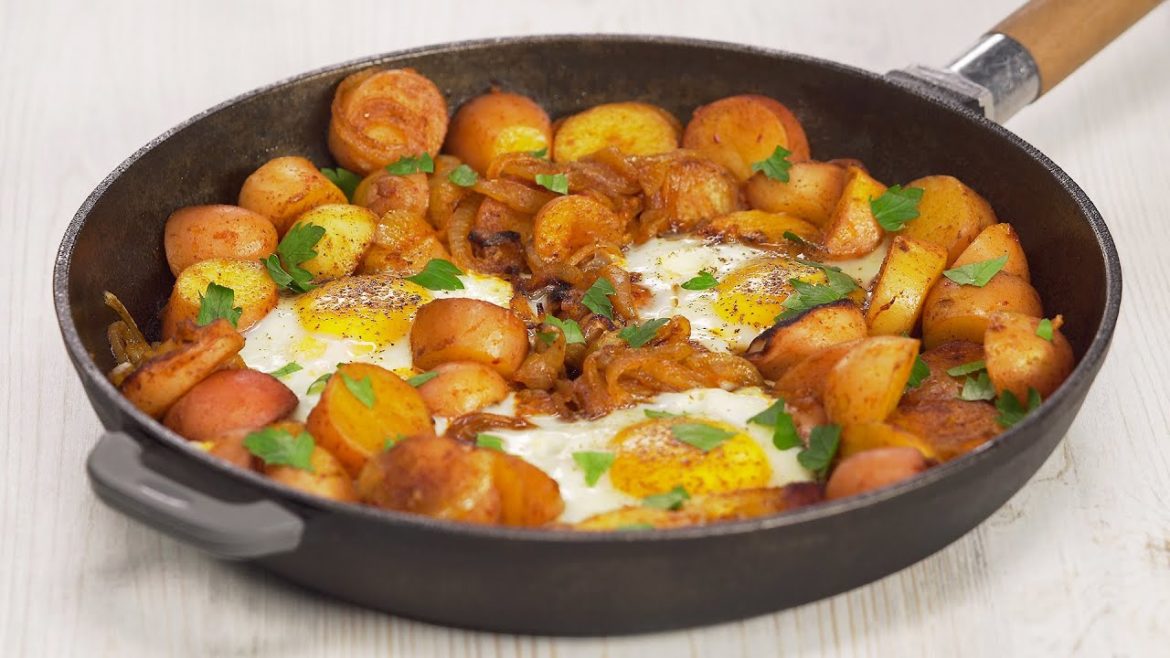 Ingredients
new potato – 21 oz /600 g
bulb onion – 7 oz /200 g
3 eggs
garlic – 2 cloves
smoked paprika – 1½ tsp
ground black pepper – ½ tsp
salt – 1 tsp
chili flakes – ⅓ tsp
olive or vegetable oil – 3 tbsp
water – 7 fl oz /200 ml
You will need:
Instructions
Cut the new potato across into slices of 1-1,5 cm thick, bulb onion into half rings.
Into a heated pan add an olive or vegetable oil, the smoked paprika, ground black pepper, salt and chili flakes, stir and add the water, stirring bring to a boil.
Add the sliced potato into the pan, stir, cover with a lid and simmer over mid-high heat for 10 minutes.
Stir again, there should be just a little of water left, reduce the heat to medium, add the cut bulb onion, stir, cover with the lid and keep simmering for another 6 minutes.
Add the minced garlic into the pan, stir, make 3 small spaces with a spatula for eggs. Pour an egg into each prepared space, salt and pepper to taste and cook for 4 minutes over lowest heat. Yolks must stay runny.
Serve the fired potato «huevos rotos» hot sprinkled with fresh greens.
Did You Make This Recipe?
---
Enjoy