With a simple step-by-step recipe and a lesson in the all-important twist to get those delicious cinnamon flavours running all the way through your bun; this will be your new go-to recipe for traditional Swedish cinnamon buns.
REAL CINNAMON BUNS
Having a good recipe for kanelbullar is essential, because it's the Scandi treat you will make over and over. Don't forget to knead some love into the dough; it makes them extra-delicious.
Follow along with the ???? recipes below????????????????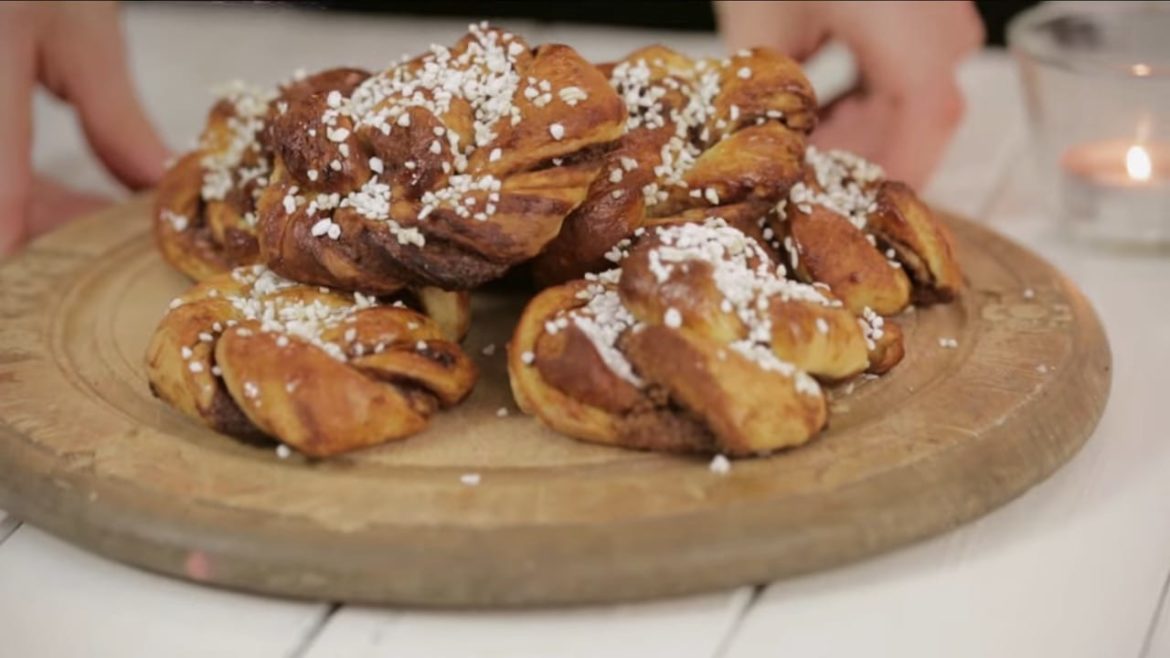 Ingredients
DOUGH:
13 g/2½ teaspoons dried/active dry yeast or 25 g/1 oz. fresh yeast
250 ml/1 cup whole milk, heated to 36–37°C (97–99°F)
80 g/¾ stick butter, melted and cooled slightly
40 g/3 tablespoons caster/granulated sugar
400–500 g/3–3⅔ cups white strong/bread flour
2 teaspoons ground cardamom
1 teaspoon salt
1 egg, beaten
FILLING:
80 g/½stick plus 1 tablespoon butter, at room temperature
1 teaspoon plain/all-purpose flour
1 tablespoon ground cinnamon
½ teaspoon ground cardamom
½ teaspoon vanilla sugar
80 g/¼ cup plus 2 tablespoons caster/ granulated sugar
beaten egg, for brushing
TOPPING:
3 tablespoons golden/light corn syrup (warmed) and nibbed 'pearl' sugar
2 baking sheets, greased and lined with baking parchment
Instructions
If using fresh yeast, add the warm milk to a mixing bowl and add the yeast; stir until dissolved, then pour into the bowl of the food mixer. If using dried/active dry yeast, pour the warm milk into a bowl, sprinkle in the yeast, and whisk together. Cover with clingfilm/plastic wrap and leave in a warm place for about 15 minutes to become bubbly. Pour into the bowl of a food mixer fitted with a dough hook.
Mix in the cooled, melted butter. Allow to combine for 1 minute or so, then add the sugar. In a separate bowl, weigh out 400 g/3 cups of the flour, add the cardamom and salt, and mix. Start adding the flour and spices into the milk mixture, bit by bit. Add half the beaten egg. Keep kneading for 5 minutes. You may need to add more flour – you want the mixture to end up a bit sticky. It is better not to add too much flour as this will result in dry buns. You can always add more later.
Cover the dough with clingfilm/plastic wrap. Allow to rise for around 30 minutes or until it has doubled in size.
Turn the dough out onto a lightly floured surface. Knead through with your hands and work in more flour if needed. Roll out the dough to a 40 x 50 cm/16 x 20-inch rectangle.
In a bowl, add the butter, flour, spices, and sugars and mix together well to make the filling. Using a spatula, spread the mixture evenly over the rolled-out dough. Fold the dough in half lengthways.
Using a knife or pizza cutter, cut 16 widthways strips of dough. Take one strip and carefully twist it a few times, then curl into a 'knot', ensuring both ends are tucked in or under so they do not spring open during baking. Place the folded 'knots' on the prepared baking sheets spaced well apart. Leave to rise under a kitchen cloth for 30 minutes.
Preheat the oven to 200°C (400°F) Gas 6.
Brush each bun lightly with beaten egg and place in the preheated oven to bake for around 10–12 minutes or until golden.
Remove from the oven. Brush the warm buns lightly with syrup then decorate with the nibbed 'pearl' sugar. Immediately cover with a damp, clean cloth for a few minutes to prevent the buns from going dry.
Did You Make This Recipe?
---