Hot dog pasta is on the menu in Book recipe, and we are going to teach you how to make this delicious recipe from scratch!
«One-pot», as they say, is a dish cooked quick, with no extra cookware and no need to make a side dish or salad. And in a matter of minutes, a tasty dish of pasta with veggies and hot dog is on your table winning adults and children's love.
Follow along with the ???? recipes below????????????????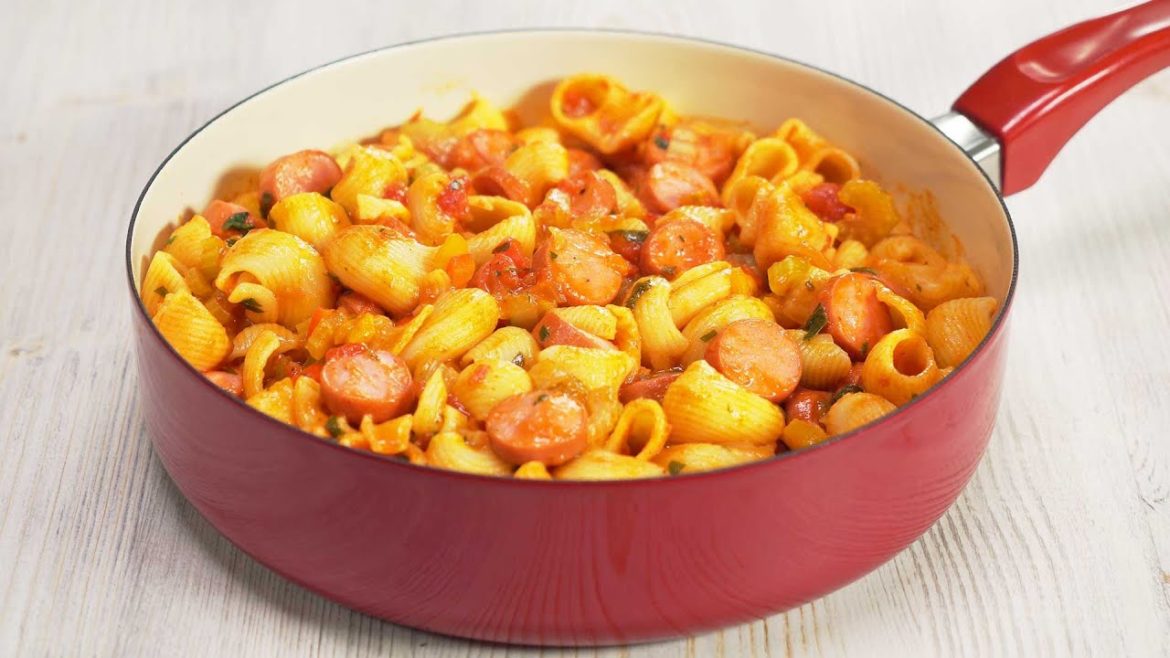 Ingredients
pasta – 7 oz /200 g
hot dog – 10 ½ oz /300 g
chopped tomatoes – 14 oz /400 g
hot water – 2 cup /500 ml
celery – 4oz /120 g
bulb onion – 2 oz /50 g
bell pepper – 4oz /120 g
vegetable oil – 2 tbsp
salt – to taste
ground black pepper – to taste
ground paprika – 1 tsp
fresh parsley – 2 tbsp /10 g
You will need:
Instructions
Cut the celery into slices, dice the bulb onion and bell pepper, hot dogs into small pieces.
Heat a pan with the vegetable oil and fry the bulb onion for 3 minutes over medium heat, add the celery, bell pepper, tomatoes, salt and pepper, stir and simmer for 3 minutes over low heat.
Add the pasta, hot water and stir well, cover with a lid and braise over low heat for the time indicated on the pasta package. Three minutes before the end of that cooking time add the hot dogs and ground paprika.
Sprinkle your pasta veggies and hot dogs with the parsley and serve to the table.
Notes
The keystone of tasty dish is using ingredients of good quality. Vegetables are to be fresh. Wash them thoroughly and dry with paper towels before cooking.
Whole wheat pastas are good for such a dish.
Did You Make This Recipe?
---
Enjoy