Fish and seafood are rich in protein and omega-3 fatty acids, so here we have for you 7 Healthy Fish Recipes For Weight Loss that are perfect for weeknight dinner
I hope you like all these easy recipes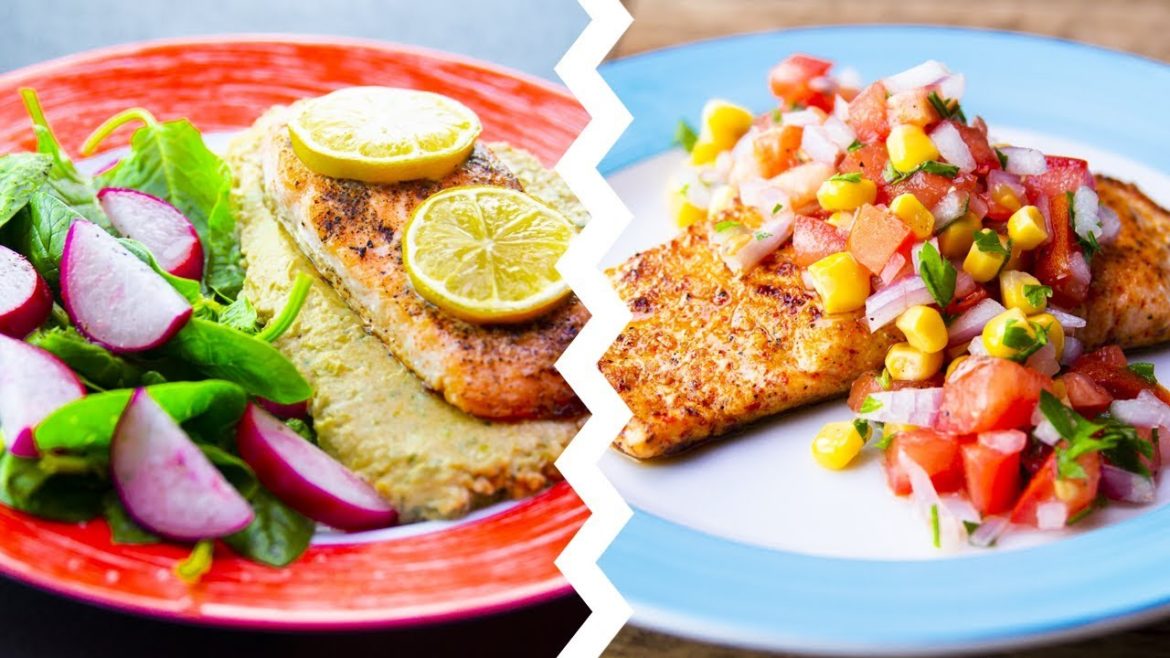 Ingredients
1-low carb salmon with salsa  (1 serving - 280 calories)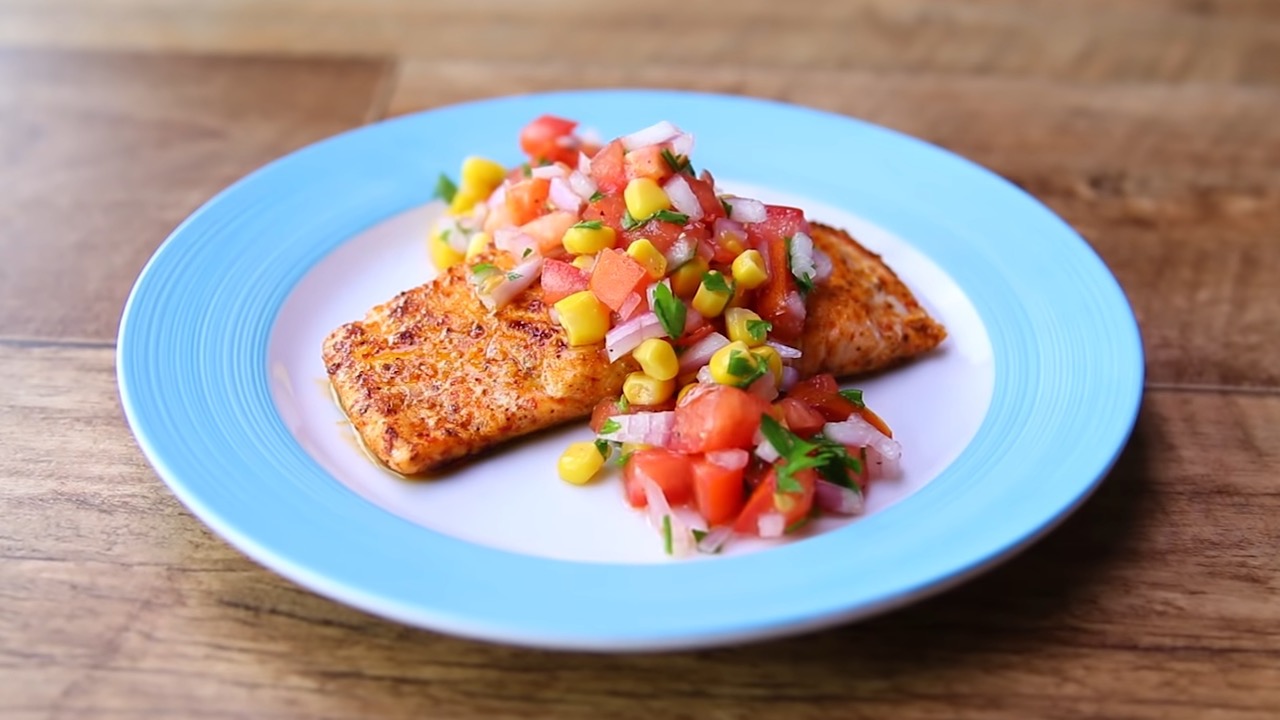 1/4 medium red onion
1 medium tomato
1 tbsp parsley
1 oz corn
salt and black pepper
2 tbsp lemon juice
1/4 tsp cumin powder
1/4 tsp chili powder
1/4 tsp paprika
1/4 tsp onion powder
1 tsp olive oil
4 oz salmon fillet
2-cod and bean mash  (4 serving - 390 calories)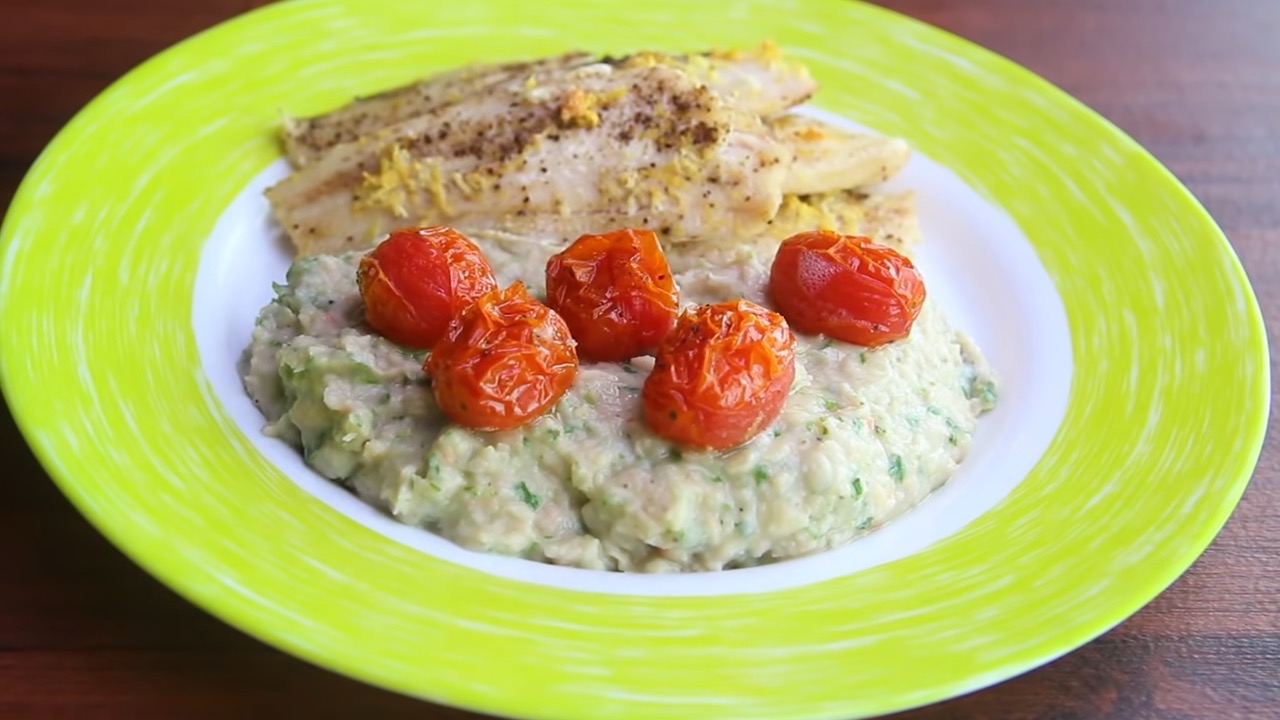 5 red grape tomatoes
2 tsp olive oil
5 oz cod or sole
salt and black pepper
1 tbsp lemon zest
5 oz white beans boiled
1 garlic
1 tbsp lemon juice
6 basil leaves
3-baked sole with potatoes  (1 serving - 360 calories)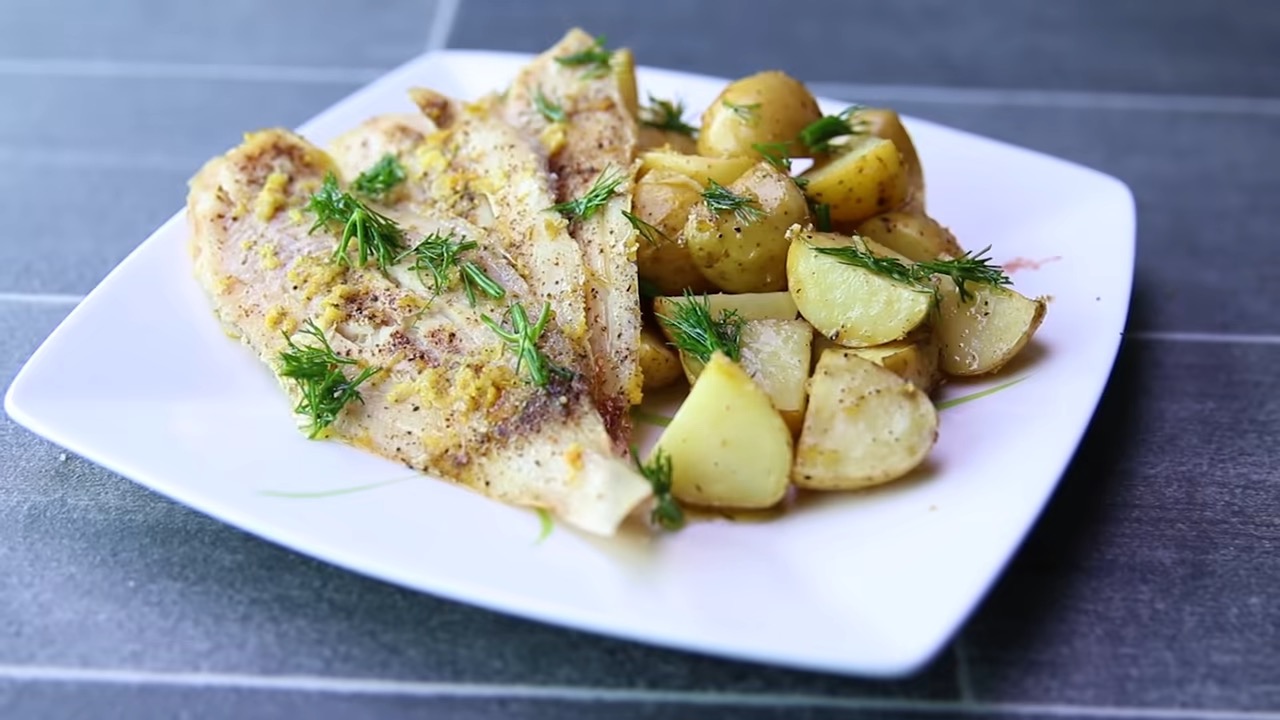 7 oz baby potatoes
2 tsp olive oil
salt and black pepper
1 tbsp lemon zest
6 oz sole
1 tbsp fresh dill
1 tbsp lemon juice
4-hummus with salmon recipe (5 serving - 430 calories)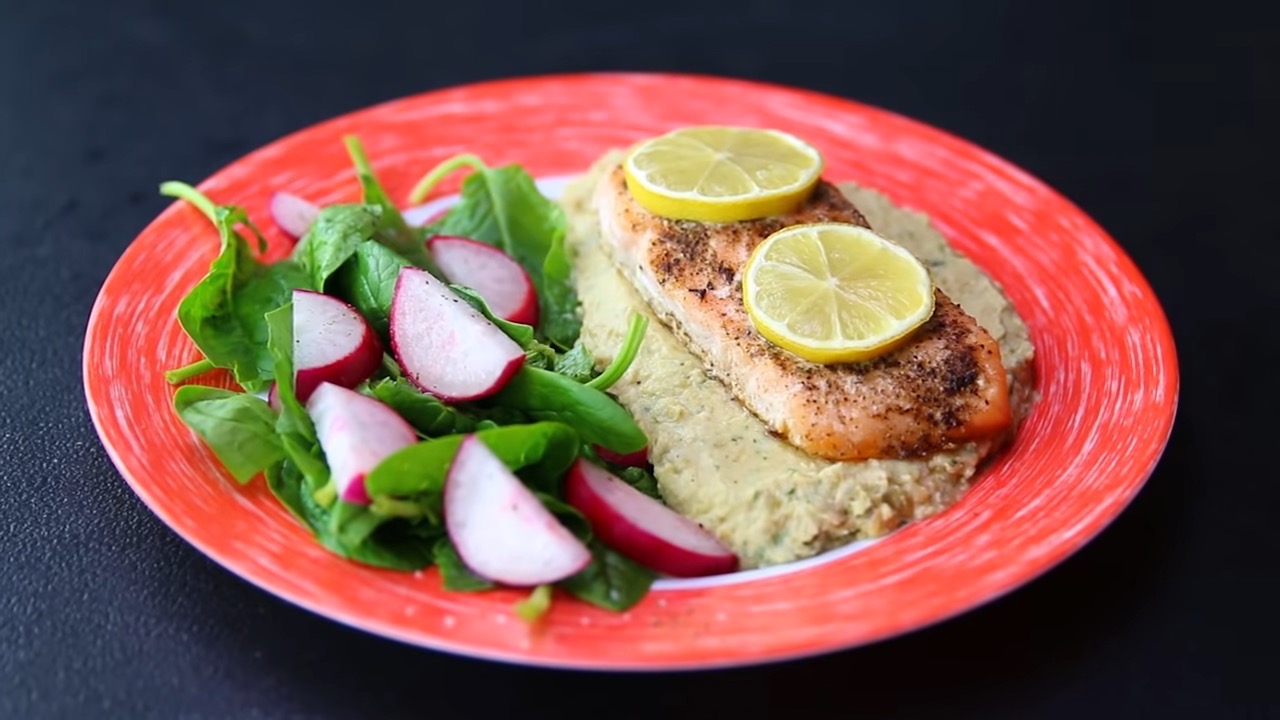 4 oz salmonfillet
1 tsp olive oil
salt and black pepper
2 lemon slices
4 oz chickpeas, boiled
2 oz peas, boiled
salt and black pepper
7 mint leaves
1 oz greek yogurt
1 oz spinach
2 radishes
1 tbsp lemon juice
5-Cod recipe  (1 serving - 300 calories)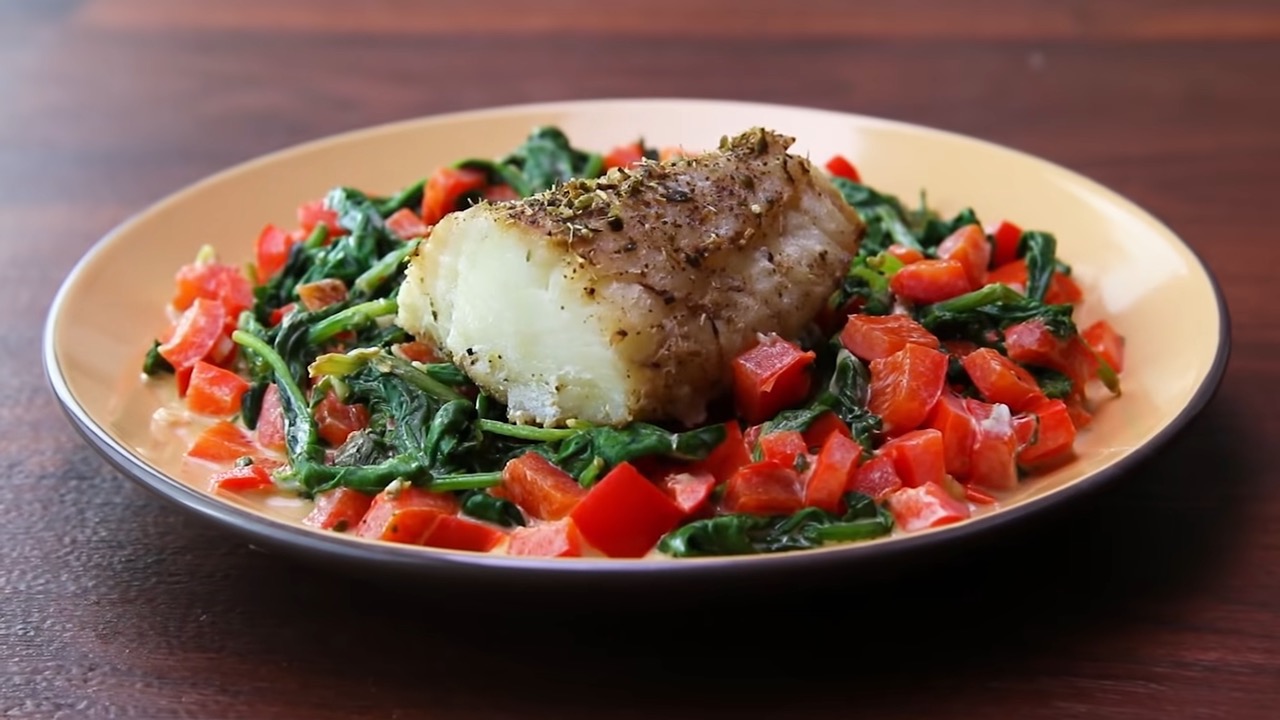 4 oz cod fillet
2 tsp olive oil
salt and black pepper
dried oregano
1 garlic
1 medium red bell pepper
4 oz spinach
1 oz low fat cream cheese
1 tbsp parmesan cheese
6-shrimp and quinoa  (1 serving - 310 calories)
water
lemon slices
1 bay leaf
oz shrimp peeled
1/4 cup dry quinoa
1 garlic
1 tsp olive oil
1/4 medium red bell pepper
6 grape tomatoes
1/3 cup green peas cooked
salt and black pepper
4 oz shrimp peeled
7 vegetable salad  (1 serving - 290 calories)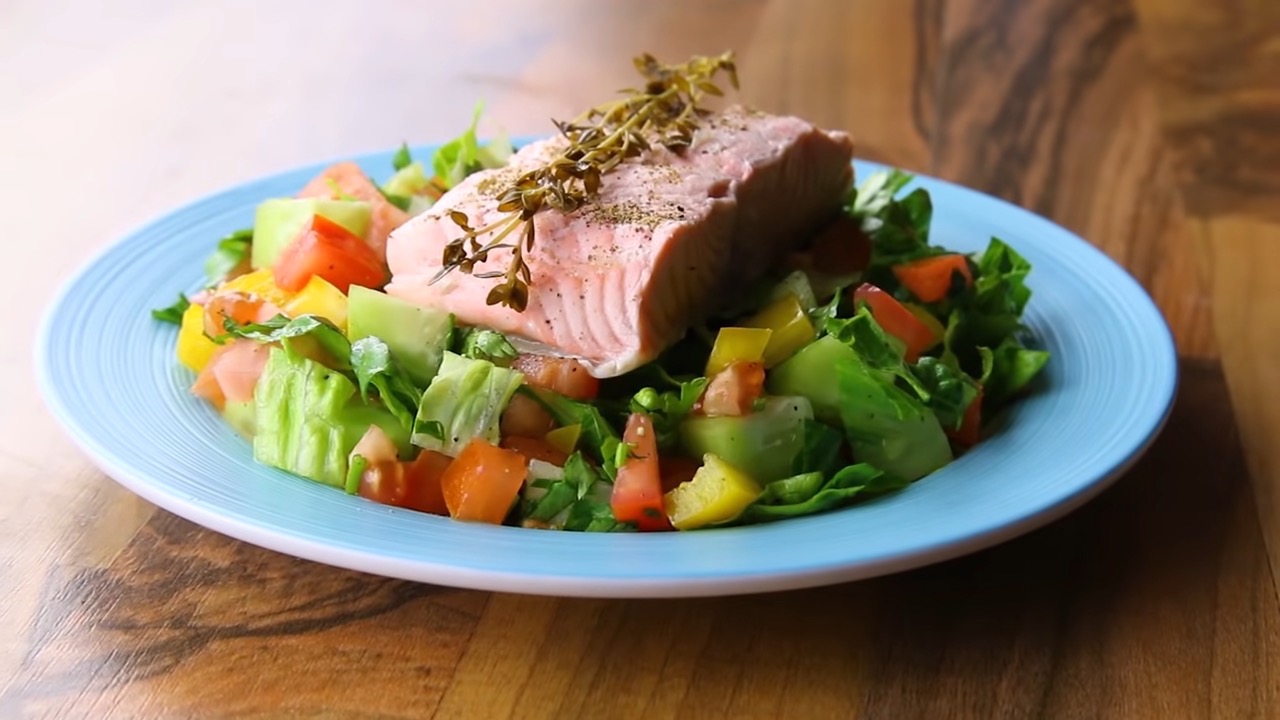 water
lemon slices
fresh thyme
4 oz salmon fillet
2 leaves romaine lettuce
1 medium tomato
1/2 medium cucumber
1/4 medium yellow bell pepper
1 tbsp fresh parsley
salt and black pepper
2 tbsp lemon juice
Instructions
1-low carb salmon with salsa 280 calories
Stir the olive oil, garlic, and spices in a small bowl. Brush the fillet with the spice mixture.
Heat a large pan or grill medium-high heat. Add the fillet to the pan and cook for 5-6 minutes per side. Remove from pan, top with salsa and serve immediately.
To make the salsa:Add the tomato, onion, corn and parsley to a large mixing bowl. Drizzle with fresh lemon juice and a pinch of salt and pepper. Gently mix with a spoon until fully combined.
2-cod and bean mash 390 calories
Preheat oven to 390°. Put the tomatoes onto a baking tray, rub with a little oil and some seasoning, Add the cod to the tray, top with most of the lemon zest and some more seasoning, then drizzle with a little more oil. Roast for 8-10 mins until the cod flakes easily.
Meanwhile, add beans in a foodprocessor with the rest of the oil, garlic, basil lemon juice then pulse to a thick, slightly rough purée. Season to taste.
serve the tomatoes and mash in a plates, top with the cod, then scatter with basil leaves and the remaining lemon zest.
3-baked sole with potatoes 360 calories
Preheat oven to 350F
Place sliced potatoes and in a medium bowl and toss with olive oil, salt, pepper and lemon zest. transfer on a parchment lined sheet. Bake for 20 minutes, tossing halfway through.
Add the sole to the same bowl, drizzle with oil, salt, pepper and remaining lemon zest and toss to coat all sides. Set aside.
Make the dill oil by mixing ingredients together in a small bowl.
Once the potatoes are fork tender ( after about 20 minutes) lay the sole over top and place it back in the oven.
Bake for 8-10 minutes or until sole is cooked to desired doneness.
serve the potatoes in a plate, top with the sole and spoon the flavorful dill oil over top.
4-hummus with salmon recipe 430 calories
Preheat oven to 350° F
Put the fillet in an oven tray, add a drizzle of oil, then season with salt and pepper and top with lemon slices. then bake for 13-15 minutes until the fillet is just cooked.
In a food processor, whizz the mint with the chickpeas, peas, yogurt, and oil. Season to taste and set aside.
place spinach and radishes in a plate, then drizzle with lemon juice. Add salt and pepper. Serve the fillet with the pea and mint houmous.
5-Cod recipe 300 calories:
(for the preparation steps watch the video)
6-shrimp and quinoa 310 calories
Cook the quinoa:
Add water and slices of lemon and bay leaf to a large stockpot set over medium heat. Bring to a boil and allow to boil for 5 minutes. Stir in the raw shrimp, cover and remove from heat. Allow to rest for about 4 minutes, until all the shrimp are cooked through. Pour the shrimp and liquid into a colander to strain, peel and set a side.
In a large skillet, heat oil to medium-low and sauté garlic and bell pepper until tender. Add quinoa, grape tomatoes , green peas salt and black pepper and add shrimp, and continuing cooking 5 minutes. Remove from heat and serve.
7 vegetable salad 290 calories
(for the preparation steps watch the video)

Did You Make This Recipe?
---
Enjoy
See also other healthy recipes: