Crockpot chicken recipes are easy, delicious and healthy, learn to cook-it yourself
This is the easiest slow cooker recipe, and perhaps one of the most delicious, this honey garlic chicken & veggies is simple but packed with flavor. Just throw it all in, and let it cook all day. Dinner is served! If you want to amp up the flavor you can broil the chicken at the end, and add it right back into the slow cooker until you're ready to eat!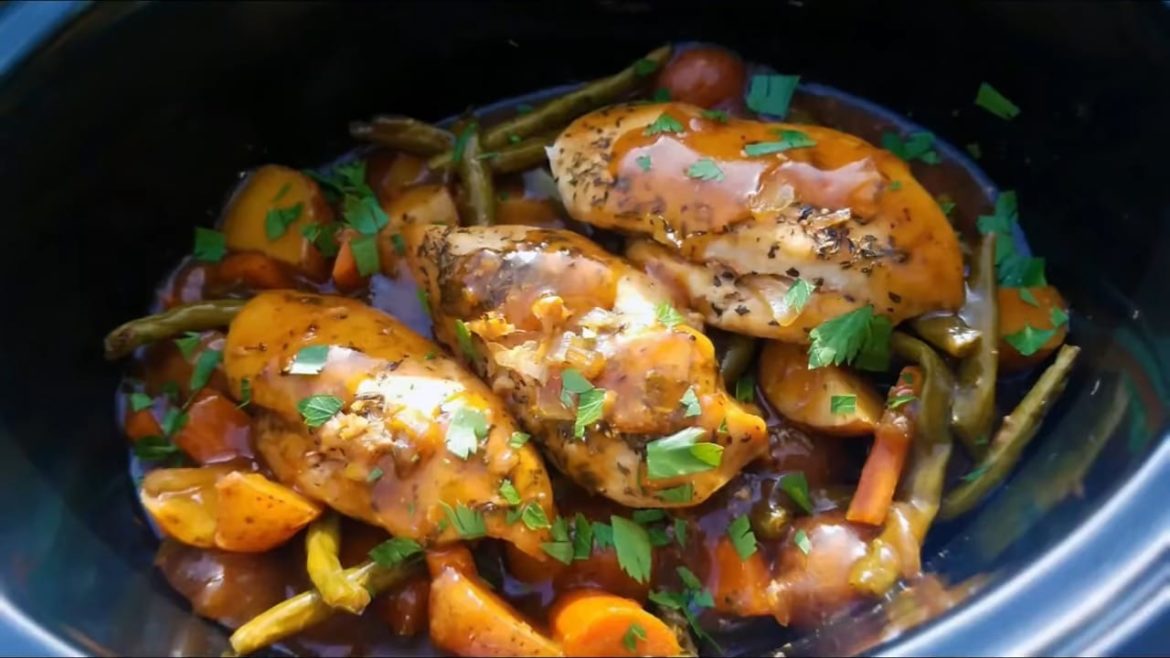 Ingredients
3-4 Boneless Skinless Chicken Breasts
Season the Chicken with 2 Teaspoons Italian Seasoning, 1 Teaspoon Garlic Powder, ½, teaspoon Cayenne, Salt and Pepper to taste.
16 Ounces Carrots, Peeled and Quartered
16 Ounces Baby Red Skin Potatoes, Halved
16 Ounces Green Beans, Trimmed
1 Large Onion, Diced
4 Cloves Garlic, Minced
Salt and Pepper to Taste
Sauce:
½ Cup Low Sodium Soy Sauce
½ Cup Honey
¼ Cup Ketchup
1 Tablespoon Olive Oil
1 Tablespoon Italian Seasoning
1 Teaspoon Red Pepper Flakes
¼ Teaspoon Cayenne Pepper
½ Teaspoon Onion Powder
½ Teaspoon Garlic Powder
Salt and Pepper to Taste
Slurry:
3 Tablespoons Cornstarch
½ Cup Cold Water
Instructions
Combine vegetables in a 16-quart slow cooker and season with salt and pepper to taste.
Season the chicken breasts with Italian seasoning, garlic powder, cayenne, salt, and pepper. Place the chicken breasts into the slow cooker with the vegetables.
In a medium bowl, combine soy sauce, honey, ketchup, olive oil, seasonings, salt, and pepper. Whisk until combined. Pour the mixture over the chicken and vegetables.
Cover and cook on high for 3-4 hours or low for 7-8 hours. Avoid opening the lid often, as this allows the steam to escape.
Optional: Transfer the chicken breasts to a baking dish and broil for 3-4 minutes to develop a brown color. You may return the chicken to the slow cooker and keep warm until ready to serve.
Notes
DO NOT put the slow cooker insert in the oven. IT WILL crack.
Optional:
To thicken the sauce, collect the liquid from the slow cooker and transfer it to a saucepan.
Bring the sauce to a boil. To make a slurry, combine 3 Tablespoons of cornstarch with ½ cup of COLD water.
Whisk the slurry together and add to the sauce. Stir well and cook until it thickens. Pour over the chicken and veggies in the slow cooker to keep warm until ready to eat!
Did You Make This Recipe?
---
Seel also: