RAFFAELLO CAKE is on the menu in Book recipe, and we are going to teach you how to make this delicious recipe from scratch!
Follow along with the 📝 recipes below👇🏾👇🏾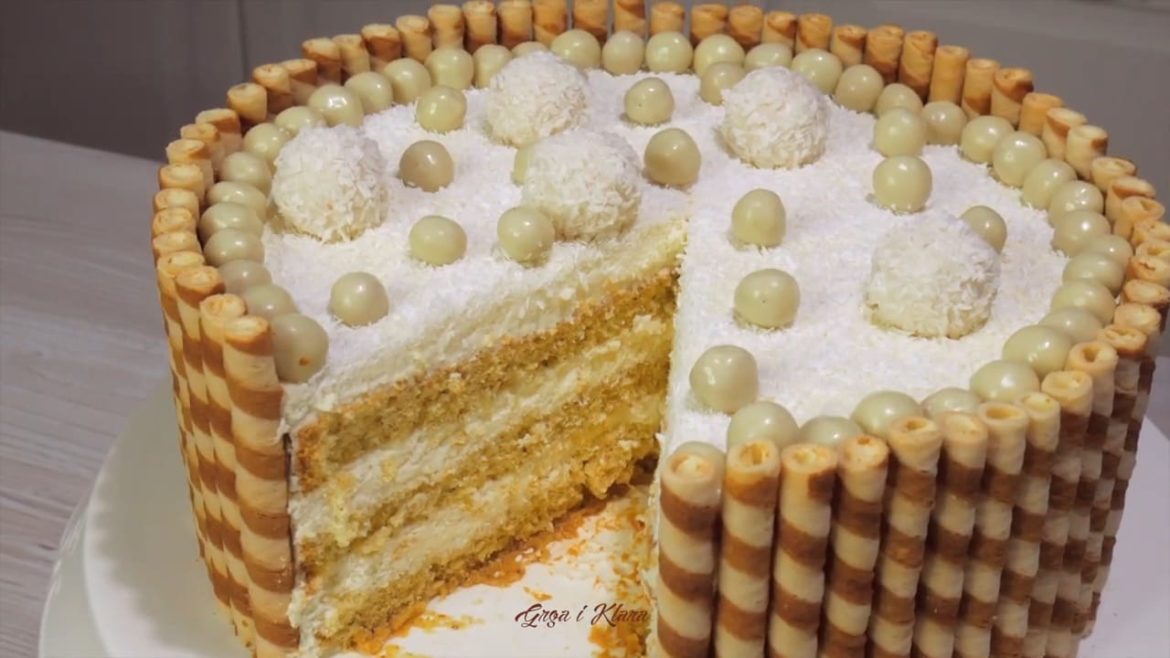 Ingredients
Biscuit:
7 eggs
pinch of salt
180 g sugar (1 cup)
1 tbsp vanilla extract
100 g ground almonds (1 cup)
150 g all-purpose flour (1.2 cups)
Frosting:
200 g white chocolate (7 oz)
250 g mascarpone cheese (9 oz)
500 ml whipping cream (2 cups)
30 g powdered sugar (1/4 cup)
50 g unsweetened shredded coconut (1/2 cup)
Decoration:
4-5 tbsp unsweetened shredded coconut
3 boxes per 280 g (10 oz) vanilla curls sticks
150 cm tape to connect (60 inches)
6-7 balls Raffaello
80 g white chocolate crispy balls (2.8 oz)
Instructions
Preheat oven to 340°F (170°C). Grease and line bottom and sides of a 24 cm (9 inch) pan with
parchment paper.
Eggs room temperature - separate egg whites from egg yolks. Add a pinch of salt over the whites and
mix until foamy. Gradually add sugar and continue mix until stiff peaks form. Add vanilla extract and mix
gently with the mixing wire. Add egg yolks and mix gently. Gradually add ground almonds and flour and
gently incorporate them into the batter. Pour the batter into the prepared pan. Bake for 50 minutes. Let it
cool for about 10-15 minutes. Remove from the pan and cool completely on a rack.
For the frosting, melt white chocolate in the microwave. In a large bowl mix mascarpone cheese (room
temperature) until smooth. Add melted chocolate and mix until smooth. In another large bowl whip the
chilled whipping cream until stiff peaks form. Add powdered sugar and mix. Gradually incorporate
whipped cream into the white chocolate mixture. Fold in shredded coconut. Gently mix with a spatula.
To assemble the cake, divide the biscuit into 3 layers. Place one cake layer on your serving plate. Spread
evenly with a bit less than 1/3 of frosting. Repeat with the second layer of cake. Add the third layer of
cake and spread the remaining frosting on the top and sides of the cake.
Sprinkle shredded coconut on the top of the cake. Sort the vanilla sticks to each other around the cake.
Put the straw around the cake and tuck it up. On the top of the cake put Raffaello balls and white
chocolate crispy balls.
Refrigerate the cake for about 3-4 hours or overnight.
Did You Make This Recipe?
Recipe video
---
Bon Appétit