I made a Charlotte cake with a Christmas feeling by icing pink cream on white cake sheets and pomegranates.
Using cream cheese cream, I think the harmony of rich cream and moist and fluffy sheet is really good
I've stacked several layers thinly and I felt more cute and lovely
I put white chocolate on the ladyfinger cookie and decorate it with sprinkles and pearl sugar and wrap it around the cake.
The pomegranate sparkles like a jewel and gives a point to give it a beautiful color and a nice atmosphere.
When you eat cake and pomegranate together, the juice pops up in your mouth, making it fresher and more delicious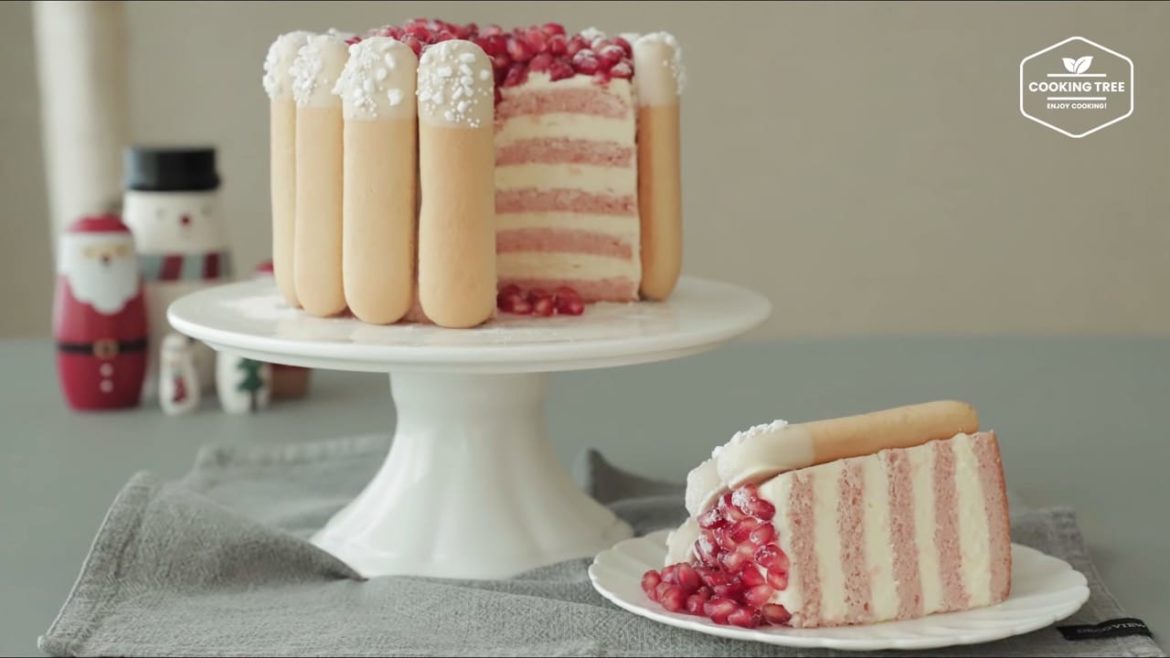 Ingredients
155g Egg
80g Sugar
10g Honey
2g Vanilla extract 
30g Unsalted butter
45g Milk
100g Cake flour
Food coloring (pink, white)
White chocolate
Ladyfinger cookies
Sprinkles, Pearl sugar
300g Cream cheese 
50g Sugar
200g Whipped cream (whipped up 50%)
Pomegranate
Sugar syrup
Instructions
Place a bowl of eggs in a pot of hot water, add sugar, honey, and vanilla extract, and stir until the temperature is 40 degrees.
With a hand mixer, whip until a rich ivory-colored bubble is added.
Put a little bit of dough in a bowl of melted salt-free butter and milk (temperature 50 ~ 60 degrees) and mix it.
Bake for 35 minutes in a 170 ° (180 ° 20 minutes preheat) oven, cool, cut off the top, cut into 5 pieces and cut into 12cm molds.
Sprinkle melted white chocolate on Ladyfinger cookies, sprinkle sprinkles and pearl sugar and harden at room temperature.
Mix sugar with cold cream cheese and mix in 50% whipped cream.
Sprinkle sugar syrup over the cake sheet, add the cream, and then the other sheet.
Repeat the stack, apply the cream all over the surface, add ladyfinger cookies, and place in the fridge.
Place the trimmed pomegranate on the top of the cake and sprinkle with sugar powder.
Did You Make This Recipe?
---