Easy Seafood Paella is on the menu in Book recipe, and we are going to teach you how to make this delicious recipe from scratch!
Follow along with the ???? recipes below????????????????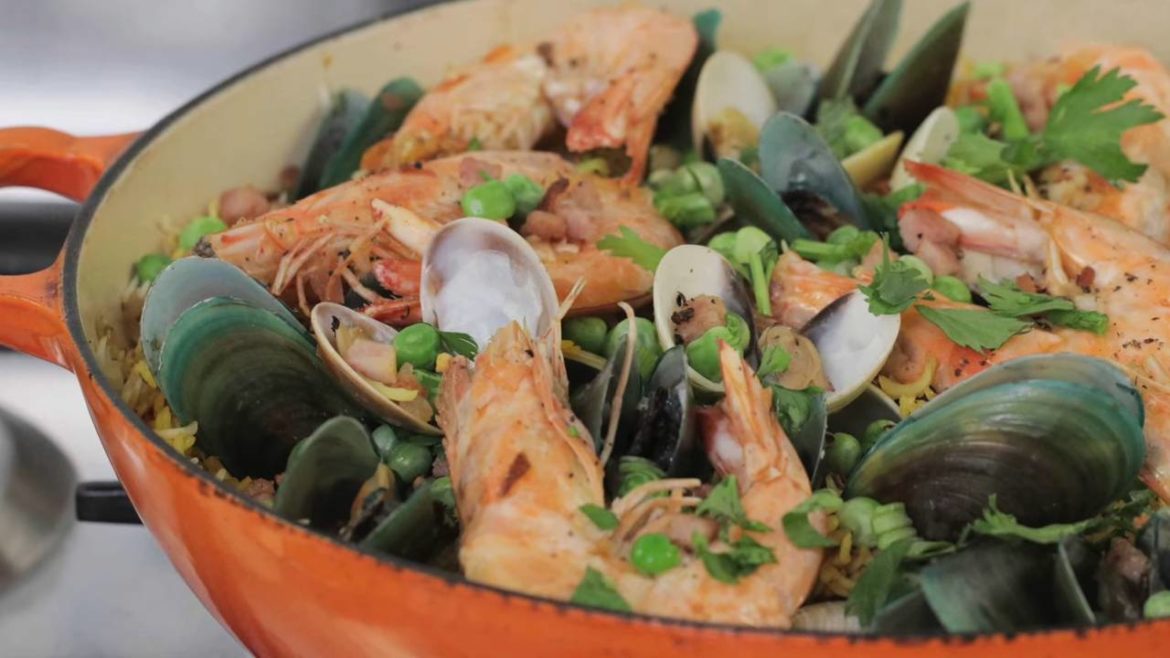 Ingredients
4 cups chicken/fish stock
1 teaspoon saffron threads
2 tablespoons olive oil
1 brown onion, finely chopped
2 garlic cloves, crushed
2 cups arborio rice/ basmati Rice
2 tomatoes, peeled, deseeded, diced
2 teaspoons smoked paprika
500g medium green king prawns, cleaned
150g baby squid, cleaned, cut into 1cm-thick rings
12 mussels, scrubbed, debearded
10-20 white Clams, scrubbed
2/3 cup frozen peas
Instructions
Combine chicken/fish stock, 1 cup cold water and saffron in a a skillet over medium heat. Bring to the boil. Remove from the stock from the wok and set it aside.
Heat 2 tablespoons of oil in skillet over small-medium heat. Add onion and garlic. Cook for 5 minutes or until soft. Add tomatoes, paprika and rice. Stir to combine. Using a spoon, spread mixture evenly over the base of pan.
Add half the stock mixture to the skillet and bring to boil over high heat. Shake pan to spread mixture across wok (do not stir). Reduce heat to medium. Cook, uncovered, without stirring, for 10 minutes or until stock is absorbed.
Add clams and mussels, pressing into rice mixture. Add 1/2 cup stock mixture and cook until all liquid is absorbed. Repeat with remaining stock mixture, 1/2 cup at a time, adding prawns and peas with the last 1/2 cup stock (this will take about 15 to 20 minutes). Remove from heat. Stand, covered, for 5 minutes. Season with pepper. Serve.
Did You Make This Recipe?
---
Bon Appétit