Plant-Based Chocolate "Ganache" is on the menu in Book recipe, and we are going to teach you how to make this delicious recipe from scratch!
Just like we did for our lemon slices a few weeks back, today we are colouring pear slices, with a twist. This time, we will be cooking them in sugar syrup rather than just resting them in the coloured water. The sugar syrup is simply the same weight as sugar and water. Bring this mixture to a simmer, and allow all the sugar to dissolve. At this stage, you can add in a few drops of gel food colour, and then gently lay your fruit slices into the simmering syrup. I recommend going for fruit that is super light in colour and fleshy, such as apples, pears, lemons, etc. Mine cooked for a good 20 minutes before I laid them flat onto a silicone lined baking tray. Allow these to dry out in your oven for a good 4 hours or so with the door slightly open and the oven temp at no more than 100 degrees Celsius. We just want to dry these out, not cook them ;)
As for the vegan ganache, the measurements are the same- the same measurements for all ingredients! For a 6 inch cake as I have used, I recommend:
Follow along with the ???? recipes below????????????????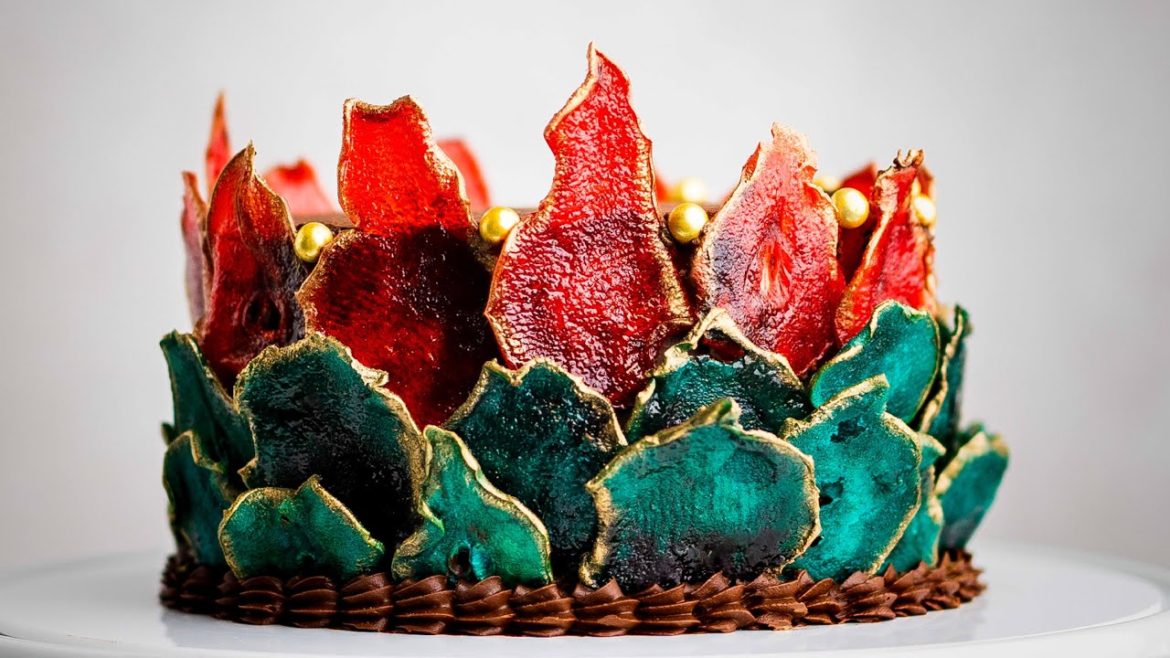 Ingredients
2 cups of cacao powder (you can also use cocoa powder instead),
2 cups maple syrup
2 cups coconut oil
pinch of salt to help bring out that chocolate flavor.
Instructions
The preparation steps are described in the video.

Did You Make This Recipe?
---
Enjoy