Hello friends! Today we're going to share with you how to make a classic French style pie: Strawberry & Blueberry Galette, aka Fruit Galette.
The fruit galette is so gorgeous in its rustic form. It's a French pastry similar to a tart or a pie, the famous one is Galette des Rois (king cake). The fruit galette is another free form pie with fruit filling, and the crust folded partway over the top of the filling, looks like a flat round pie. The best part is the pastry dough is simple to make for even beginners, it's quite a bit less effort than puff pastry, but the result is amazing.
In this post, we'll show you how to make the delicious strawberry galette in an easy way. This galette recipe features jammy strawberries and an ultra flaky, buttery crust.
How to make French Strawberry & Blueberry Galette?
Follow along with the ???? recipes below????????????????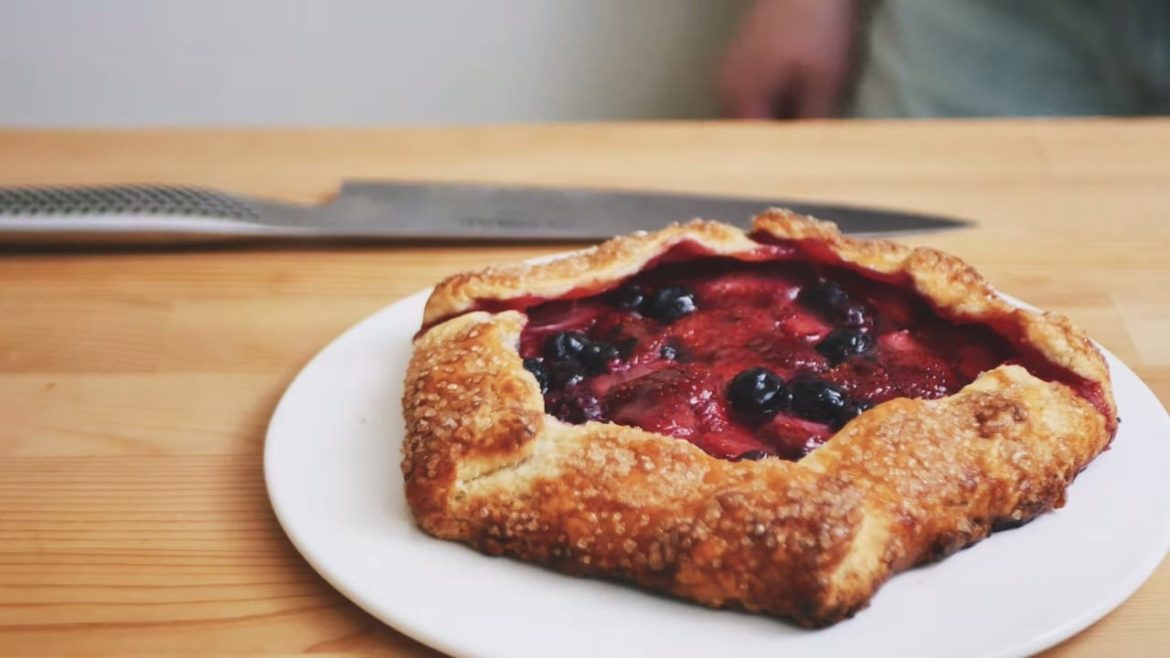 Ingredients
Pie dough:
all-purpose flour 100g (plus more for dusting)
granulated sugar 15g
a pinch of salt
unsalted butter 80g (Iced, cut into cubes)
iced water 30g
one egg
crystal brown sugar Q.S
Fruits filling:
strawberries 180g
blueberries 40g
granulated sugar 30g
half lemon zest
lemon juice 2g
Instructions
In a medium bowl, mix flour, sugar, and salt together until well combined.
Add very cold butter cubes and toss in the flour and until each piece is coated. Just take a piece of butter, using your fingertips to press it flat, then complete all. If your fingers warm up the butter too much, you can chill for 10 minutes
Add ice water and mix with your fingertips until the dough holds together enough to form a ball. If too dry, drop the remaining water. Lumps of dough are OK.
Put the dough onto a piece of plastic wrap, and flatten it into a disk and refrigerate for 1 hour.
Make the fruit filling. Pinch off the green and slice the strawberries.
In a large bowl, combine the strawberries and blueberries with sugar and cornstarch. Zest half of lemon and squeeze a little lemon juice. Toss the fruit mixture together, set it aside.
Lightly flour your working surface, so the pastry doesn't stick. Unwrap the dough and roll it into a 26cm/10-inch round circle about 3mm~4mm thick.
Pile the fruit filling onto the center of the dough and leave at least 2 inches border around the edge. Fold the edges of the dough up and over the filling.
Brush the edges with the egg wash and sprinkle with sugar.
Preheat the oven to 220C and bake for 25 minutes. Once baked, transfer onto a wire rack and cool completely.
Let cool before slicing and serving with ice cream or a dollop of whipped cream to take it to the next level!
Did You Make This Recipe?
---
Enjoy