Keto chocolate coconut brownies are on the menu in Book recipe, and we are going to teach you how to make this delicious recipe from scratch!
Imagine sinking your teeth into a layer of fudgy brownie, coconut, and chocolate ganache! There's only one word to describe it "Heavenly" The fudgy brownie layer is adapted from the same recipe as in my previous post titled "How to make Keto Brownies – Fudgy Vs Cakey". Then I made the coconut layer by using unsweetened shredded flaky coconut mixed with melted butter, cream, and a little bit of powdered sweetener. And the icing on the cake is the layer of chocolate ganache right on top. It's a perfect combination
Follow along with the 📝 recipes below👇🏾👇🏾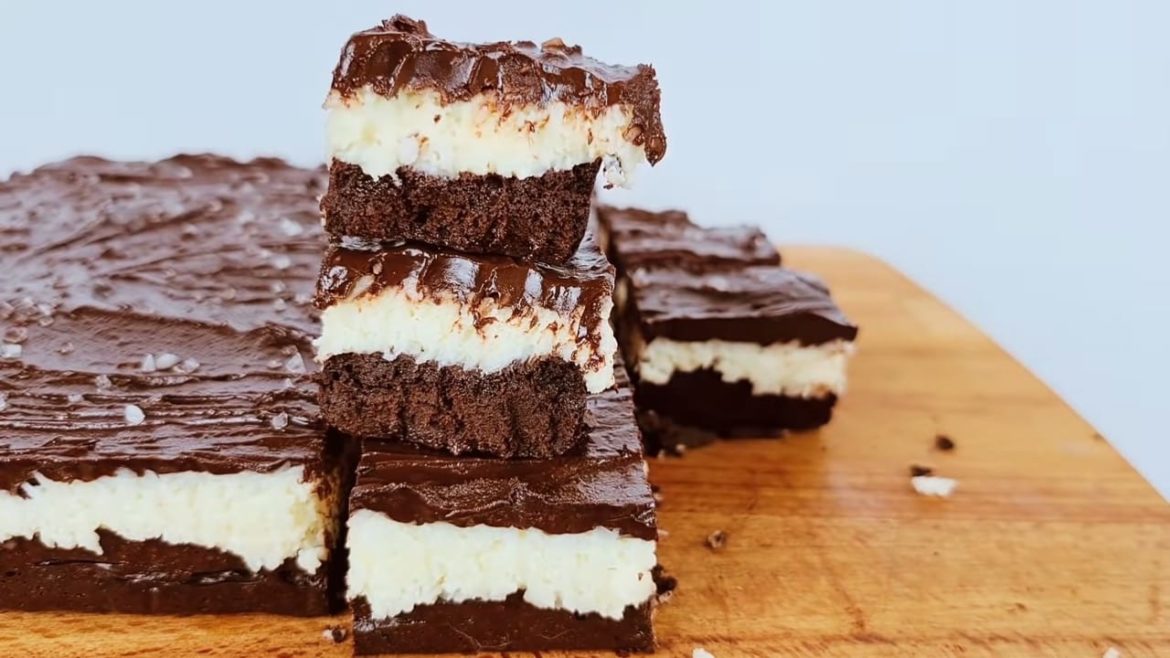 Ingredients
CHOCOLATE FUDGY BROWNIE
Unsweetened Dark Chocolate = 175 g / 1 cup
Butter (room temperature) = 113 g / 1/2 cup
Erythritol = 120 g / 0.6 cup
Large whole eggs (room temperature) = 3
Unsweetened Cocoa powder (sieved) = 30 g / 1/4 cup
Coconut flour = 30 g / 1/4 cup [ OR Almond flour = 120 g / 1 cup ]
Salt = 1/2 tsp
COCONUT FILLING
Unsweetened Shredded Coconut Flakes (I used Bob's Red Mill Brand) or Desiccated Coconut = 200 g / 2 cups
Lakanto Powdered Sweetener (or any powdered sweetener) = 20 g / 3 tbsp
Melted Butter = 56 g / 1/4 cup
Whipping or Heavy Cream = 240 ml / 1 cup
CHOCOLATE GANACHE
Whipping Cream = 120 g / 1/2 cup
Unsweetened Dark Chocolate = 120 g / 3/4 cup
Erythritol = 50 g / 1/4 cup
Instructions
Preheat the oven to 350F or 180C.
Melt the butter and chocolate in a bowl over low heat. Do not overheat the mixture as it can cause the chocolate to split which will result in the fat seeping out from the cocoa butter. Once the mixture is just melted, remove the bowl from heat.
Add erythritol or any keto sweetener and whisk until well combined.
Add the eggs, one at a time, and whisk until well combined with smooth texture.
Add the sieved cocoa powder, salt, and whisk until well combined and smooth.
Add the coconut flour and fold with a spatula until well combined. The batter should be thick and smooth...
Pour the batter into a greased 8" or 9" square pan lined with parchment paper. Spread evenly.
Bake for 15 mins. The top should feel a little soft or spongy but it will firm up once cooled. Do not overbake as the texture will become too dry. Set aside to let it cool.
In a bowl, mix all the ingredients for the coconut filling until well combined. Spoon over the baked brownie, spread evenly, and set aside.
Prepare the chocolate ganache by melting the whipping cream, dark chocolate, and erythritol in a bowl or pan over low heat. Once melted, remove the bowl or pan from heat and pour over the coconut filling. Spread evenly and sprinkle with flaky salt (optional).
Chill in the refrigerator for at least 1 to 2 hours before serving.
Cut into 1 1/2" squares. This recipe makes 25 x 1 1/2" squares. Clean the knife before each cut.
Store in the refrigerator for up to 2 weeks or frozen for months.
Notes
The above nutrition info provided is just a guide. If you have a more accurate macros calculator, please refer to it.

Did You Make This Recipe?
---
Bon Appétit
NUTRITION INFO [ Total servings = 25 ]
Per serving :
Total Carb = 6.9 g
Dietary Fiber = 3.1 g
Net Carb = 3.8 g
Calories = 243
Total Fat = 22.2 g
Protein = 3.4 g