Fried chicken sandwich is on the menu in Book recipe, and we are going to teach you how to make this delicious recipe from scratch!
This fried chicken sandwich recipe gives you so many of the things you want in a fried chicken sandwich: Crispy, flavorful breading, juicy chicken, a squishy potato bun, tangy buttermilk ranch, and a little crunch from the lettuce and pickle. As far as sammies go, this one's a winner.
Follow along with the ???? recipes below????????????????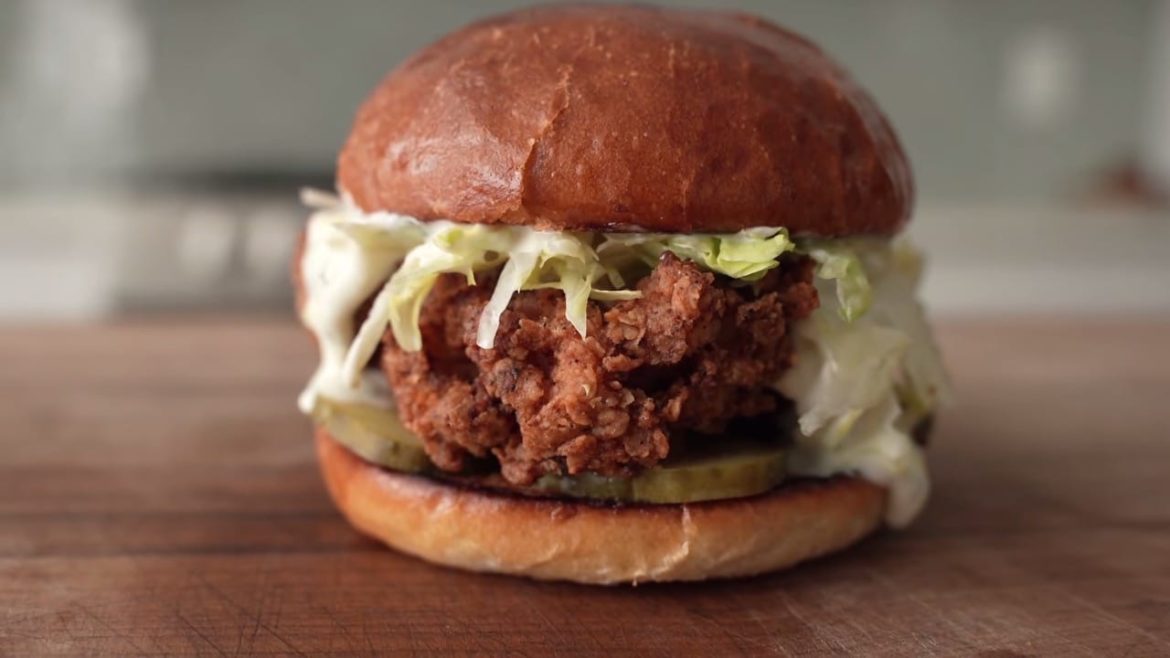 Ingredients
FOR THE POTATO BUNS:
125g warm water (86F/30C)
3g or 1tsp yeast
45g or 3 tbsp melted butter
75g or 1/3c mashed potato
35g or 2 3/4 tbsp sugar
300g or 1 3/4c ap flour (11.7% protein)
5g or 1tsp salt
egg wash (1 egg + 2 teas water, stirred)
FOR THE FRIED CHICKEN
6 boneless, skinless, chicken thighs
280g or 2 1/4c ap flour
5g or 1tsp salt
5g or 2tsp pepper
6g or 2tsp garlic powder
6g or 2tsp onion powder
3g or 1/2tsp baking soda
5g or 2tsp paprika
3-5g 1-2tsp cayenne pepper (depending on how much HEAT ya like)
Buttermilk (about a cup or so for dredging and 1/4 cup for the breading)
More flour (about a cup or so for dredging)
2qt/2ltr of neutral oil (depending on the size of your pot. canola or another oil that's flavorless with a high smoke point)
FOR THE BUTTERMILK RANCH
75g or 1/3c buttermilk
60g or 1/4c sour cream
1 egg yolk
15g or 3 1/4tsp lemon juice
1/2 clove garlic, peeled
25g or 2.5tbsp shallots (chopped, rinsed)
5g or 1tsp salt
300g or 1 1/4c neutral oil (like canola or light EVOO)
10g 3 1/4tbsp fresh chives, minced
10g 3 1/4tbsp fresh dill, chopped
OTHER GARNISHES:
Very thinly sliced iceberg lettuce
Sliced dill pickles
Instructions
FOR THE POTATO BUNS:
Into the bowl of a stand mixer fitted with dough hook attachment, measure water, yeast, melted butter, mashed potato, sugar, flour, salt. Mix on low for 3 mins until combined. Increase speed to med-high and mix 5-6 more mins. Cover & allow to ferment at room temperature for 90 minutes.
After that 90 mins, flip out dough onto a lightly floured work surface. Divide dough into six 100g pieces. Fold and shape each of the 6 pieces as shown @2:58​. Place on a sheet tray lined with a piece of oiled parchment, cover, and proof at room temp for 45-60 min.
Brush each dough ball with egg wash & load into preheated 400F/204C oven for 15min or until deep golden brown.
FOR THE FRIED CHICKEN
Season thighs on both sides with salt and allow to cure in the fridge for 2 hours.
To mix the breading, combine the 280g ap flour, salt, pepper, garlic pow, onion pow, baking soda, paprika & cayenne, and whisk to combine. Add about 1/4 cup of buttermilk to the breading mixture and stir to combine. Place your additional cup of buttermilk and cup of flour in containers to prepare your dredging station.
To dredge, place each piece of chicken into plain ap flour, then dip into the buttermilk, then dip into the breading mixture, making sure each piece is very well coated. Shake off the pieces just a bit, then place them back on the sheet tray to prepare for frying.
Preheat oil in a large heavy-bottomed pot over medium heat to 350F/175C. Carefully add in chicken thighs to oil (no more than 2-4 at a time). Cook for about 6 minutes until deeply golden brown.
Toast your buns, then build your sammies!
FOR THE BUTTERMILK RANCH
Measure buttermilk, sour cream, egg yolk, lemon juice, garlic, shallots, salt into a high-sided container.
Spin the mixture with an immersion blender then slowly add the oil while continuing to blend. Add herbs and stir to combine.
Did You Make This Recipe?
---
Enjoy