Alexandrian liver sandwiches is on the menu in Book recipe, and we are going to teach you how to make this delicious recipe from scratch!
Here's my recipe for the world's best liver sandwiches, cooked in Alexandrian style. These sandwiches are served all over Egypt and are full of Tangy and Zesty liver as well as a delicious Tahini sauce. I'm Obi from Middle Eats and I'm on a mission to show you how to cook delicious food from across the Middle East. Give the video a like if you enjoyed it and if you want to request a Middle Eastern Recipe, please leave a comment below.
Follow along with the ???? recipes below????????????????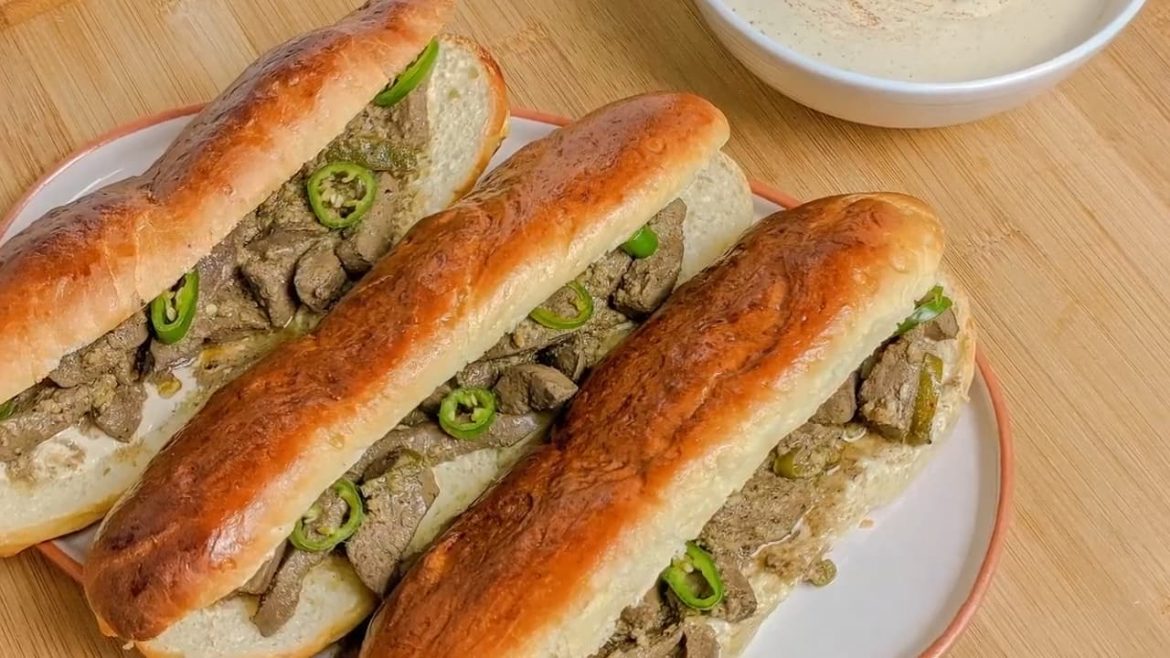 Ingredients
Marinade:
500g (1lb) of Beef or Lamb liver (lamb or veal liver is milder in flavour)
1 Tbsp White Vinegar
6 cloves of garlic
1 Tsp Cumin
1 Tsp Salt
1/2 Tsp Black Pepper
1/4 Tsp Chilli powder
Tahini Sauce:
70g (2.5 oz) Tahini
70g (2.5 oz) Yoghurt
2 cloves of garlic
1 Tsp Salt
1/4 Tsp Black Pepper
1/4 Tsp Chilli Powder
1/4 Tsp Cumin
1 Tbsp Lemon Juice
1/2 Tbsp White Vinegar
50-100ml (1.7 - 3.5 fl oz) Water
To cook:
2 Tbsp Vegetable Oil
5 cloves of garlic
1/2 - 1 Cup Sliced Green chillies
1 1/2 Tsp Salt
1/2 Tsp Black Pepper
2 Tbsp Lemon Juice
2 Tbsp White Vinegar
Instructions
How to Prepare the liver:
Slice your liver into strips about 5cm (2 inches) long and 1/2cm (0.2 inch) wide
Place the strips in a bowl and cover with water, add 2 tablespoons of vinegar to the water and mix it together
Let it sit for 15 minutes then drain, this helps remove some of the liver flavour and any trapped blood
Peel and mince your garlic cloves, combine them with the rest of the marinade ingredients (except the liver) in a small bowl and mix into a well-combined paste
Add the marinade to the drained liver and mix till well combined
Leave to marinate for a minimum of 1 hour but preferably 2
How to prepare the Tahini Sauce:
Add all your ingredients except the water to a mixing bowl
Mix to combine until a thick sauce forms
Add your water a little bit at a time and mix it into the sauce
Your target is a liquid but not runny sauce, add water until you achieve the right consistency. You may need more or less water than mentioned
Taste your sauce to make sure it is well seasoned and tastes bright and tangy
To cook the Liver:
Slice your chillies into circles till you have about 1/2 - 1 cup of sliced chillies
Add 2 Tbsp Vegetable oil to a heavy pan on medium-high heat
Add in your minced garlic and chillies, and cook them together for a few minutes until the garlic and chillies are fragrant. You aren't looking to brown the garlic
Add your marinated liver straight into the pan, feel free to pour in any leftover marinade
Add 1 and a half teaspoons of salt and 1/2 a teaspoon of black pepper then stir it all together
Keep cooking it for a total of minutes, stirring often
The liver will release a load of liquid and will turn brown, it's ready when all the liver is browned and no pink remains
Don't cook for longer than 7 minutes as this will overcook the liver, you can test doneness by slicing a piece in half, it should be cooked through
Turn off the heat and add 2 Tablespoons of Lemon juice and 2 Tablespoons of white vinegar
Give it one final mix and set aside
To assemble your sandwiches:
Slice open some soft bread rolls, milk bread rolls are best for this
Add a tablespoon or two of your Tahini Sauce and spread it out
Add a few tablespoons of the liver to your sandwich and top with some of the pan juices
Top with a few raw chilli slices and serve
Did You Make This Recipe?
---
Enjoy
Let us know what you think of today's Alexandrian liver sandwiches tips, tricks, and hacks!