Green Farro Risotto is on the menu in Book recipe, and we are going to teach you how to make this delicious recipe from scratch!
Follow along with the ???? recipes below????????????????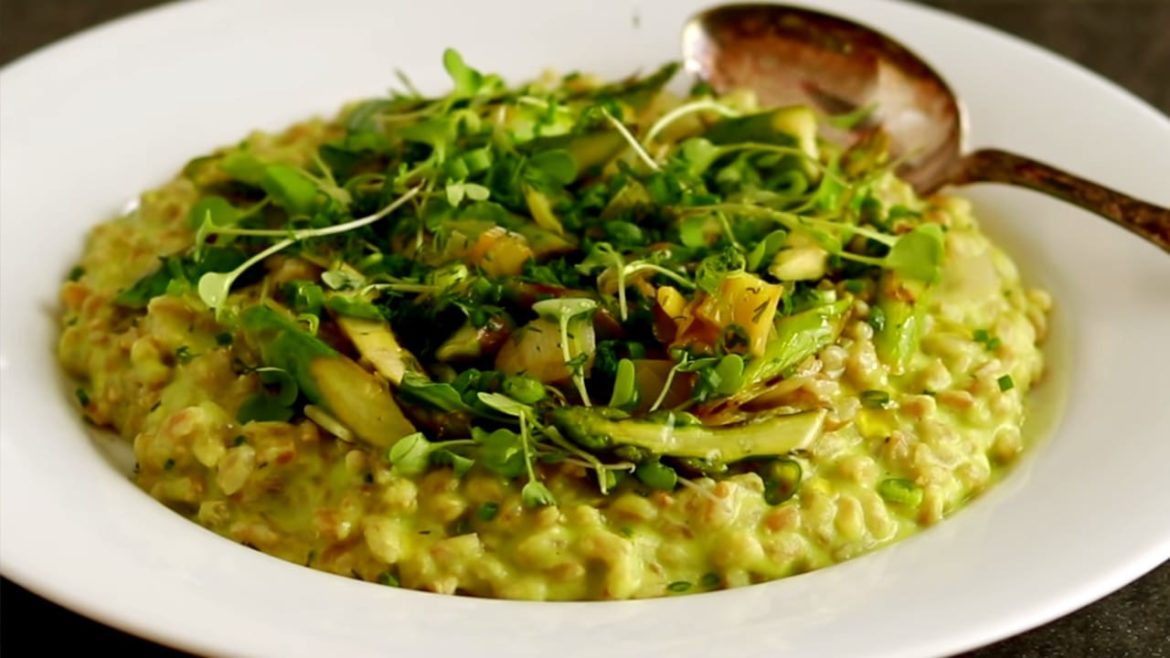 Ingredients
220g (2 medium) leeks, white and pale green parts only, diced
2 Tbsp olive oil
1.5 cups pearled (or semi-pearled) farro
3 cups water
1.5 cups frozen peas
A mix of heavy cream and water to cover the peas (I use roughly equal parts)
Zest of 1 lemon
2 tsp lemon juice, plus more as needed
1-2 Tbsp of butter or olive oil
Topping:
1 Lb asparagus, trimmed and cut into bite-size pieces
2 tsp olive oil
2 tsp butter (or more oil)
Salt and lemon juice to taste
Any chopped green herbs (scallions, chives, parsley, mint, dill, etc)
Instructions
Set a medium pot over moderately low heat. Add 2 Tbsp olive oil, leeks, and a pinch of salt. Stir, cover, and cook until the leeks are translucent, 5-10 min. Uncover, and continue to cook stirring occasionally until the leeks are starting to turn golden brown, 5-10 min. Remove half of the leeks from the pot and reserve for the sauce.
Add the farro and water to the pot. Salt to taste. Stir, cover, and cook on high until the steam starts to escape from the lid (watch carefully). Drop the heat to low and cook until almost tender, about 30 min.
While the Ferro is cooking, make the pea sauce. Add enough cream and water to the peas to barely cover them. Put in the microwave until very warm (or heat in a pot). Dump the pea mixture into the blender. Add the reserved leaks, lemon zest and juice, and salt. Puree until perfectly smooth.
Add the butter and pea sauce to the farro. Bring to a simmer and take off the heat. Taste and add more salt, lemon juice, and butter as needed. Cover and let rest for 10 min while making the topping.
Set a large skillet over high heat. Add the oil and butter. When the oil is hot, add asparagus and cook without disturbing until starting to turn golden on the bottom. Stir and let brown again. When all the asparagus is bright emerald green with a few brown spots, take the pan off the heat. Season with salt and lemon juice.
Put risotto on plates, top with asparagus and any green herbs (scallions, chives, dill, parsley, mint, etc).
Did You Make This Recipe?
---
Enjoy