Hey guys, here's my favorite pizza dough recipe from the New York Times that can be made and baked in several hours OR you can let it chill in the fridge for up to 7 days.
Also, my no-cook pizza sauce recipe can also hang out in your fridge until you're ready to use it. Because this pizza bakes in under 10 minutes in a super hot oven on a searing hot pizza stone, the sauce will "cook" in that short time.
Please do NOT be tempted to pile this dough with a ton of heavy toppings, it will weight it down and make it soggy. Go light! If you want a thicker crust, don't roll it out so thin, and at that point, you can pile it as high as you want.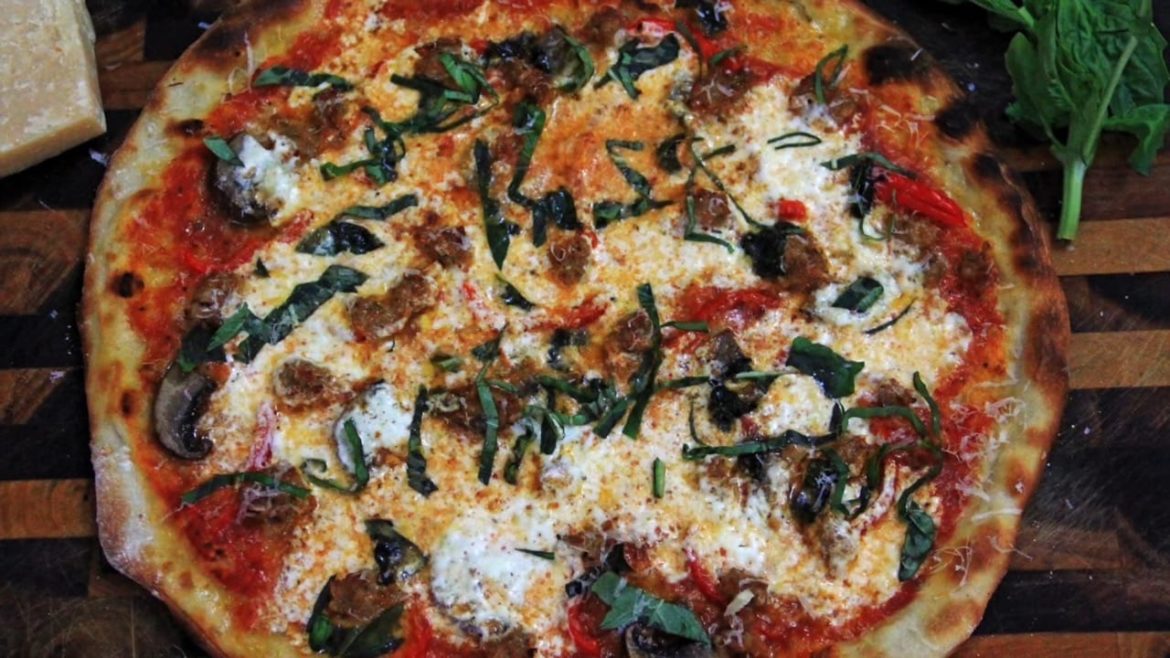 Ingredients
PIZZA DOUGH RECIPE:
(this dough comes out better when all ingredients are weighed)
153 grams 00 flour (1 cup plus 1 tablespoon)
153 grams all-purpose flour (1 cup plus 1 tablespoon and 2 teaspoons)
8 grams fine sea salt (1 teaspoon)
2 grams active dry yeast (3/4 teaspoon)
4 grams extra-virgin olive oil (1 teaspoon)
NO-COOK PIZZA SAUCE:
1 28oz. can San Marzano tomatoes, extra juice/liquid discarded
1 tsp anchovy paste (optional)
3 cloves garlic
1 1/2 tbsp dried oregano
1 - 2 tsp crushed red pepper flakes
1 1/2 - 2 tbsp red wine vinegar
1/2 tsp kosher salt
1/4 tsp black pepper
2 tbsp olive oil
Instructions
PIZZA DOUGH RECIPE:
In a large mixing bowl, combine flours and salt.
In a small mixing bowl, stir together 200 grams (a little less than 1 cup) lukewarm tap water, the yeast, and the olive oil, then pour it into the flour mixture. Knead with your hands until well combined, approximately 3 minutes, then let the mixture rest for 15 minutes.
Knead rested dough for 3 minutes. Cut into 2 equal pieces and shape each into a ball. Place on a heavily floured surface, cover with dampened cloth, and let rest and rise for 3 to 4 hours at room temperature or for 8 to 24 hours in the refrigerator. (If you refrigerate the dough, remove it 30 to 45 minutes before you begin to shape it for pizza.)
To make pizza, place each dough ball on a heavily floured surface and use your fingers to stretch it, then your hands to shape it into rounds or squares. Top and bake.
NO-COOK PIZZA SAUCE:
Blend all ingredients together in a food processor until evenly combined.
Taste and adjust as needed.
Transfer to a non-reactive bowl, cover with plastic wrap and store in the refrigerator until ready to use.
Leftover sauce can be poured into Ziploc bags, flattened, sealed, and stored in your freezer for up to 2 months.
Did You Make This Recipe?
Recipe video
---
Enjoy