Apple Tart is on the menu in Book recipe, and we are going to teach you how to make this delicious recipe from scratch!
This French tart is composed of a sheet of puff pastry topped with a single overlapping layer of thinly sliced apples, basted with butter, and sprinkled with sugar. The apples caramelize at the edges and the end result is an uncomplicated and entirely satisfying fall treat full of flavor.
Full recipe included below – follow along with pro pastry chef Anna Olson's crisp and delicious apple tart dessert that you can bake at home!
Follow along with the ???? recipes below????????????????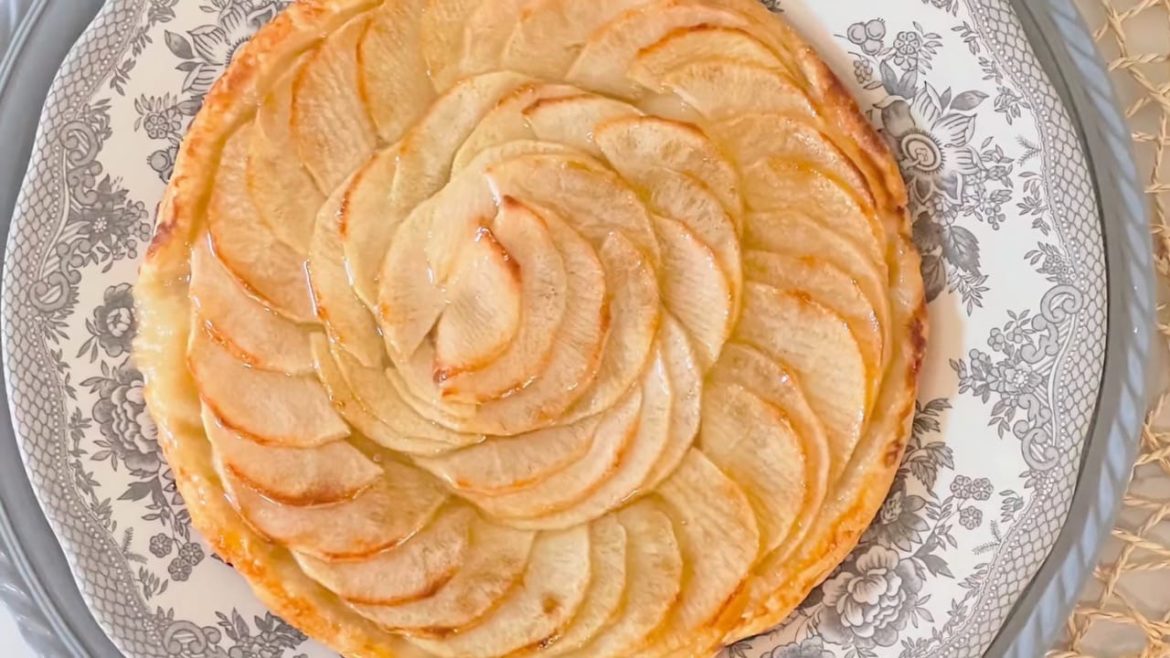 Ingredients
1 cup (225 g) butter puff pastry (homemade or store-bought)
1 large or 2-3 small apples
3 Tbsp (45 g) butter, melted
3 Tbsp (37 g) granulated sugar
¼ cup (60 mL) apple jelly or apricot jam
Instructions
Preheat the oven to 400°F (200°C) and line a baking tray with parchment paper.
Roll out the puff pastry on a lightly floured surface to a circle about 9-inches (23 cm) across and just under ¼-inch (6 mm) thick. Use a plate or bowl to trace and cut a disc of pastry 8-inches (20 cm) across. Place this on the baking tray and dock the pastry with a fork.
Assemble the tart. Peel the apples cut them in half, and core them. Cut the apples into thin slices, about 1/8-inch (3 mm) thick. Arrange the apples overlapping each other but in a single layer in a circle over the puff pastry, covering almost to the outside edge of the pastry. Brush the apples with half of the butter and sprinkle with half of the sugar.
Bake the tart for 10 minutes, then brush it with the remaining butter and sugar, returning it to the oven to continue to bake 20 to 25 minutes more, until the puff pastry is golden brown at the edges (the butter & sugar may caramelize a little, adding a nice crunch once cooled).
Cool and glaze the tart. Let the tart cool for 15 minutes. Melt the apple jelly in the microwave or in a small saucepan over medium heat and brush the apples with a thin layer.
Notes
Yield: 1 8-inch (20 cm) tart

The tart can be served still warm or at room temperature, on its own or with a dollop of whipped cream or ice cream.

Did You Make This Recipe?
---
Enjoy