Cream tarts are on the menu in Book recipe, and we are going to teach you how to make this delicious recipe from scratch!
Follow along with the ???? recipes below????????????????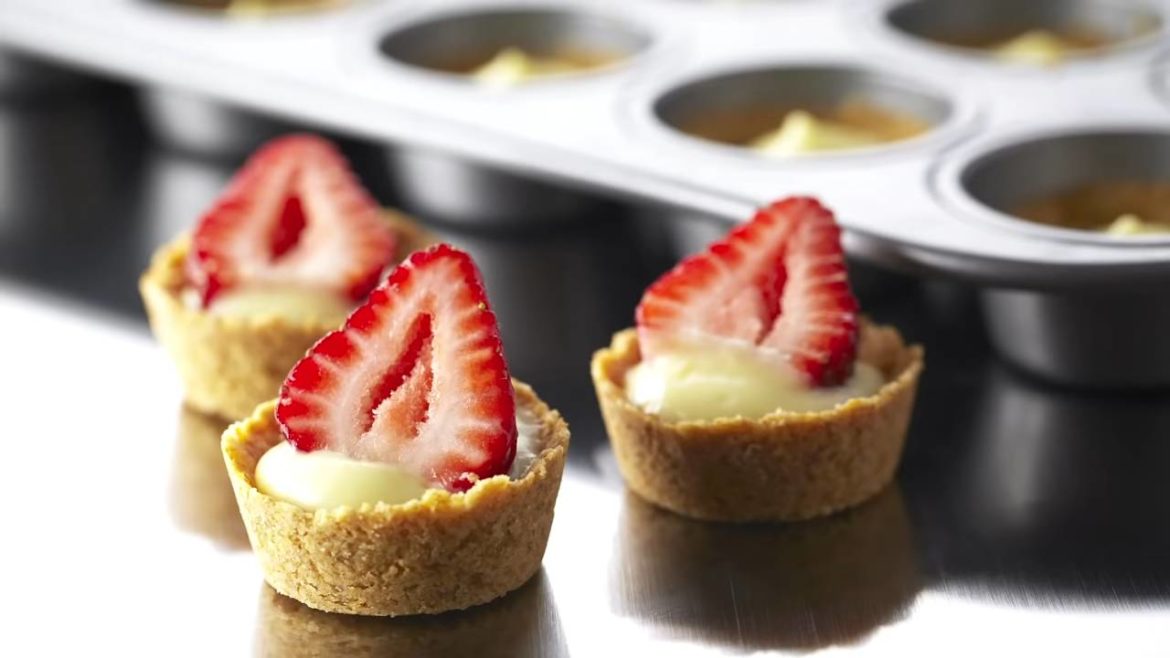 Ingredients
Basic Vanilla Pastry Cream
1 cup (250 mL) 2% milk
½ vanilla bean OR 1 1/2 tsp vanilla bean paste
3 large egg yolks
3 Tbsp (45 g) sugar
2 Tbsp (15 g) cornstarch
2 Tbsp (30 g) unsalted butter, cut into pieces
Strawberry Cream Tarts
1 cup (150 g) all-purpose flour
1 cup (125 g) graham cracker crumbs
4 tsp (1.5 g) sugar
¼ tsp salt
½ cup (115 g) unsalted butter, melted
30 fresh strawberries, stems removed
Instructions
Basic Vanilla Pastry Cream
Heat the milk with the scraped seeds of the vanilla bean or the vanilla bean paste until just below a simmer.
In a separate bowl, whisk the egg yolks, sugar, and cornstarch. Ready a bowl with the butter, placing a strainer on top of it.
Gradually whisk the hot milk into the egg mixture and then return it all to the pot. Whisk this constantly (switching to a spatula now and again, to get into the corners) over medium heat until thickened and glossy, about 2 minutes. Pour this immediately through the strainer, whisking it through if needed, and stir in the butter. Place a piece of plastic wrap directly over the surface of the custard, cool to room temperature, and then chill completely until ready to use.
The pastry cream will keep up to 4 days refrigerated.
Makes about 1 ½ cups.
Strawberry Cream Tarts
For the crust, preheat the oven to 350 F and lightly grease mini muffin tins.
Combine the flour, graham cracker crumbs, sugar, and salt in a bowl. Add the melted butter and mix until an even crumbly texture. Spoon about a tablespoonful of the mixture into each muffin cup and press it into the bottom and up the sides. Bake these for 10 minutes, then cool before assembling.
Use a skewer to gently remove each tart shell from the tin Stir the vanilla pastry cream to soften and then spoon or pipe the filling into each cup and then arrange a strawberry on top of each. Chill until ready to serve.
The tart shells and pastry cream can be prepared up to a day in advance but should be assembled within a few hours of serving.
Did You Make This Recipe?
---