Lemon meringue squares are on the menu in Book recipe, and we are going to teach you how to make this delicious recipe from scratch!
Chef Anna Olson teaches you how to turn Lemon Meringue Pie into Lemon Meringue Squares that are bursting with fresh lemon taste.
Follow along with the ???? recipes below????????????????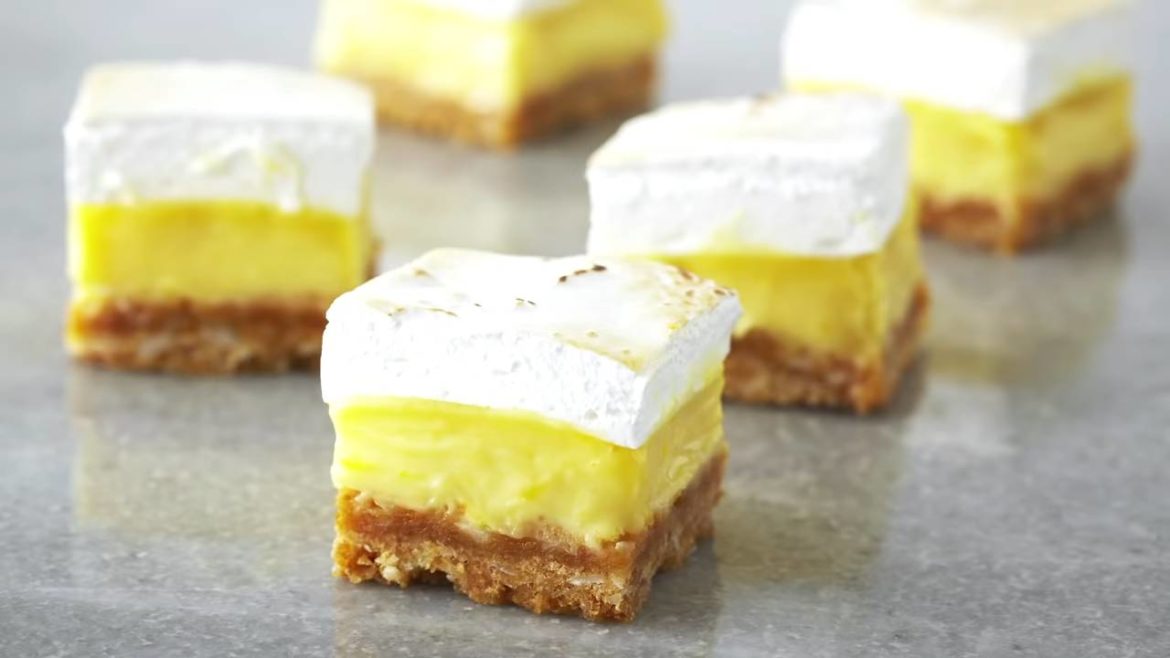 Ingredients
Crust
⅔ cup (90 g) graham cracker crumbs
½ cup (75 g) all-purpose flour
½ cup (50 g) flaked sweetened coconut
1 Tbsp (15 g) sugar
⅓ cup (70 g) unsalted butter, melted
Filling
1 300 mL tin sweetened condensed milk
5 large egg yolks (save whites for meringue)
⅔ cup (160 mL) fresh lemon juice
2 tsp (2g) lemon zest
Marshmallow Layer
5 Tbsp (75 mL) cold water
2 ¼ (15 g) tsp gelatin powder
1 tsp (3 g) meringue powder
½ cup (115 g) sugar
¼ cup (60 mL) white corn syrup
1 pinch salt
Instructions
Crust
Preheat oven to 350ºF and lightly grease an 8-inch square pan and line with parchment paper so that it comes up the sides of the pan. Toss all the crust ingredients until well-combined and press into the prepared pan.
Bake for 12 minutes and cool while preparing the lemon filling.
Filling
Reduce the oven to 325ºF. Whisk all the filling ingredients together and pour into the cooled crust.
Bake for 20 minutes, until set but with a little jiggle in the center, then cool to room temperature before chilling for at least an hour.
Marshmallow Layer
Stir 3 Tbsp (45 mL) of the cold water with the gelatin and the meringue powder in a large bowl or the bowl of a mixer fitted with the whip attachment and set aside.
Bring the remaining 2 Tbsp (30 mL) of water, the sugar, and the corn syrup to a boil and boil uncovered and without stirring until it reaches a temperature of 240ºF on a candy thermometer. While whipping, carefully pour the hot sugar into the bowl with the gelatin and whip this on high speed until tripled in volume and cooled for about 5 minutes.
Remove the lemon square from the fridge. Dollop the marshmallow on top of the filling and spread evenly. Let chill until set.
Use a blowtorch to lightly brown the marshmallow and chill until ready to slice and serve.
The squares will keep for up to 3 days refrigerated.
Did You Make This Recipe?
---
Enjoy