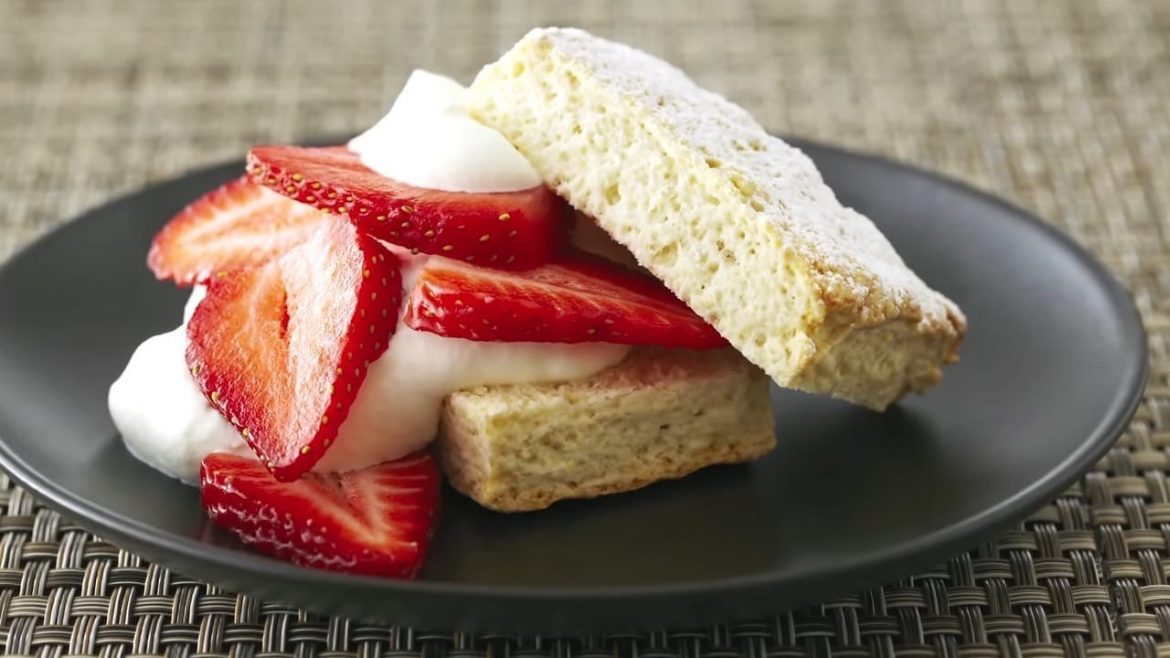 Ingredients
Shortcakes:
2 cups all-purpose flour
¼ cup sugar
1 tbsp baking powder
1 tsp finely grated lemon zest
½ tsp baking soda
¼ tsp salt
¼ cup cool unsalted butter, cut into pieces
⅔ cup buttermilk
1 egg, whisked with 2 Tbsp water, for brushing
Filling:
1 cup whipping cream
2 tbsp sugar
½ tsp vanilla extract
2 cups sliced fresh strawberries
icing sugar, for dusting
Instructions
Preheat the oven to 375°F and line a baking sheet with parchment paper.
Combine flour, sugar, baking powder, lemon zest, baking soda, and salt.

Stir in the butter until the mixture has a coarse crumbly texture (but it won't look much different).

Stir in the buttermilk until the dough comes together.

Turn the dough out onto a lightly floured work surface.

Fold the dough over, scraping up any loose pieces as you fold.

Continue to fold the dough until it comes together (this will create a flaky shortcake).
Shape the dough into a rectangle about 10 x 6 inches and 1⁄2 inch thick.

Cut the dough into 8 rectangles and place them 2 inches apart on the prepared baking sheet.

Brush the tops of the shortcakes with the eggnog and bake for 18 to 20 minutes, until the tops are evenly browned.

Let shortcakes cool to room temperature.

Whip the cream until it reaches a soft peak, then stir in the sugar and vanilla.

To assemble, divide one shortcake in half horizontally.

Place the bottom half on a plate and top with a little whipped cream.

Place the strawberries on top, then gently place the top of the shortcake on top of the fruit.

Sprinkle the shortcake with powdered sugar and serve immediately.

Shortcakes are best served the day they are baked, but the batter can be frozen and thawed in the refrigerator before baking.

Did You Make This Recipe?
---
Enjoy
Let us know what you think of today's strawberry shortcake tips, tricks, and hacks!