Jamie Oliver's Carbonara is on the menu in Book recipe, and we are going to teach you how to make this delicious recipe from scratch!
Hey! We've decided to make Jamie Oliver's Carbonara recipe, but we've made it super easy to follow along! Ingredients we've used are commonly available around the world, so you don't have to worry about for example not being able to get guanciale, in this recipe you can just substitute it with smoked bacon!
Follow along with the ???? recipes below????????????????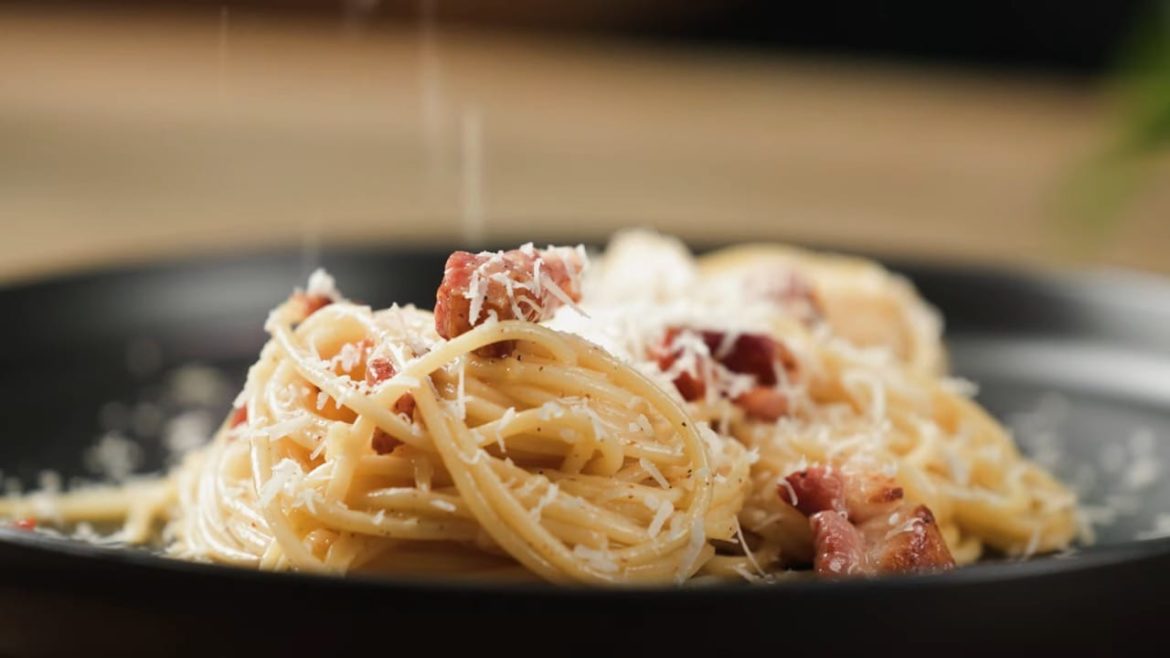 Ingredients
250g / 0,5 lb guanciale or pancetta or smoked bacon
1 clove of garlic (optional)
2 eggs
about 50g / 2 oz grated pecorino or parmesan or grana padano cheese
freshly ground black pepper
220g / 8 oz spaghetti pasta
Instructions
Chop the bacon into small chunks and place on cold pan. Turn on medium high heat and render the fat out. Add cracked clove of garlic and freshly ground black pepper - about 2 tsps. Give it a time.
Boil pasta with tiny amount of salt. Do not drain it - you will need that water.
In the meantime, prepare the eggs. Crack them into a bowl, add about 40g / 1,4 oz parmesan cheese and whisk through.
When pasta is al dente and bacon is getting golden, remove garlic and turn the heat off. Drag the pasta into the pan directly from the water. Add few splashes of water to stop frying and mix ingredients. When you do not hear frying anymore, pour egg mixture in and toss quickly to cover the pasta. Add some water to achieve appropriate creamy consistency.
Finish the dish on a plate with some black pepper and grated cheese.
Enjoy your meal with friends or family!
Notes
Get your peppercorns in a pestle and mortar, crack it. Then use a little sieve to separate milder outer skin from hotter inside part of peppercorn. You want your carbonara to be hot from pepper. As it take its name from carbon ;)

Did You Make This Recipe?
---
Enjoy