Mountain Man Breakfast – Sausage, Bacon, Potato, Egg & Cheese Casserole
It's Sunday morning, and you wake up to the sweet smells of sausage, bacon, potatoes, cheese, and eggs cooking away.
Coffee is brewing and breakfast is in the oven becoming more delish by the second.
This mountain man breakfast has been my husband's favorite for as long as we've been married! There's sooo much flavor all packed into one dish! This recipe is traditionally done while camping, using charcoal briquettes and a real campfire! Although it tastes better that way, doing it in the oven tastes amazing too!
I know you all will love this recipe!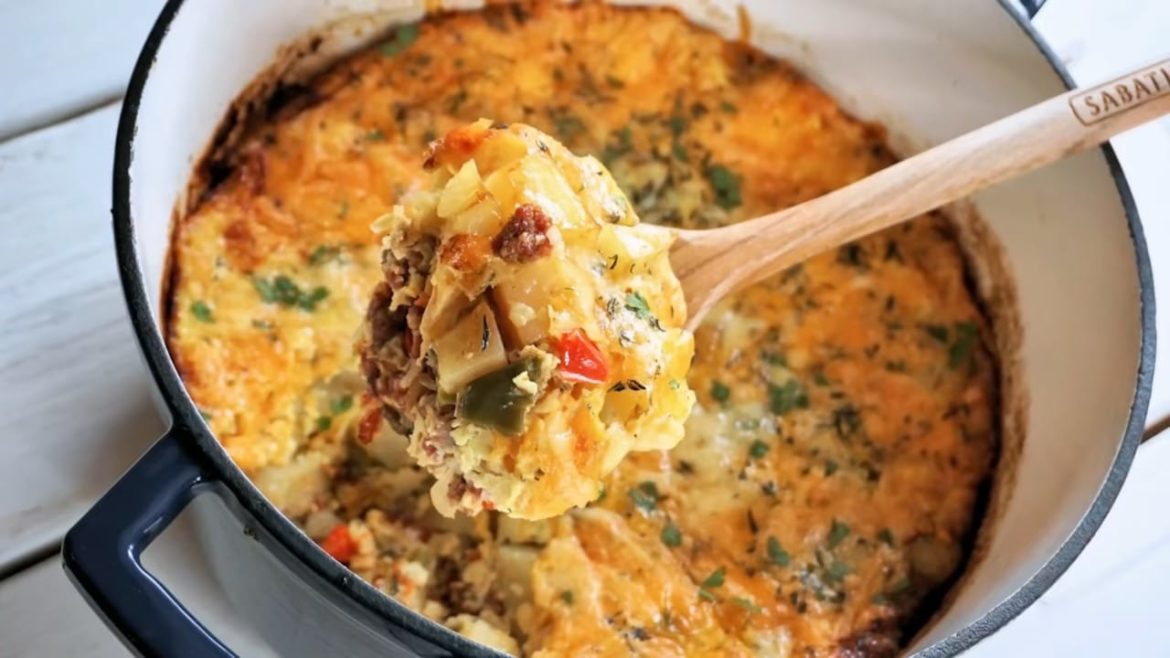 Ingredients
7 Slices of Bacon, Cut into Bite-Sized Pieces
1 Cup Ground Breakfast Sausage
1 Large Onion Finely Diced
1 Green Pepper, Diced
1 Red Pepper, Diced
5 Potatoes, Peeled and Cubed (Enough to Cover in an even layer)
2 Tablespoons Butter
10 Eggs, Scrambled and Seasoned
1 ½ Cups Sharp Cheddar Cheese
1 Teaspoon Garlic Powder
½ Teaspoon Cayenne Pepper
Salt and Pepper to Taste
Instructions
In a Dutch oven with high sides, over medium-high heat, cook bacon and sausage together. Breaking apart the sausage with your spatula. Cook until brown in color. Drain excess fat.
Add chopped onion, cook for 1 minute. If there is a lot of food on the bottom of the pan, add ¼ cup of cold water and scrape the bottom clean. Allow to steam for 1 minute.
Add chopped red and green pepper. Season with garlic powder, cayenne, salt, and pepper. Cook for 2 minutes.
Top with cubed potatoes in an even layer. Pressing them into the mix firmly. Season with salt and pepper. Top with small chunks of butter.
Cover and cook in a 425°F oven until the potatoes are ALMOST fork tender. About 20 minutes.
Remove from oven, top potato layer with cheese.
In a separate bowl, beat eggs with a splash of milk and any seasonings you would like to add.
Pour eggs over potatoes, gently shake the pan to even the egg layer.
Place back into at 375°F oven for about 20 minutes or until eggs are set.
Serve with sour cream.
Notes
If you have a larger Dutch oven than what is used here, you will need to use larger quantities of the ingredients in order to have even layers.

Did You Make This Recipe?
Recipe video
---
Enjoy