One-pan thai chicken | chicken stir fry. on the menu in Book recipe, and we are going to teach you how to make this delicious recipe from scratch!
Cooking this popular dish is quite easy. You will need less than half an hour, and a mouth-watering meal with unrepeatable taste will make your dinner special. Serve Thai-style chicken hot with boiled rice.
Follow along with the ???? recipes below????????????????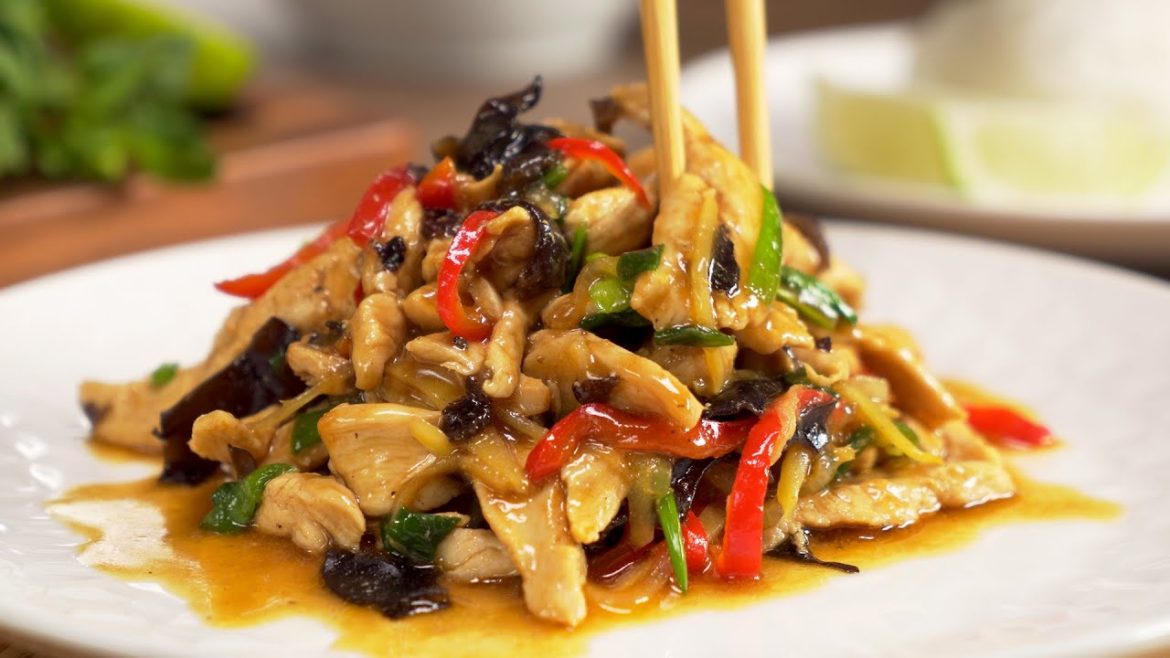 Ingredients
chicken fillet – 28 oz /800 g
muer dried mushroom – ⅓ oz /10 g
soy sauce – 8 tbsp
water – 4 tbsp
oyster sauce – 4 tbsp
brown sugar – 2 tbsp
sesame oil – 2 tsp
garlic – 5 cloves
1 chili pepper
ground black pepper – ½ tsp
ginger – 1 oz /25 g
bulb onion – 3 oz /100 g
1 bell pepper
scallion – 3 stalks
vegetable oil – 2 tbsp
salt – ½ tsp
You will need:
wok or pan
deep bowl
carving board
Instructions
Soak the muer mushroom in hot water for 15 minutes, drain and cut into pieces of medium size.
Cut the chicken into medium strips, the bell pepper, ginger and bulb onion into thin strips, slice the garlic and cut the scallion into a few pieces.
Heat a pan over medium heat and add the vegetable oil, garlic and ginger and fry for 2 minutes over medium heat.
Add the chicken fillet and fry stirring over high heat for 3 minutes.
Then add the soy sauce, salt and ground black pepper, keep frying over high heat for 3-4 minutes.
Add the mushrooms, bell pepper, bulb onion and fry over medium heat for about 3-4 minutes.
Add the water, oyster sauce, sugar, chili pepper and keep frying over medium heat for another minute.
Switch the heat off, add the scallion and sesame oil into the pan and stir.
Serve your Thai-style chicken hot with rice.
Did You Make This Recipe?
---
Bon Appétit