Pomegranate Chicken Wings are on the menu in Book recipe, and we are going to teach you how to make this delicious recipe from scratch!
These Sticky Pomegranate Chicken Wings from Lebanon are a perfect appetizer or party food. With a tangy and sweet flavor, they are bound to be devoured quickly. I'm Obi from Middle Eats and I'm on a mission to show you how to cook delicious food from across the whole of the Middle East. If you have any dish requests, please leave a comment on the video.
Follow along with the ???? recipes below????????????????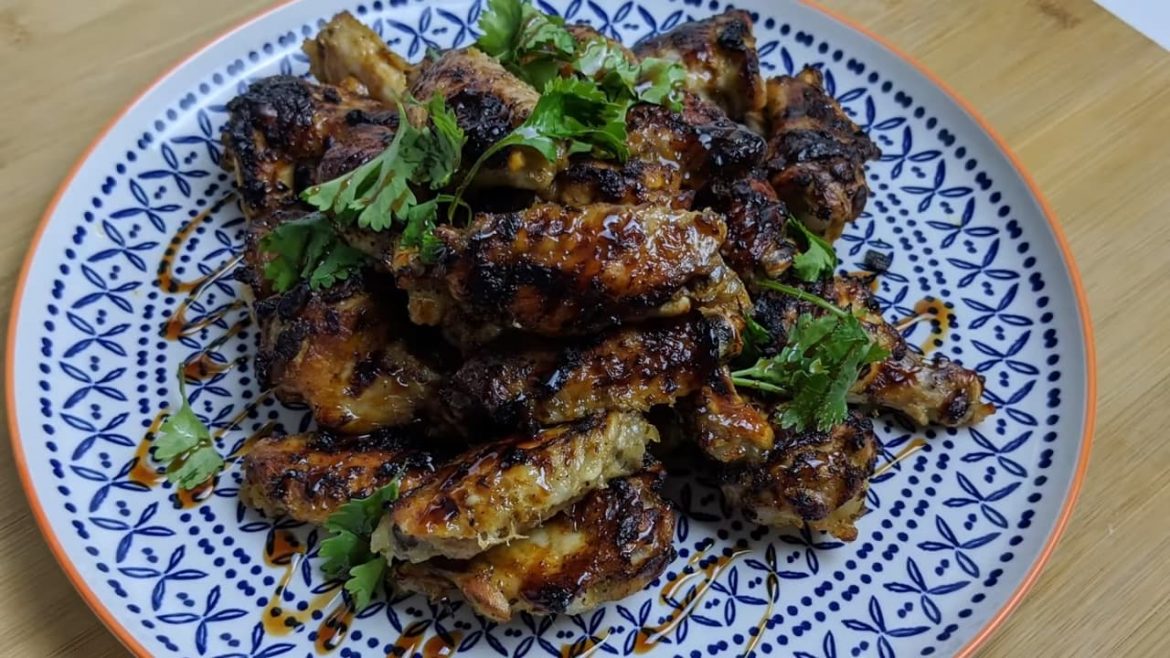 Ingredients
1kg of Chicken Wings, or other chicken pieces
1 Onion
4-5 Lemons and Lime
3-5 Cloves of Garlic
Small bunch of Coriander or Parsley
3 Tbsp Pomegranate Molasses
2 Tbsp Olive Oil
2 Tsp Kosher Salt
0.5 Tsp Black Pepper
0.5 Tsp Chilli Flakes or Cayenne Pepper
Instructions
Cut all your wings into two pieces and place them in a mixing bowl.
In a blender or food processor combine your Onion, 80mls of Lemon and Lime Juice, Garlic, Coriander, 2 Tbsp Pomegranate Molasses, Olive oil, and the Kosher Salt, the Black Pepper, and the Chilli Flakes. Blend on high till all ingredients are combined and you are left with a semi-liquid paste.
Add your marinade to your wings and mix thoroughly to coat.
Cover your mixing bowl and leave to marinate for a minimum of 2 hours in the fridge.
Remove from the fridge half an hour before cooking and preheat the oven to 180.
Line a baking tray with foil and place the wings on the tray, removing any excess marinade.
Bake for 25 minutes.
Prepare the glaze while baking, combine 1 Tbsp of Pomegranate Molasses with the juice of a lemon, and season with salt and pepper. Mix well till slightly syrupy, add more Molasses if the glaze is too liquid.
Remove the wings from the oven and brush each wing with the marinade.
Put back in the oven for 10 more minutes or until the glaze sets up
Plate the wings on a platter and sprinkle some chopped coriander on top and drizzle some Pomegranate Molasses over the top.
Did You Make This Recipe?
---
Enjoy
Let us know what you think of today's Sticky Pomegranate Chicken Wings tips, tricks, and hacks!