Stollen Pound Cake is on the menu in Book recipe, and we are going to teach you how to make this delicious recipe from scratch!
Hi everyone! Christmas is near so let's make stollen. I've turned the traditional bread-type stollen into a cake type stollen – a stollen pound cake. I think it's easier – and it definitely takes less time to make it. Enjoy!
How about stollen madeleine?
Follow along with the ???? recipes below????????????????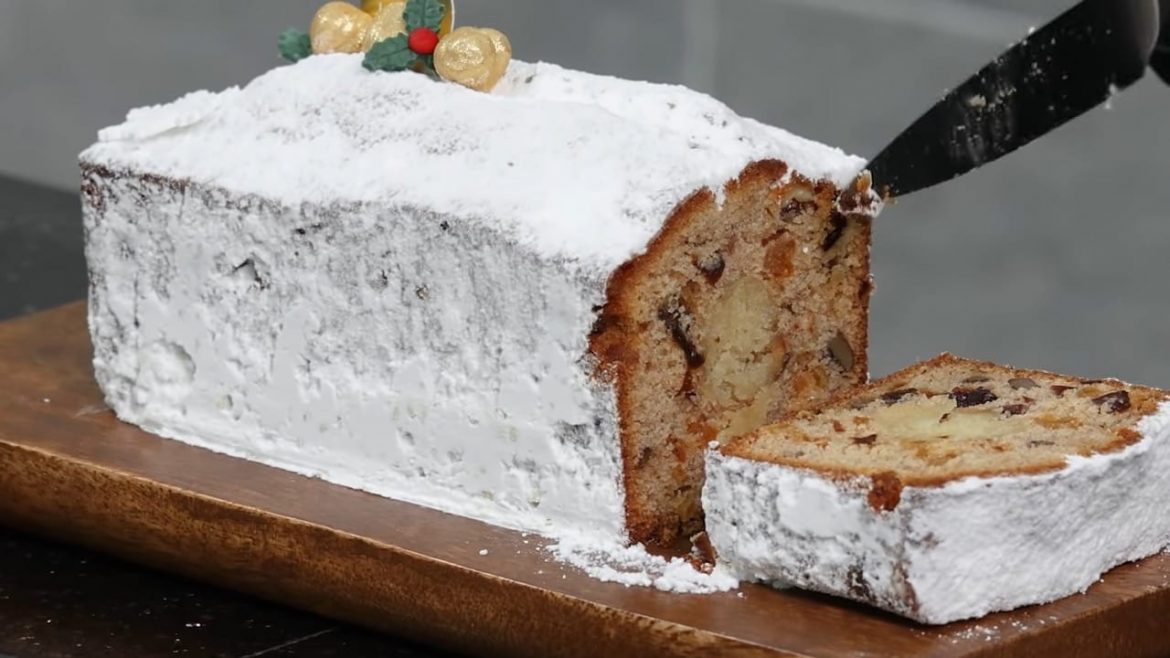 Ingredients
Pound Cake:
Butter 85g
Sugar 75g
Salt a pinch
Almond Powder (Almond flour) 26g
Whole eggs 63g
Cake Flour 68g (if you don't have it, all purpose flour)
Baking Powder 2.7g
Cardamom powder 0.4g
Allspice powder 0.4g
Cinnamon powder 1.8g (if you don't have cardamom, allspice then just use 2.6g of cinnamon)
Rum soaked dried fruit (see below) 70g
Chopped Pecans 16g (any other nuts would work)
Rum Syrup:
Water 12g
Sugar 6g
Rum 2g (Gold/dark rum works best but if not white rum. If you don't have rum, leave it out)
Rum-soaked dried fruit:
Rum 15ml (gold/dark rum works best but if not white)
Raisins 27g
Cranberries 14g
Orange Peel 20g
Lemon Peel 10g
Marzipan:
Instructions
Pound Cake:
Prepare the pan (grease with butter) and the marzipan. Check below for the marzipan recipe.
Gently beat the butter
Add sugar and cream the butter.
Sift in almond powder/salt and mix.
Sift in part of the cake flour and mix.
Gradually add in the whole eggs & mix.
Finally sift in the rest of the cake flour/baking powder/cardamom, allspice, cinnamon powder, and mix.
Mix in 2/3 of the rum-soaked dried fruit & pecans.
Transfer the batter to the pound cake pan. Note – transfer 2/3 of the batter, place the marzipan and rest of the rum-soaked dried fruit then pipe the rest of the batter.
Bake for 45mins at 165℃ (Pre-heat to 165℃). MAKE SURE you adjust the baking time on your oven and perform the wet-batter test to check if the cake is done.
Watch the video on what to do after it's baked.
Rum Syrup:
Mix sugar in hot water. Stir and dissolve. If the sugar doesn't dissolve well heat up the water to a boil. Once it cools down a bit add the rum and mix.
Rum soaked dried fruit:
Soak all the dried fruit in rum. You will get the best results when you soak it for at least a month but if in hurry, just a few hours at room temp would work. Make sure you toss it around once in a while so all the dried fruit will come into contact with the rum. Here, the purpose is NOT JUST to moisten the dried fruit (plumping) but more importantly it's about giving the rum flavor which makes it suitable for stollen. I usually make this in big batches several weeks in advance and store it in the fridge.
Marzipan:
Roll the marzipan into a shape of a cylinder. Watch the following on how to make Marzipan, You can also use store-bought marzipan!
Notes
How to store:
Store in a cool place at room temp in an air-tight container for up to 3 days.

For baking conversions into cups/spoons
But trust me, weighing out in metric terms is much more accurate and it's a better way of baking. Electronic scales aren't expensive these days so pls buy one.

Did You Make This Recipe?
---
Quantity: 1 Mid-size pound cake pan (15cm x 7cm x 6cm, somewhere around 700ml in volume)