Vegan thanksgiving dishes are on the menu in Book recipe, and we are going to teach you how to make this delicious recipe from scratch!
Follow along with the ???? recipes below????????????????
Vegan Thanksgiving Dinner (Low Salt!) – Cauliflower Steaks with Quinoa Stuffing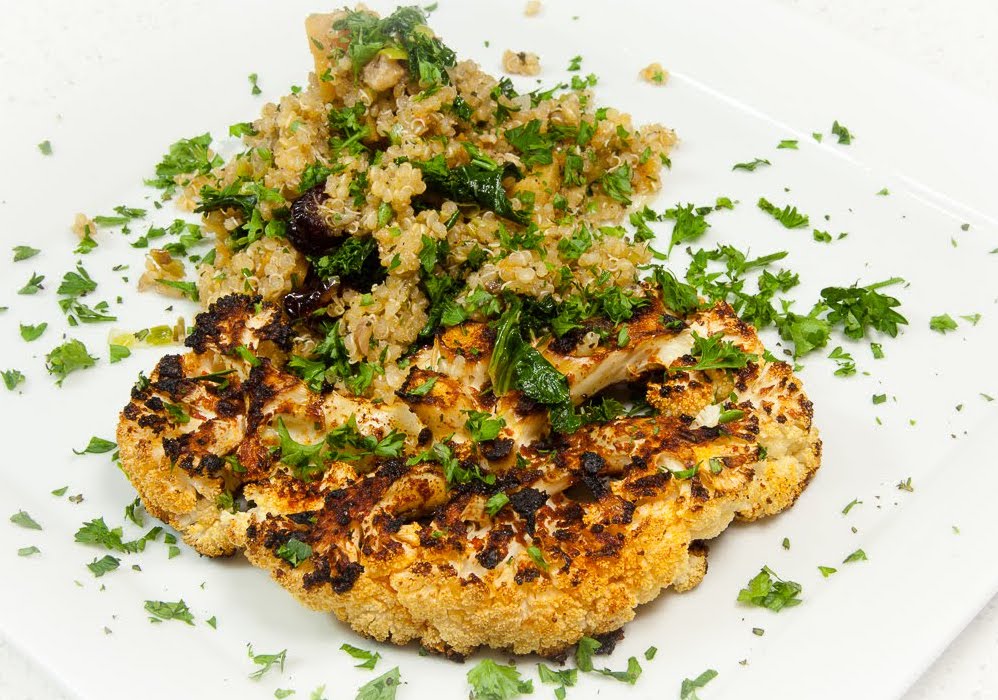 Ingredients
CAULIFLOWER STEAKS
2 large heads cauliflower
1/4 cup olive oil
2 limes, zest, and juice
2 cloves garlic, finely grated
1 teaspoon honey or agave syrup
2 tablespoons paprika
1 tablespoon chipotle powder
1/4 cup finely chopped cilantro or parsley leaves
no salt seasonings to taste
QUIONA STUFFING
1 1/2 cups quinoa
1 bay leaf
3 cups low sodium vegetable broth
1 medium butternut squash, peeled, seeded, and cut into 1/2 inch cubes
1/3 cup chopped walnuts
1 tablespoon coconut oil, melted
1 tablespoon agave syrup or favorite sweetener
1 tablespoon olive oil
2 ribs celery, diced
2 medium leeks, washed and chopped
3-4 garlic cloves, minced
3 ounces curly kale, chopped
1/4 cup dried cranberries
1/4 cup fresh parsley, chopped
2 teaspoons fresh sage or thyme, finely chopped
no-salt seasonings and pepper, to taste
Instructions
CAULIFLOWER STEAKS
Remove the leaves on each cauliflower head and trim the stem end until you can set the cauliflower flat on the cutting board.
Use a large sharp knife to trim off the sides, then cut the cauliflower into 3 to 4 thick "steaks". Reserve the florets that fall away for another recipe.
Whisk the olive oil with the lime juice in a small bowl. Whisk in the grated garlic and honey or agave syrup.
In a separate bowl, mix the lime zest, paprika, chipotle, and no salt seasonings.
Heat your broiler to high.
Layout out the steaks in a single layer on a cookie sheet.
Brush one side of each cauliflower steak with the olive oil mixture and sprinkle generously with the chipotle powder mixture.
Place a pan of steaks under the broiler for 6 to 8 minutes.
Remove steaks from broiler, flip them over and brush the tops with the olive oil mixture and season with the chipotle mix.
Place a pan of steaks under the broiler again and cook for 6 to 8 minutes or to desired texture.
QUIONA STUFFING
Preheat oven to 400F and adjust rack to the middle position.
Toss squash with chopped walnuts, coconut oil, and sweetener. Spread the pieces evenly in a baking dish and cover with foil.
Roast for 15 minutes, remove foil and then roast for an additional 20 minutes, or until edges are golden brown and tender. Remove from the oven and set aside.
Prepare the quinoa according to package instructions, substituting the vegetable broth for the liquid called for in the instructions and adding the bay leaf to the pot with the liquid prior to cooking. Discard the bay leaf after cooking.
Meanwhile, in a medium to large sauté pan add the olive oil and heat over medium heat. Add the celery and sauté for 2 - 3 minutes, until slightly tender.
Add the leeks and sauté an additional 2 - 3 minutes, until the leeks and celery are tender and fragrant.
Add the garlic and sauté 1 minute more.
Reduce the heat to low. Add the chopped kale and sauté over low heat just until the kale has wilted.
In a large bowl, combine the cooked quinoa, butternut squash, sautéed vegetables, fresh parsley and your choice of thyme or sage, and dried cranberries. Stir until combined. Season to taste with no-salt seasonings and pepper.
Notes
To serve: place one cauliflower steak and a serving of quinoa stuffing on a plate. Sprinkle with chopped parsley or cilantro.

Did You Make This Recipe?
---
Enjoy