Cake for Independence Day is on the menu in Book recipe, and we are going to teach you how to make this delicious recipe from scratch!
A party cake for a big celebration will feed the whole family!
Follow along with the ???? recipes below????????????????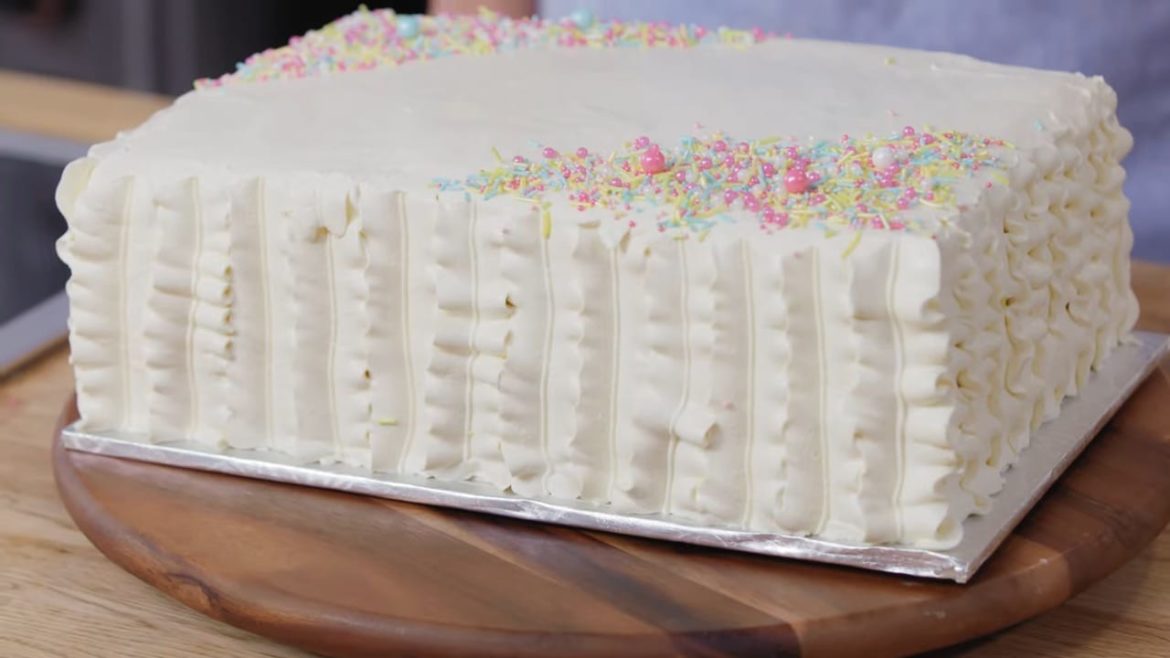 Ingredients
Cake:
4 cups (800 g) granulated sugar
3 ½ cups (520 g) all-purpose flour
1 ½ cups (180 g) cocoa powder (Dutch-process is ideal)
4 tsp baking soda
2 tsp baking powder
1 tsp fine salt
2 cups (500 mL) buttermilk
2 cups (500 mL) hot brewed coffee
1 cup (250 mL) vegetable oil
4 large eggs
2 tsp vanilla extract
For Assembly:
1 recipe Cream Cheese Frosting (recipe follows)
1 cup (250 mL) strawberry or raspberry jam
1 recipe Swiss Buttercream (recipe follows)
Sprinkles, fruit or décor, as you wish
Cream Cheese Frosting
Gluten-free
Egg-free
Prep Time: 5 minutes
1 cup (225 g) unsalted butter, room temperature
12 oz (375 g) cream cheese, room temperature
4 cups (520 g) icing sugar, sifted
1½ tsp vanilla extract
Swiss Buttercream
This buttercream frosting is smooth, sweet, and buttery and will hold every detailed swirl and swish of your spatula, as well as small and precisely piped details. It sets quite firmly when chilled, making your cake easy to transport, but melts on the tip of your tongue when you take a bite.
Gluten-free
Prep Time: 10 minutes
Cook Time: 6 minutes
6 large egg whites, room temperature
1⅔ cups (340 g) granulated sugar
1⅔ cups (365 g) unsalted butter, room temperature
2 tsp pure vanilla extract
Instructions
Cake:
Preheat the oven to 350°F (180°C). Line two 13 × 18-inch (33 × 45 cm) baking trays with parchment paper.
Sift the sugar, flour, cocoa powder, baking soda, baking powder, and salt into a large bowl. Add the buttermilk, coffee, oil, eggs, and vanilla to the bowl and whisk vigorously by hand for about a minute, until smooth. Scrape the batter into the pans and bake for about 30 minutes, until a tester inserted in the center of the cake comes out clean. Cool the cake completely in their pans, on a cooling rack.
The cake layers can be made a day ahead, wrapped individually, and left on the counter before assembling, or they can be frozen for up to 3 months before thawing on the counter.
To assemble, cut each sheet of cake in half so that you have two 9 × 13-inch (23 × 33 cm) layers for each cake. Place the first chocolate layer on a cutting board or cake platter. Spread the top of this cake layer with an even layer of cream cheese frosting (using roughly a third of the frosting) and then loosely spoon and spread ½ cup (125 mL) of the jam on top. Place a second cake layer on top and repeat with the cream cheese frosting (but not the jam). Top with the third cake layer, frosting, and the remaining ½ cup (125 mL) of the jam and the final layer of cake. Chill the cake for an hour before frosting.
Dollop a generous amount of Swiss buttercream on top of the cake and spread it so the cake is completely covered and the buttercream is level. Coax the frosting just over the edges of the cake—this will make it easier to get a clean edge to your cake when it meets with the frosting from the sides. Apply frosting to the sides of the cake, spreading it to meet the overhanging frosting from the top to make a precise edge. Use any remaining frosting to pipe details around the top edge, and decorate the top of the cake to suit the occasion
Cream Cheese Frosting
Using electric beaters or a stand mixer fitted with the paddle attachment beat the butter until fluffy, then beat in the cream cheese until well blended and smooth. Add the icing sugar in two additions, beating first at low speed and then increasing to medium-high, scraping the bowl a few times and beating until fluffy, about 2 minutes. Beat in the vanilla.
This frosting is best used immediately. If making it ahead, cover and refrigerate the frosting but then let it soften on the counter for 30 minutes before using. Re-whip the frosting to make it smooth and spreadable.
Swiss Buttercream
Place the egg whites and sugar in a metal bowl and set over a saucepan filled with 2 inches (5 cm) of gently simmering water. Whisk constantly (but not vigorously) until the mixture reaches 150°F (65°C) on a candy thermometer, about 6 minutes.
Use electric beaters or transfer the mixture to the bowl of a stand mixer fitted with the whip attachment and whip at high speed until the meringue has cooled to room temperature (it will hold a stiff peak by then).
With the mixer running at high speed, add the butter a few pieces at a time. At first, the meringue will hold its volume, then the buttercream will deflate a little and become very creamy yet fluffy looking. Beat in the vanilla. Use immediately, or cover and chill or freeze for later use.
To use the frosting once it's been chilled, let it come to room temperature on the counter. Re-whip the buttercream to make it fluffy and spreadable.
Did You Make This Recipe?
---