A Southern favorite with a twist. This banana pudding cake's got a moist banana cake for the bottom layer and creamy banana pudding, cream cheese topping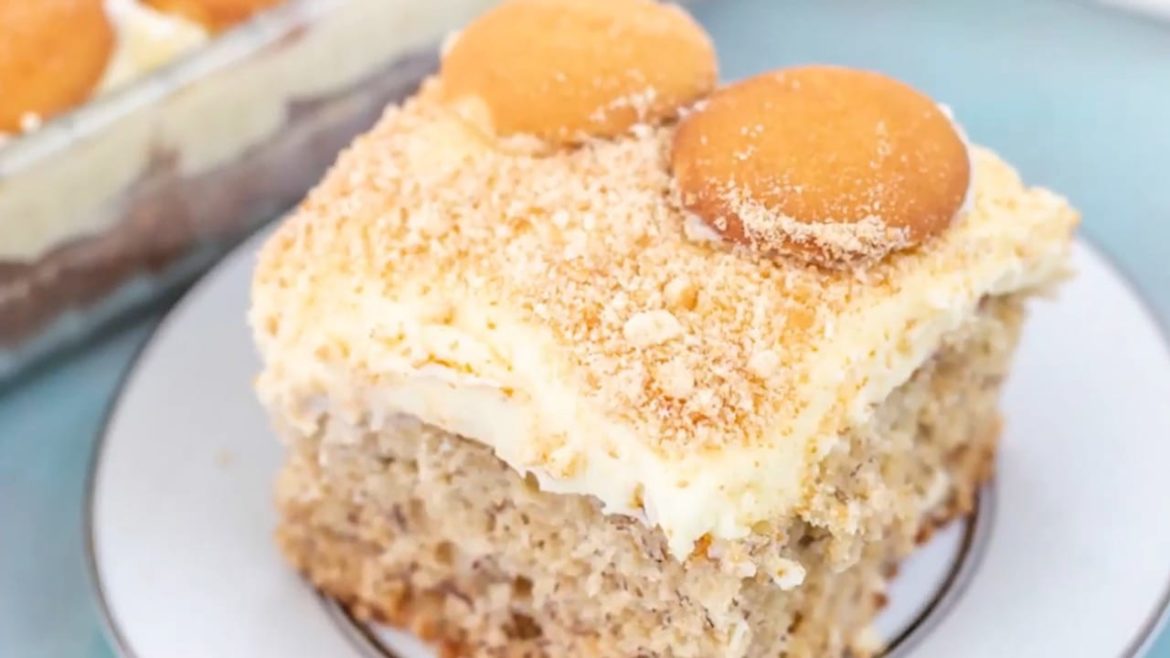 Ingredients
For the cake:
2 2/3 cups all-purpose flour
1 tsp soda
1 3/4 cups sugar
1 Tbsp lemon juice
1 tsp salt
2/3 cup vegetable oil
1/2 tsp cinnamon
1 1/2 cups bananas mashed (about 3 bananas)
3 eggs
2 tsp vanilla extract
For the icing:
1 small package instant banana pudding mix
1/2 cup milk (preferably whole milk)
1 8 oz. pkg. softened cream cheese
1 cup softened butter (not melted)
2 tbsp milk
5 cups confectioners sugar
5 oz vanilla wafer cookies (some whole and some crushed) (about 1/2 a box)
Instructions
For the cake:
Grease and flour a 13 x 9-inch glass pan.

Preheat oven to 350 degrees.

Mix the dry ingredients (flour, baking soda, salt, and cinnamon) in a bowl and set aside.

In another bowl, mix together the sugar, eggs, bananas, lemon juice, vanilla extract, and oil.

Pour the wet ingredients into the dry ingredients and mix, just until combined.

Pour into the pan and bake at 350 degrees for 30-35 min.

Cool completely before adding the topping.
For the icing:
In a bowl, mix together the banana pudding mix and the milk.

Mix until thick and set aside.

In another bowl, mix the cream cheese until smooth. Add in the room temperature butter and mix well. Add in the confectioners' sugar and mix well.

Add in the pudding mixture and mix well.

Chill in the fridge until ready to use.
Putting the cake together:
Spread the icing over the cooled cake. Add whole vanilla wafers around the edge of the cake and sprinkle the remaining area with crushed vanilla wafers.

Keep chilled in the fridge. It's best to let the cake and icing set up for a couple hours, so the vanilla wafers have time to soften a bit.
Did You Make This Recipe?
---
See as well: