Beef Carpaccio is on the menu in Book recipe, and we are going to teach you how to make this delicious recipe from scratch!
This starter course takes inspiration from Beef Pho, and the refined flavours and additions used. To capture the spices that are within the broth, an easy homemade hoisin sauce includes these aromatic additions.
Follow along with the ???? recipes below????????????????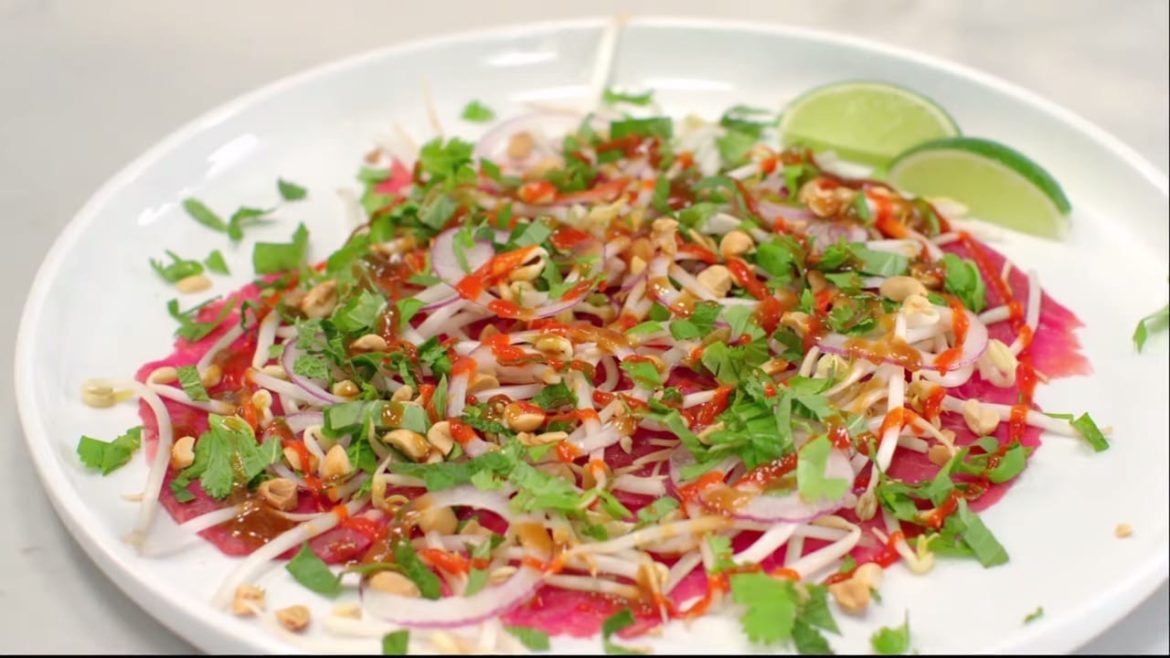 Ingredients
Hoisin
60 mL (1/4 cup) soy sauce (low sodium)
30 g (2 Tbsp) smooth peanut butter
30 mL (2 Tbsp) honey
1 clove garlic, minced
5 mL (1 tsp) sesame oil
1 cinnamon stick
1 star anise
3 whole cloves
3 black peppercorns
350 g (3/4 lb) beef tenderloin
30 g (1 oz) thinly sliced red onion rings (about 3 slices)
125 g (2 cups) bean sprouts
20 g total (3/4 cup) chopped fresh coriander, Thai basil & mint
35 g (1/4 cup) chopped roasted peanuts
sriracha, to taste
1 lime, cut into wedges, for garnish
Instructions
For the hoisin, place all of the ingredients in a small saucepan and bring to a simmer over medium heat, whisking occasionally. Simmer for about 5 minutes, then strain out the spices and cool to room temperature before chilling until ready to serve. The sauce will not be as thick as commercial hoisin.
For the beef, slice the raw tenderloin across the grain into 1/2 cm (1/4 inch) slices. Place a slice into a re-sealable bag and using the flat side of a meat mallet, pound it as thin as possible without tearing the meat. Repeat with the remaining slices and arrange them on a large platter or individual small plates. Cover the platter or plates with plastic and chill until ready to serve. This should be done the same day you wish to serve the dish.
Have all of the remaining ingredients on hand, to assemble right before serving. Sprinkle the onion slices overtop the beef and sprinkle the bean sprouts over in an even layer. Top this with the chopped fresh herbs and the chopped peanuts. Drizzle the hoisin over this and add sriracha to taste. Arrange the lime wedges on the side of the platter or plate and serve immediately.
Did You Make This Recipe?
---
Bon Appétit
Beef Carpaccio is Chef Anna Olson's newest twist on a classic recipe. Inspired by her time spent with Chef Jack Lee this incredible recipe will inspire you to get cooking!