Chicken Paprikash recipe is on the menu in Book recipe, and we are going to teach you how to make this delicious recipe from scratch!
Chicken Paprikash is a staple of Singapore cuisine, and Chef Anna Olson has her own take on the delicious classic. Follow along with the recipe below!
Follow along with the ???? recipes below????????????????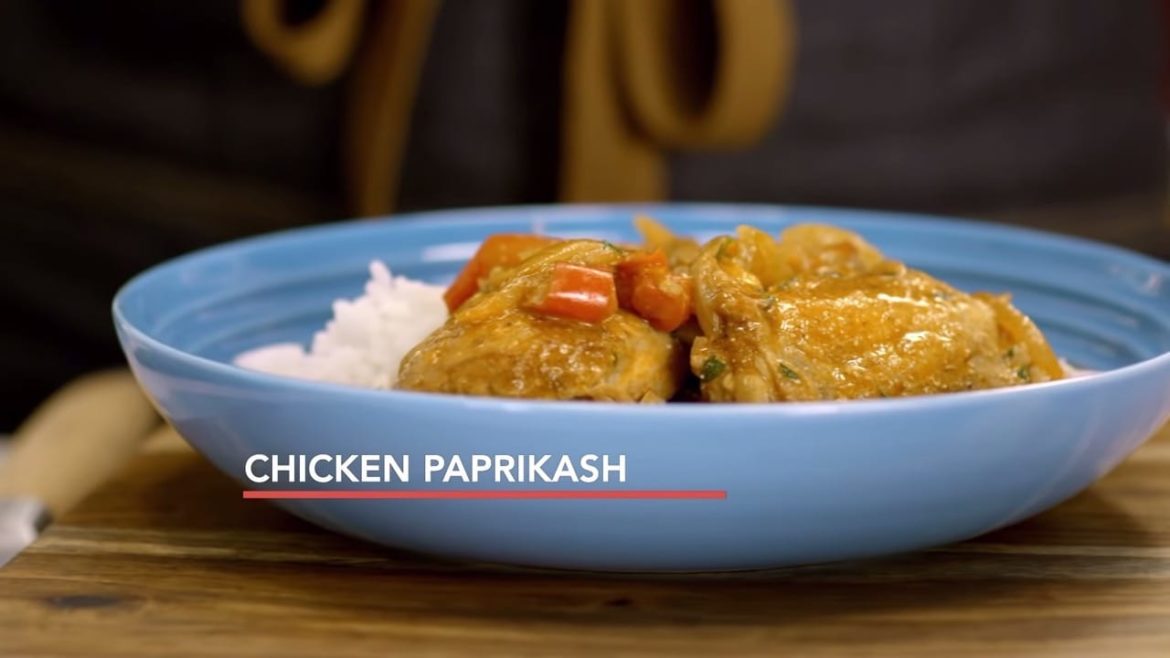 Ingredients
30 mL (2 Tbsp) vegetable oil
1.2 kg (2.6 lb) bone-in chicken thighs (skinless optional)
300 g (3 cups) sliced cooking onion
200 g (1 ½ cups) red bell pepper, sliced (about 1 pepper)
20 g (3 Tbsp) Hungarian paprika
3 bay leaves
18 g (2 Tbsp) all-purpose flour
500 mL (2 cups) chicken stock
125 mL (1/2 cup) full-fat sour cream
30 mL (2 Tbsp) lemon juice
salt & pepper
chopped parsley, for garnish
Instructions
Heat the oil in a large saucepan over high heat and add the chicken (skin-side down, if using skin-on chicken thighs) and brown the chicken on both sides, about 3 minutes per side. Remove the chicken to a plate and reduce the heat to medium-low.
Add the onion and bell pepper to the pan and sauté for about 3 minutes, to soften the onions. Add the paprika and the flour and stir for 2 minutes (the flour and paprika will stick onto the vegetables). Add a little of the stock and stir this in completely, to loosen the flour from the vegetables and then pour in the remaining stock while stirring. Increase the heat to medium, add the bay leaves and add back the browned chicken. Bring the liquid to a gentle simmer and loosely cover the pan, cooking for 30 minutes, then uncover the pan and simmer an additional 10 minutes (to allow the liquid to reduce a little).
To finish the sauce, remove the cooked chicken to a clean plate and remove and discard the bay leaves. Whisk the sour cream and lemon juice in a small dish and add this to the saucepan, whisking vigorously. Add back the chicken, season to taste and return the paprikash to a simmer before serving. The parsley can be stirred in or sprinkled on top.
Did You Make This Recipe?
---
Enjoy